Imugene Limited (ASX: IMU) is a clinical-stage immuno-oncology company headquartered in Australia that is engaged in developing a range of immunotherapies used to treat and eradicate tumors. The company's operations are spread across America and Europe. Its product pipeline includes several B-cell peptide vaccines like HER-Vaxx (anti-HER-2), PD1-Vaxx (anti-PD-1) and B-Vaxx (anti-HER-2). The company also has other therapies and combinations that are undergoing earlier stage development. It is led by a team of cancer experts with significant international experience in developing new cancer therapies.
Source: Company's website, www.imugene.com
Vision of the Company
The company's vision is to help transform and improve the treatment of cancer patients by developing a range of new and novel immunotherapies, backed by a growing body of clinical evidence and peer-reviewed research. The company aims to improve the lives of millions of cancer patients who need effective treatments. Immuno-oncology is a rapidly growing market that allows for a more targeted treatment, offering a significant market opportunity to the fully funded company. Imugene's goal is to make sure that its shareholders benefit from the cutting edge of this rapidly growing immuno-oncology market and landscape.
Imugene's Unique Platform Technology
Imugene utilizes its core platform immunotherapy technologies for developing immunotherapies that seek to control the body's immune system to endogenously produce antibodies against tumors. The company's technology has the potential to achieve a similar or more significant effect than synthetically developed monoclonal antibody therapies. Imugene's unique platform technologies can be diversified into B-Cell Peptide Cancer Vaccines, Mimotopes and Arginine Modulators. Let us have a look at its B-cell peptide cancer vaccine and mimotopes technologies in some detail:
Mimotopes
A mimotope is a peptide or a small molecule that imitates the outcome of specific B-cell epitopes in inducing an immune response. Due to this property, the antibody response induced by it is similar to the one elicited by the monoclonal antibody. It is expected that immunization with such mimotopes would stimulate an antibody response headed at the target disease-associated antigen.
The company had acquired an option to proceed with the R&D of Mimotope Vaccines with its scientific team in Austria. Member of company's Scientific Advisory Board, Professor Ursula Wiedermann is working on mimotope characterisation, immunogenicity and preclinical work with her team at the Medical University of Vienna to identify company's next mimotope candidate and pipeline.
In April this year, the company and the Medical University of Vienna demonstrated the positive new data on one of the company's PD-1 mimotope cancer vaccines at the 2019 Annual Meeting of American Association for Cancer Research. The results clearly demonstrated that Imugene's PD-1 mimotope cancer vaccine inhibits the growth of HER-2+ mammary carcinoma's in a validated mouse model of HER-2+ breast cancer.
B-Cell Peptide Cancer Vaccines
Imugene holds a robust pipeline of novel B cell vaccines targeting large therapeutic areas, together with an extensive patent portfolio to protects its valuable assets. The company is a leader and a market pioneer in B cell peptide cancer vaccines, that provide a unique opportunity to interfere at multiple points in the immune system and produce immune memory, enhancing the durability of response.
How B Cell Based Antibodies Are Superior To Monoclonal Antibodies?
The B cell based antibodies offer distinct advantages in comparison to the synthetic monoclonal antibodies. The following points demonstrate the advantages of B cell based antibodies over synthetic antibodies:
B cell derived antibodies stimulate the immune system to endogenously produce natural antibodies that are potentially safer than the synthetic antibodies that come with side effects.
The polyclonal antibodies response produced using the B-cell vaccines potentially increases efficacy and reduces the risk of resistance.
To prevent tumor recurrence, such antibodies continuously create a lasting immune response.
The natural B cell derived antibodies potentially lowers the number of vaccinations required per year while monoclonal bodies require regular infusion.
These antibodies offer low cost of production, allowing significant pricing flexibility facilitating combination.
Types of B-Cell Peptide Cancer Vaccines:
Imugene has a developing pipeline of B-cell peptide cancer vaccines as discussed below:
HER-Vaxx: This vaccine was developed by the leading scientists at the Medical University of Vienna in Austria to treat tumors that over-express the HER-2/neu receptor. Such tumors include gastric, lung, ovarian, pancreatic and breast cancers. The Phase 1b trials of HER-Vaxx have been successfully completed, and the vaccine is currently undergoing Phase 2 clinical trials.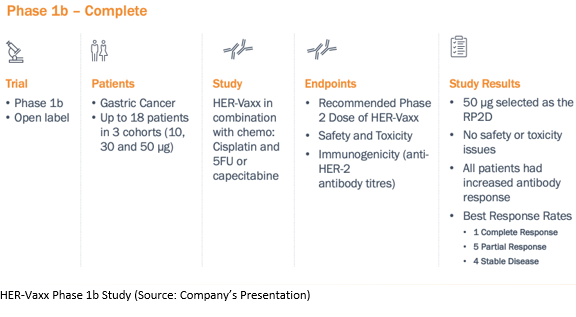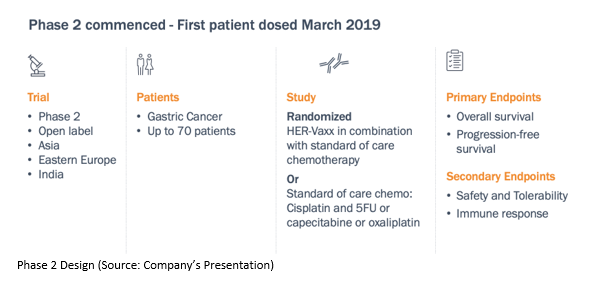 B-Vaxx: Fully funded by the grant from the Ohio State University, B-Vaxx was also designed for the treatment of tumors over-expressing the HER-2/neu receptor. The vaccine had provided positive Phase 1 results from patients who progressed after at least 4 lines of therapy. Of note, these patients decided to forego chemotherapy. The results of the Phase 1 study has been published in the prestigious Clinical cancer Research journal and was singled out as a highlight of the 2019 June issue. The B-Vaxx study is currently in Phase 2 clinical trials.
PD1-Vaxx : Another B-Cell Peptide cancer vaccine targeting the immune checkpoint PD-1 that has shown strong inhibition of tumor growth in validated mouse models of colorectal cancer is under the pre-clinical phase.
HER-2 & PD-1 Vaccine Combination: The combination of HER-2 & PD-1 vaccine has shown 90 per cent cancer growth inhibition in colorectal cancer model in pre-clinical studies.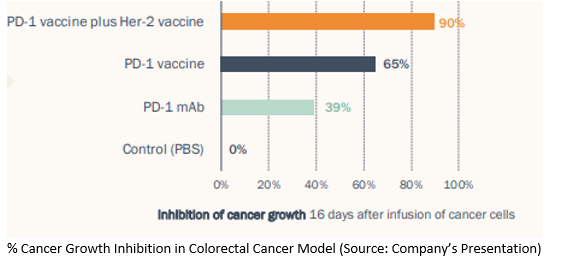 Stock Performance:
IMU is currently trading at A$0.014 (As at 1:10 PM AEST, 24 June 2019).
---
Disclaimer
This website is a service of Kalkine Media Pty. Ltd. A.C.N. 629 651 672. The website has been prepared for informational purposes only and is not intended to be used as a complete source of information on any particular company. The above article is sponsored but NOT a solicitation or recommendation to buy, sell or hold the stock of the company (or companies) under discussion. We are neither licensed nor qualified to provide investment advice through this platform.