Access to electricity is often debated as a basic human right. We advocate that electricity along with energy and communication, is indeed an existential right of each human.
In the current unprecedented times, when most of the businesses are under pressure and almost every country on the globe including Australia is experiencing health and economic impacts due to the coronavirus pandemic, it is the electricity sector that is continuing to cater to its consumers.
In this backdrop, we present Australia's largest electricity generation enterprise, AGL Energy Limited (ASX:AGL), which has more than 180 years of experience and a power generation portfolio of 11,330 MW, as at 31 December 2019.
AGL Energy Limited – Operating Largest Power Generation Portfolio
In the energy business, the Company is engaged in electricity generation, gas storage, and distribution of electricity to residential, wholesale and business customers.
AGL operates the largest electricity power generation portfolio of Australia, accounting for roughly 20% of the country's total power generation capacity. It operates in both renewable and non-renewable energy markets including traditional coal, gas-fired generation, and wind, hydro and solar energy, catering to over 3.7 million consumers.
Few Facts –
Flexible diverse asset portfolio
AGL is now connected to over 27% of Australian households with at least one service
Added broadband, mobile and batteries to core electricity and gas services
Growing geographic expansion with new projects and acquisitions
Total power sales of the Company to consumers stood at 13,573 GWh and to large businesses at 9,775 GWh in FY19. Apart from customers and large businesses, wholesale electricity sales volume stood at 15,804 GWh at the end of financial year 2019.
Power Generation Portfolio and Other Facilities
Key portfolio of the Company includes thermal and renewable power plants and natural gas facilities across Australia.
Thermal Power: The Macquarie asset includes 2 key black coal power plants, namely, Bayswater and Liddell, with a combined capacity of over 4,665 MW in New South Wales. The Loy Yang integrated brown coal mine and power plant operation in Victoria has a capacity of 2,210 MW and the Torrens Gas power plant boasts 1,280 MW.
Renewable Power: In Victoria and NSW, the Company has 786 MW of hydroelectric power plants, with 924 MW of wind power generation in South Australia and Victoria, 198 MW and 440 MW of wind power plant capacities in NSW and Queensland, respectively, and solar power capacity of 155 MW in NSW.
Natural gas facilities: AGL has a storage facility at Newcastle in NSW and the Silver Springs underground gas storage facility in Queensland. Natural gas production assets at Camden and North Queensland include the Moranbah Gas project.
AGL has either completed or undertaking construction of new energy supply projects worth over ~$1.9 billion, with projects valued at approximately $2 billion in the pipeline.
AGL First Half Performance
For the first half of FY2020, revenue of the Company stood at $6.312 billion, compared with $6.34 billion in the year-ago period, driven by lower gas volumes and lower average electricity pool prices that were to some extent offset by high electricity generation and revenues from the recently acquired business of Perth Energy.
The Company announced an interim dividend of $0.47 a share, for the first half of FY2020, in comparison to $0.55 a share paid to shareholders in the same period a year ago.
Outlook for FY2020
AGL expects to increase underlying profit from $780 million in FY19 to $860 million in FY20. Cash conversion continues to be strong, thereby aiding robust and flexible financial position of the Company.
Customer Support Program
Amid these challenging times, AGL has rolled out a customer support program, aiming to assist the Company's residential and small and medium business customers. As part of the program, for customers experiencing financial stress, payments would be deferred, and disconnections would be suspended, until 31 July 2020.
Apart from this, the Company is also working in line with the Government's call for supporting small businesses.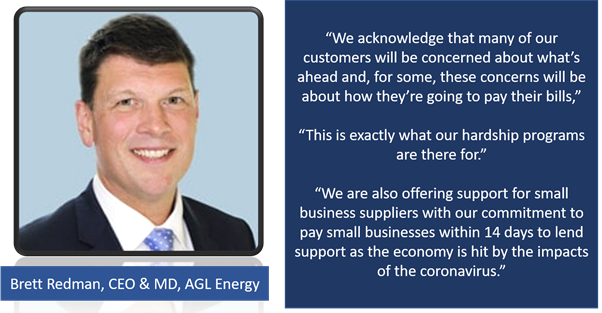 As Australia's largest generator, AGL Energy serves as an essential service provider, ensuring that its customers and community get access to the most basic need of Humans.
Stock Performance – With a market capitalisation of $10.67 billion, AGL settled the day's trade at $ 16.420 per share on 1 May 2020. The annual dividend yield stood at 6.54% with P/E noted at 11.82x.