Summary

Many retailers have overdriven their e-commerce efforts in the marketplace amid coronavirus pandemic.
AX1 capitalised on the paradigm shift in consumer shopping patterns to online platforms and noted rocketed digital sales of over 150 per cent from April to 21 June 2020.
RBL, the owner of international e-commerce platforms, has been one of the beneficiaries of COVID-19. It witnessed soared y-o-y marketplace revenue of 96 per cent on a constant currency basis during the quarter to date 22 June 2020.
With the advent of the digital age, classic retailers with physical stores went through their share of struggles. The last few years witnessed an uptick in technology-driven online platforms, resulting in the rise of online shopping. Also, some of the retailers deemed coronavirus outbreak as a final nail in the coffin.
Amid the outbreak of COVID-19, people were being deprived of their day to day livelihood since there was lockdown imposed by the government in various countries, across the world. The lockdown period led towards the plunge in foot traffic of the brick and motor stores, followed by a wave of closure of doors of numerous retailer stores creating tremendous uncertainty.
The situation posed a serious concern for the retailers (especially for "non-essentials" retailers), as to how to recoup for losses incurred in their in-store revenue and uphold their position in the marketplace.
However, the retailers were in for a big surprise, as the crisis period turned the tables for their businesses.
COVID-19 provided a big push to the booming online marketplace
COVID-19 period triggered an opportunity for retailers to adopt the digital way of conducting business to sail through the COVID-19 turbulent wave, and saw a substantial surge in their online retail sales, yielding benefits for both consumers as well as retailers.
Did you read; A look at two retail sector players - WOW & HVN
Post pandemic, retail business does not look the same as before
Owing to the current pandemic across the globe, majority of people are following social distancing norms and are opting for touchless shopping experience, since accessing products without direct human contact seems secure.
Of late, many people got acquainted with purchasing their stuffs online; there is a good possibility that they would make it a habit.
With easing restrictions, and as brick and motor stores begin to reopen, it is currently difficult to estimate as to how many customers would step out for shopping, given the fear of second wave of COVID-19 looming ahead.
On the above backdrop, it can be safely stated that e-commerce trend is not waving goodbye anytime soon.
Did you read; Consumer Discretionary Stocks to Look at PBH, GEM, BGP, JIN, AX1
Let us enrich ourselves with two ASX-listed retail players, who have beaten the blues of coronavirus crisis and witnessed soared online sales.
Accent Group Limited (ASX:AX1), the retailer and distributor of footwear and apparel, on 25 June 2020, unveiled its strengthened business update for FY'20 and soared online sales during May and June.
Digital sales uplifted by 150 per cent from April to 21 June 2020
AX1 reported total year sales to date standing at AU$923 million, with adjusted like-for-like sales up by 1.6 per cent at the week ending on 21 June 2020. Interestingly, the Group witnessed an up surge in digital sales of over 150 per cent from April to 21 June 2020.
Digital sales in May stood at AU$29 million, while sales accounted for 23 per cent of total sales achieved till 21 June. May was noted as a record month primarily due to new daily record of ~AU$2 million during Click Frenzy sales initiative.
Here is the catch; these sales were achieved while all physical stores were open for business. The stores in Australia reopened on 11 May 2020, and New Zealand stores reopened on 22 May 2020 for trade.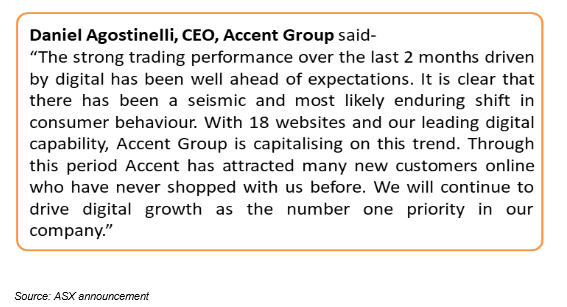 The Group apprised that the reopening of stores was made possible by the Jobkeeper program in Australia, and the New Zealand wage subsidy scheme, helping the Company to bring its stores workforce return to work and to get trading in all the physical stores.
Furthermore, The Group expects its EBITDA to be ~10 per cent above than the EBITDA achieved in FY'19 worth AU$108.8 million.
On 26 June 2020, AX1 was trading at AU$1.47, down by 1.342 per cent (at AEST 2:20 PM). AX1 has a market capitalisation of AU$807.83 million, with ~542.17 million shares outstanding.
Did you read; Online retailer Kogan.com in Action; Registers Fresh 52-Week High
Redbubble Limited (ASX:RBL)
RBL is the owner and functions the international marketplaces held by redbubble.com and teepublic.com, fueled by independent artists.
The Company provided a business update on 25 June 2020, highlighting financial information from internal unaudited management reports on a paid basis.
RBL noted y-o-y growth in the revenue of 107 per cent or 96 per cent on constant currency basis during the quarter to date 22 June 2020.
Furthermore, marketplace revenue for the year till 22 June 2020 surged 42 per cent or 34 per cent on a constant currency basis.
RBL's operating expenses for April and May were tracking 7.7 per cent above the first two months, i.e. January and February of Q3 FY'20.
RBL has a strong balance sheet with the cash in hand of AU$56 million, noted on 31 May 2020. The Company also observed growth of more than 100 per cent or 86 per cent on a constant currency basis and stood at AU$11.9 million, for operating EBITDA profit in the period between 1 July 2019 to 31 May 2020.
Did you watch; Woolworths Earnings to Dip | ASX Market Update
Are you wondering what this constant currency basis is all about? Well, Constant currency basis reflects an underlying growth before the translation to AUD for reporting purposes.
This concept has relevance for RBL primarily due to the fact that the Company sources over 94 per cent of its marketplace revenue in currencies other than AUD and TeePublic, mostly sources its marketplace revenue in USD.
Did you read; Online Stocks that Debunked Trends in Heavy Way: SSG, TPW, RBL, KGN
Moreover, the Company witnessed an increased demand across both in its core marketplace platforms and geographies.
RBL highlighted that its supply chain had managed the growth, and numerous orders were being fulfilled within expectations.
Further, the latest trading update mentioned an organisational restructuring, involving reduced headcount and related operating costs.
The restructured teams would be focused on a smaller set of core initiatives, driving profitable growth in; acquisition, activation, and retention of an artist; optimisation of transaction and user acquisition; understanding and loyalty of the audience.
The Company expects the restructuring to generate annualised gross savings of AU$5.6 million in operating costs, along with one-off costs of AU$2.1 million.
On 26 June 2020, RBL was trading at AU$2.50, up by 4.061 per cent versus last closing price. Market capitalisation of RBL was noted at AU$514.69W million, with ~261.26 million shares outstanding.
Did you read; Fashion Retailers in Spotlight