Summary

Auger drilling continues to deliver an outstanding exploration tool for MRG Metals
Viaria anamoly has illustrated excellent prospectivity of the Company's Mozambique-based Corridor tenements for HMS discovery, affirmed by recently identified further new extensive zone of high grade HMS mineralisation
Corridor targets are translating into to a potential HMS province with more exciting news anticipated
It sure has been an exciting few months for Heavy Mineral Sands (HMS) explorer MRG Metals Limited (ASX:MRQ). The Company, exploring for HMS in the world-class location of Mozambique has been advancing its Corridor Projects, making significant discovery of high grade Total Heavy Mineral (THM) over a large area from surface. The Company has a portfolio of 13 high calibre targets identified on its Corridor Central and Corridor South projects.
On 15 June 2020, the Company notified that on-going reconnaissance hand auger drilling on Viaria anomaly (at Corridor South project) has identified a further new extensive zone of high-grade HMS mineralisation. Let us cast an eye on this latest wide spaced drilling that provided more very encouraging high grade HMS mineralisation for MRG's Corridor district-
Encouraging Hand Auger Drilling Results from Viaria
The drill results from Viaria anomaly have defined one more high grade HMS zone >3% visual THM, with up to 6.2% estimated average THM in hole 20CSHA425. Drilling included 25 shallow auger holes comprising 267m, with the collection of 178 primary samples at 1.5m intervals.
Over 40% (11 of 25) of auger holes have showcased uncut, downhole visual estimated grades >3.5% THM (average). 28% (7 of 25) of the holes end in sample intervals (estimated visual THM grades of >5%).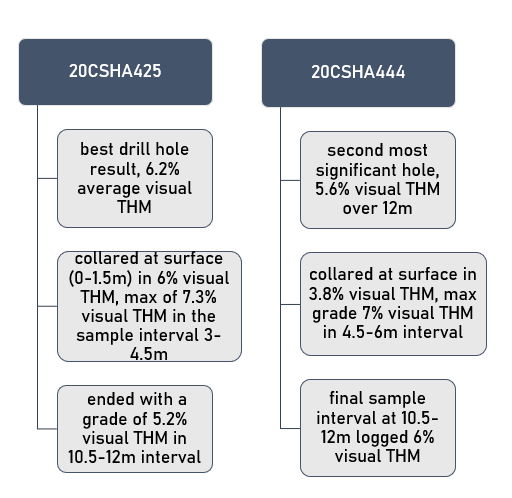 Besides this, a third hole, 20CSHA426 delivered significant results of 10.5M @ 4.8% VIS EST THM (ENDED IN 6.3% VIS THM). MRG Metals revealed that HMS mineralisation at Viaria remains open on the southwest side at >5% visual THM, on the northwest side at >4% visual THM, on the southeast side at >4% visual THM and on the north side at >4% visual THM.
Chairman, Mr Andrew Van Der Zwan stated that these results are "a further demonstration of the excellent prospectivity of MRG's Corridor tenements for HMS discovery and also of the effectiveness of MRG's exploration techniques".
Acquainting with Viaria Anomaly
The Viaria radiometric anomaly is one of 13 airborne geophysical anomalies followed up by cheap auger drilling to 12 metres. Similar to the Poiombo target, Viaria too is of particular significance as several high grade holes end in high grade at end of hole, making follow up Aircore drilling to depth an exciting possibility.
Consisting of a zone of HMS mineralisation, at >3.0% estimated visual THM, the Viaria anomaly has a current footprint of nearly 4.5km X 3.0km and HMS mineralisation is still open to the north, northwest, southwest and southeast (as highlighted above). The new zone of HMS mineralisation is almost 4.0km north of the new Zulene target (where drill results have defined another high grade HMS zone >5% visual THM) and 4.0km southeast of the Saia target (also where drill results have defined a high grade HMS zone, >5% visual THM).
MRG Metals believes that there is a possibility that Viaria, Zulene and Siaia targets may be part of a larger mineralised zone, inclusive of significant areas at >5% visual THM. To affirm the same, additional follow-up auger drilling is required at the three targets. It should be noted that the area comprising these three targets is approximately 10km X 8km.
Auger Drilling Particulars
In the Auger drilling, hole depths ranged from 10.5m–12m deep (average depth of 10.7m). 185 samples have been collected in the 25 holes, including QAQC samples.
Drill holes were spaced at either 500m or 1000m stations
Drill lines were 1000m apart
Samples were typically collected at 1.5m intervals downhole
Each sample interval panned to estimate a visual percent THM grade
Samples (visual estimated THM% grades ≥3%) are split for export from Mozambique to an HMS analysis lab to undergo heavy liquid separation, quantitative percent THM determination
Duplicate samples are generated and inserted in the field- frequency being 1 per 25 primary samples
Standard reference material samples are inserted in the field- frequency being 1 per 50 primary samples
Bottomline
With reconnaissance Auger drilling continuing on other anomalies in the Company's Corridor HMS district, it is exciting to observe the Corridor targets transforming into a potential HMS province. As Mr Andrew says-
"We are now well placed to have multiple discreet targets of very high grade potential across multiple targets to add to the massive defined (still open for extension) resource at Koko Massava"
MRQ quoted $ 0.009 up by 28.572% on 16 June 2020 (AEST: 1.13pm).
(Note: All currency in AUD unless stated otherwise)