Remarkable! Another new gold deposit, the Plum Pudding, has been identified at Sandstone gold project by the gold explorer Middle Island Resources Limited (ASX:MDI). This is the fourth new gold deposit defined from the Company's recently finalised 13,400m Phase 1 reverse circulation (RC) drilling program.
Post the key update, the MDI stock surged by ~17 per cent to $0.014, as at 11:39 AM AEST on 8th May 2020.
Middle Island has declared 1m assay results obtained from drilling at the Plum Pudding (15 holes; 894m) and Wirraminna (15 holes; 1,446m) deposits as part of a Phase 1 RC drilling program encompassing 172 holes in total.
Plum Pudding and Wirraminna deposits are two of the existing deposits at the project, wherein drilling is being conducted to extend Mineral Resources, upgrade Mineral Resources from Inferred to Indicated category, and/or advance JORC Code 2004 Mineral Resources to JORC Code 2012 compliance.
Robust Assays Derived from Plum Pudding Deposit
Plum Pudding, together with McClaren, McIntyre and Old Town Well deposits, represents the fourth new satellite open pit discovery uncovered by the Company since mid-April 2020.
The RC drilling program has returned significant new drill intercepts from the Plum Pudding deposit, which include:
3m at 3.72g/t (from 29m in MSRC 420),
10m at 3.08g/t (from 41m depth in MSRC420),
2m at 4.98g/t (from 33m in MSRC 421),
3m at 3.72g/t (from 29m depth in MSRC420),
2m at 4.98g/t (from 33m in MSRC 421), and
12m at 0.93g/t Au (from 39m depth in MSRC421).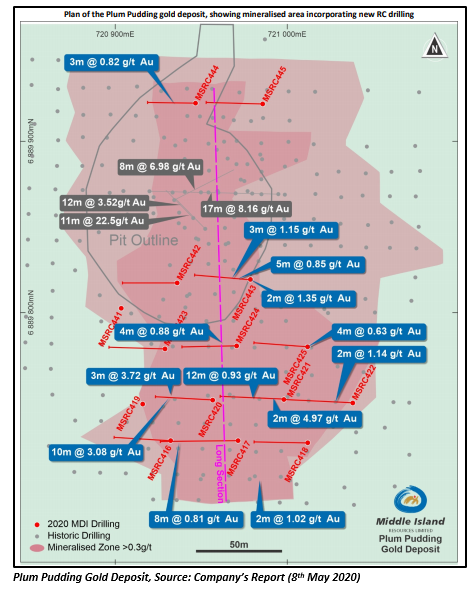 It is important to note that the new RC drill intercepts define a lower grade southern extension to major 1986-88 Clackline Limited RC drill intersections of 11m at 22.5g/t (from 17m in PP030R), 17m at 8.16g/t (from 33m in PP003R), 8m at 6.98g/t Au (from 22m in PP094D) and 12m at 3.52g/t (from 34m in PP030R), which define a very high quality gold core to the deposit.
Situated 850m to the south of Sandstone gold processing plant within granted Mining Lease M57/129, the Plum Pudding deposit is centred on this high-grade gold core, positioned directly below the small, historic laterite pit.
Middle Island expects the entire Plum Pudding deposit to encompass a sufficient tonnage of relatively shallow oxide mineralisation, containing a blanket of mineralised laterite from surface, to complement the open pit project recommissioning inventory.
Contingent upon infill and verification drilling under the planned Phase 2 RC program, the Plum Pudding deposit will be evaluated under updated PFS (pre-feasibility study), targeted for Q3 FY20.
Fresh RC drill intersections Received from Wirraminna Deposit
Middle Island also announced better new RC drill intercepts from Phase 1 RC drilling of the Wirraminna deposit, which include:
5m at 1.54g/t (from 56m depth in MSRC428),
12m at 0.95g/t (from 90m depth in MSRC430),
3m at 2.04g/t (from 86m in MSRC432),
3m at 3.27g/t (from 103m depth in MSRC433), and
3m at 2.23g/t Au (from 40m depth in MSRC435).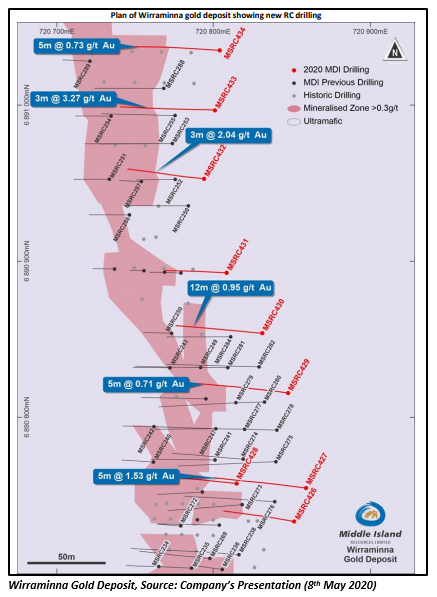 The Phase 1 RC drilling of the Wirraminna deposit was designed to upgrade peripheral Inferred Mineral Resources into an Indicated category and identify any potential mineralised extensions to the existing deposit.
Although no high-grade extensions were identified in the Phase 1 RC drilling, the mineralisation found is in harmony with adjacent drilling and is expected to result in a reclassification.
The robust results attained from the Phase 1 RC drilling program till date heighten the possibility of a positive decision to recommission the Sandstone mill. It would be interesting to keep a watch on the assays of remaining 65 RC drill holes (4,209m) expected in coming weeks, which may further strengthen the prospects of favourable recommissioning decision.
Management Commentary