The contagious coronavirus has grappled economies and financial markets worldwide, while businesses are reeling under supply chain disruptions, halted operations and demand constraints. Notably. there are some strong businesses that have shown immense capability to stay afloat, demonstrating significant progress in defying the uncertainties on the cards.
"With the new day comes new strength and new thoughts" - Eleanor Roosevelt
Despite social movement restrictions and self-isolation norms, market players are keenly eyeing robust businesses that have shown some sort of resilience in the tough market scenario, backed by strong outlook, stable business model and decent cash flows though with a slight delay in operational progress.
One such player in the lithium exploration space - Lake Resources NL (ASX:LKE) expects to have limited impact on the operations of its subsidiaries amidst the prevailing situation of the COVID-19 and the new restrictions on travel and movements set out recently by the government in Argentina.
How Is LKE Placed Amidst COVID Crisis?
From a considerable period, LKE has been actively engaged in processing of lithium brine samples from its Kachi Lithium Brine Project along with its technology partner Lilac Solutions based in California.
LKE expects Lilac to process the brine for manufacturing of high-purity lithium chloride for the transition to battery-grade lithium carbonate for potential vendors, using it direct extraction ion exchange technology. The processing, however, may be delayed due to the constraints surrounding the coronavirus.
Besides, the company intends to follow up on the possibilities available to assist in future financing for construction, while the Government of Argentina offers incentives for backing the lithium sector as well as the oil & gas sector.
Given this backdrop, let us take a flashback at the progress of Lake Resources at its Kachi Lithium Brine Project during the year 2020.
Detailed Discussion at: Assessing Lake Resources Stance Against The Lithium Outlook Amid COVID-19
Strength of LKE: Focus on Lucrative Lithium Space
As an Australian mining company, Lake Resources NL is driven by the development of key lithium projects located in Argentina within South America's Lithium Triangle, which is a host to over half of the lithium resources globally.
Moreover, Lake is said to have the largest lithium lease holding in Argentina, which is a significant opportunity for the business in times when lithium demand is anticipated to dramatically outpace supply in response to growing prospects of electric vehicle and energy storage.
Lake Resources' Kachi Lithium Brine Project located in Catamarca province is the most advanced of the four prime lithium projects in development in the north-west of Argentina.
Lake aims to produce a low impurity and high-grade product at Kachi, with the potential to grab attractive pricing. Lab tests have demonstrated the potential of attractive lithium concentrations production using Lilac's advanced technology. Significantly, Lilac's direct extraction process offers a sustainable solution for LKE as processed brine is returned to the aquifer once the lithium has been extracted, eliminating the need for traditional evaporation ponds.
ALSO READ: Bill Gates-Led Fund Backed Lilac Solutions – Technology Partner of Lake Resources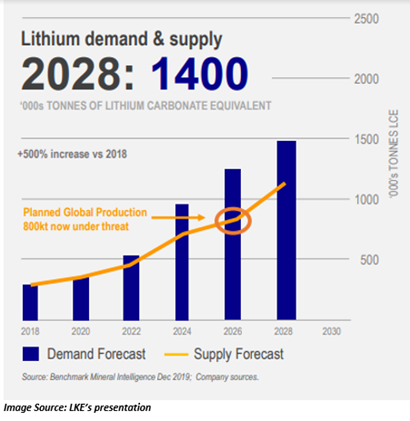 Results Show High Purity Lithium Carbonate Potential
In early January 2020, LKE received extraordinary results at the Kachi Lithium Brine Project that validated high purity lithium carbonate with very low impurities produced from Lilac Solutions ion-exchange pilot plant. Moreover, Lithium carbonate with 99.9% purity surpasses the industry-standard specifications for battery-grade purity and has been a ground-breaking opportunity.
Soon after, LKE validated the potential of 20,000 litres of brine samples from the Kachi Lithium Brine Project to manufacture larger battery-grade lithium carbonate samples with 99.9% purity using Lilac Solutions' disruptive technology in California.
The Kachi Project's rank is believed to be amongst the top 10 lithium brine resources globally, and the Company has been keen on producing a low impurity, high-quality product which can lure for attracting premium pricing.
The results from the lab testing have shown that concentrations of 30,000 - 60,000 mg/L lithium can be manufactured from brines of approximately 300 mg/L lithium in comparatively lesser time using Lilac's technology.
More at: Kachi Brine Pilot Plant Testing Advanced at Lake's Technology Partner, Lilac Solutions
Brine Samples at Lilac
In March 2020, 20K litres of brine samples from the Kachi Lithium Brine Project arrived at Lilac's direct extraction ion exchange pilot plant module in California, which was intended to produce high-purity lithium chloride for conversion to battery-grade lithium carbonate, from April onwards.
Moreover, the Company had planned to produce several kilos of high grade lithium carbonate samples and make them accessible for potential off-takers from late March to commence their qualification process.
Midway down the month of March, LKE progressed the testing of lithium brine samples from its Kachi Lithium Brine Project, and the samples of Kachi brine were used to complete the commissioning of Lilac's pilot-scale ion-exchange module.
In addition to the initial 20k litres of brine samples, LKE recently sent further 20K litres of brine samples from several wells to the pilot plant of Lilac, reaching a total mark of 40K litres of brine samples.
The availability of additional brine samples shall ensure steadiness of supply of requisite sample sizes to meet the rising demand from potential off-takers.
Related Read: Lake Resources Sends Additional Kachi Lithium Brine Samples to Lilac's Pilot Plant
Upcoming Webinars
LKE looks forward to holding webinars to discuss the Company's Pre-Feasibility Study results in relation to the Kachi Lithium Brine Project, that is expected to reflect production costs in the lower part of the global cost curve.
Mr Steve Promnitz, Managing Director of Lake Resources, shall conduct the webinars on the following timings:
30 April'20 - 11 AM (Sydney time)
1 May'20 - 11 AM (New York time).
Moreover, the Company had recently released an interview of the Managing Director which touched various operational aspects, including the purpose of sending the additional brines, the progress at the pilot plant as well as the outlook for lithium in the post lockdown period.
Details of the Interview Can Be Read Here: Lake Resources Optimistic on Lithium Outlook; Update from Investor Stream Interview
LKE stock traded at $0.038 on 28 April 2020 with a market capitalisation of $26.19 million (2:33 PM AEST). The stock has generated a return of 39.3% over last one month.