Lithium exploration and development company, Lake Resources NL (ASX:LKE) has seen significant progress in its activities throughout the quarter ended 31 March 2020 on various fronts. Although the impact of the Covid-19 resulted in the delay of some movements, yet the Company has been able to progress well.
Related: Tapping the Progress at Lake Resources' Kachi Lithium Brine Project in 2020; PFS Results Awaited
The Company was compelled to use more personal protective equipment and tighter security controls and operating procedures in order to comply with government directions, and as a result, the progress saw a delay by a few weeks.
Progress at its Flagship Project
The progress in the work saw development at LKE's flagship resource Kachi Lithium Brine Project in Argentina, to produce sustainable high purity lithium carbonate. The Company aims to move the project towards production and has partnered with Lilac Solutions, in California to use its efficient, disruptive, and low-cost direct extraction technology for the same.
Details at: 20,000 Ltr Brine Delivered for Pilot Testing: Lake's Plan in Line for Kachi Pre-Production
LKE has sent brine samples from site to Lilac's pilot plant module, and high purity (99.9%) battery-grade lithium carbonate has been produced. In total, 40,000 litres of brine samples were sent for processing at the Lilac's plant out of which a batch of 20,000 litres of brines from Kachi arrived at Lilac's pilot plant module in early March, and the additional 20,000 litres is in transit. These additional 20k litres of brine was selected from a range of wells on-site at Kachi to provide consistency in results and for LKE looking forward for meeting the demand from potential off-takers.
Details at: Lake Resources Sends Additional Kachi Lithium Brine Samples to Lilac's Pilot Plant
Subsequent to the production of high purity lithium carbonate samples from the pilot plant module in California and distribution of the same to potential off-takers in the second quarter of the year 2020, LKE has planned a pilot plant to operate on-site at Kachi targeting later in 2020.
Pre-Feasibility Study Concluded
Lake Resources also concluded an encouraging Pre-Feasibility Study (PFS) that was focused on the engineering and costing of preferred process design options supported by direct lithium extraction test work by Lilac Solutions for the Kachi Project to produce sustainable, high purity, low impurity lithium carbonate to attract premium pricing.
On the basis of Indicated Resource of 1.0 million tonnes LCE at 290 mg/L lithium at the Project, the PFS demonstrated low-cost operation with an annual production target of 25,500 tonnes of battery-grade lithium carbonate through direct extraction using Lilac's technology and a 25 years long-life.
Other metrics highlighted by the PFS include the following:
Post-tax NPV8 of USD 748 million (AUD 1,180 million)
Generated an IRR of 22%
Showed high margin operation with an EBITDA of USD 155 million (AUD 245 million) in the first full year of production
Showed an operating margin of 62%, using a forecast of USD 11,000/t Li2CO3CIF Asia
Capital cost (capex) of USD 544 million was estimated, including contingency, and operating cost of USD 4,178/tonne Li2CO3.
With financing and off-take discussions continuing, LKE looks forward to offer product samples from pilot project to the likely off-takers targeting at life extension for project by further resource development and reduced upfront cost.
Moreover, the PFS consumes the 1.0Mt LCE indicated resource over 25 years of operation. However, the JORC mineral resource statement of 27 November 2018 demonstrated significant upside to extending the resource at depth and laterally with further drilling, within consolidated mining leases of 70,000 hectares over almost an entire salt lake, thus positioning the project among top 10 lithium brine resources internationally.
Detailed discussion about the PFS at: Lake Resources Concludes Kachi Project's PFS, Robust Results Further Strengthen Project Prospects
Drilling Anticipated at Cauchari Lithium Brine Project
Another 100% owned area of LKE is the Cauchari Lithium Brine Project, located in Jujuy Province Argentina, where the drilling in early 2019 confirmed multiple high-grade lithium brines over 506m interval through the results returned in late August 2019.
The drilling further confirmed similar grades and lithium brines extending into Lake's properties from the adjoining Ganfeng/ Lithium Americas Cauchari project (NYSE:LAC) which has a Measured and Indicated Resource of 17.9Mt LCE at 581 mg/L lithium for a 23MT total resource. This resource was doubled in size in April 2019 to become the largest in the world, and the adjoining Ganfeng/ Lithium Americas Cauchari project is rapidly progressing to production in late 2020 at 40,000 tpa LCE.
The results from Lake Resources lead to an interpretation of an extension of the adjoining lithium brines in the same basin, only with a marginal difference in grade.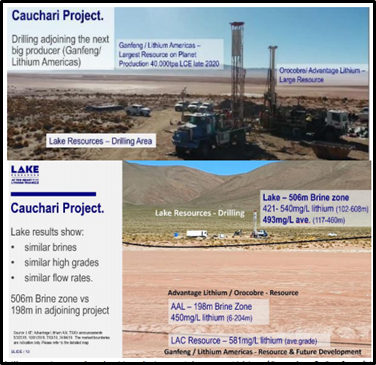 LKE's drill operations at Cauchari in relation to Advantage Lithium/Orocobre & Ganfeng/Lithium Americas (Source: Company's Report)
Lake's leases span over 30 kilometres east and north of the adjoining Orocobre's Olaroz lithium production leases at Olaroz, which is north of Cauchari and the Company anticipates for drilling once the approval for all planned holes is received.
Cash Position and Financing
In February 2020, the Company had a private equity placement under a prospectus lodged on 10 February 2020 and a supplementary and 2nd supplementary prospectus lodged in Feb/Mar 2020.
LKE issued approximately 91 million new ordinary shares to sophisticated and professional investors for approximately A$3.4 million at an offer price of A$0.04 per share.
Related: Lake Resources Hit It Out of The Park: Buoyant Investors' Confidence
Under the same prospectus lodged on 10 February 2020, the Company announced a Share Purchase Plan Offer (SPP) to eligible shareholders who could subscribe for up to A$30,000 worth of new Shares at an issue price of A$0.04 per Share.
Related: Lake Resources Increases the SPP and Placement After Strong Shareholder Demand
The SPP was aimed at allowing retail shareholders to participate under the same terms as the private placement to raise up to A$1.5 million before costs and was significantly oversubscribed which led the Company to upsize the offer to a maximum of A$2.5 million, which was again oversubscribed. However, significant withdrawals were made following the adverse impact from the COVID-19 pandemic during March and A$1.55 million was raised from the SPP with 38,975,000 shares issued.
Details: Lake Resources Upsized the SPP and Placement Post Strong Shareholder Demand
In addition to this, LKE entered into a formal agreement with SBI Investments (PR), LLC, for the early close out of the Convertible Securities funding facility, through a combination of a cash payment of A$ 1,959,615 and issue of 11,558,021 ordinary shares to SBI in February 2020.
For the pre-production, definitive feasibility studies (DFS), permitting and pre-production of lithium products from the first stage of a commercial plant from the Kachi Lithium Brine and Cauchari Lithium Brine Projects in Argentina, LKE appointed SD Capital Advisory Limited, a London headquartered financial advisor to secure debt funding of up to USD 25 million.
In February, LKE also managed to establish an unsecured A$0.8 million short term facility with three large existing shareholders which was put into place to deal with any potential timing issues over the transactions in February.
Currently, Lake is engaged in the assessment of a variety of funding solutions through debt or investment directly at the project level in an attempt to minimise any likely dilution to Lake's equity investors.
As at 31 March 2020, the Company had a cash balance of $2.0 million and discussions are in the pipeline to secure debt funding of USD 10 to USD 25 million for pre-production, definitive feasibility studies (DFS) and initial production of lithium products.
Related: Lake Resources Optimistic on Lithium Outlook; Update from Investor Stream Interview
Extraordinary General Meeting
Lake Resources has scheduled an Extraordinary General Meeting of Shareholders to be held at 11:00 AM AEDT on 14 May 2020 where attendance shall be through a weblink due to restrictions on physical meetings as a result of COVID 19.
On 04 May 2020, the LKE stock settled the day's trade at a price of $ 0.033 with a market capitalisation of $ 25.52 million.