Summary

Krakatoa Resources has been undertaking significant activities at its Turon Gold Project, which have returned significant results.
KTA looks forward to commencing the drilling asap, subject to regulatory approval.
Micro-cap KTA Stock was up a massive 18% on ASX post the announcement.
Junior gold exploration company, Krakatoa Resources Limited (ASX:KTA) has reached another milestone as it announces lodgement of an application with the NSW Resources Regulator to conduct a diamond drill program at its 100% owned Turon Project situated near Bathurst, NSW. This highlights the Company's commitment toward the advancement of its fully-owned Turon Gold Project, situated near Bathurst, New South Wales.
The Turon Project contains two separate north-trending reef systems, the Quartz Ridge and Box Ridge systems that have demonstrated shallow gold targets up to 10m @ 1.64g/t Au from the surface to the end of hole and high-grade gold anomalism up to 1,535g/t Au in rock chips.
Related: Krakatoa Resources Announces Results from RAB drilling at Quartz Ridge Mine, Stock Up by 25%
The application has been made in anticipation to conduct a diamond drill program at its Turon Gold Project, positioned approximately 50 km east of KTA's Belgravia Porphyry Gold Project.
Covering an area of 80km2, KTA's 100%-owned Belgravia Project is located in the central part of the Molong Volcanic Belt (MVB), East Lachlan province, between Newcrest Mining's Cadia Operations and Alkane Resources Boda Discovery.
Moreover, with six initial target areas are considered highly prospective for porphyry Cu-Au and associated skarn Cu-Au, Belgravia Project comprises of Bell Valley and Sugarloaf as the two most advanced target areas.
Following this announcement, KTA stock skyrocketed significantly and registered 18.421% rise intraday on 01 July 2020.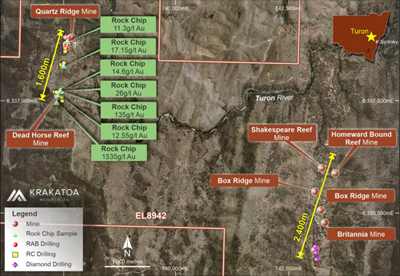 Quartz Ridge line of workings and its relation to the Box Ridge line of workings (Source: Company's Report)
KTA seeks approval for up to 1,770 metres of diamond drilling at several exciting shallow gold targets at the Project. These gold targets are situated within the Box Ridge and Quartz Ridge line of workings which strike over 2.4 km and 1.6 km respectively.
These targets include:
First, the northern extension of the Quartz Ridge Mine, where several highly anomalous gold intercepts were identified through results from a historical shallow RAB drill program completed approximately 30 years ago. The identified gold intercepts returned up to 10m @ 1.64g/t gold from the surface to end of the hole.
KTA says that all holes were sampled throughout their developed length as a single composite sample of 10 metres and the anomalous results were certainly not followed up. Additionally, a chip sample north of the Quartz Ridge Mine, near the presently defined RAB drilling returned a peak value of 11.3g/t gold.
Details at: Is KTA next to fire with Copper & Gold in the Lachlan Fold? Shallow Gold intercepts discovered
Second, the Dead Horse Reef Mine, where past explorers reported several considerable gold grades from chip and mullock sampling. These include 1,535g/t, 135g/t, 26g/t, 14.6g/t and 12.55g/t, out of these, the exceptional chip result of 1,535g/t gold lies south of Dead Horse Reef and is still untested by drilling.
Third, the Britannia Mine, where Deep Ground Penetrating Radar (DGPR) interpretation identified two critical anomalies thought to coincide with structurally controlled quartz veining.
The two priority DGPR targets include:
A shallow target that directly corresponds with the historical mine sequence
A deeper target (from 60m below surface) which remains entirely open and yet to be tested
KTA has reported DGPR interpretations from its survey of the historical Britannia Mine found within the Turon Gold Project and identified several other near-vertical or steeply dipping structures through the survey.
More at: Krakatoa Resources Finds Shallow Gold Targets at Britannia Mine, Drilling Planned for July
Going forward, KTA plans to commence drilling during the current month of July 2020.
On 1 July 2020, after surging significantly, KTA stock settled at a price of $0.045 with a market capitalisation of $ 8.31 million. In the last three months, KTA stock has increased by 18.75% till 30 June 2020.