Although Australian gold-explorer Kingwest Resources Limited's (ASX:KWR) current focus is on developing the high-grade Menzies gold project, the Company is also evaluating options to swiftly sell, partner of commercialize Goongarrie Lady project.
Recently, Kingwest notified about the finalisation of scoping study at its Goongarrie Lady Gold Deposit, which returned significant outcomes.
The Goongarrie gold project was acquired by the Company along with Menzies from the Horizon Minerals Limited (formerly Intermin Resources Limited) (ASX:HRZ) in September 2019. Notably, the Goongarrie project has a proven record of production and exploration upside.
Given this backdrop, let us quickly scroll through the key aspects of Goongarrie Project below:
Location
The Goongarrie project is situated on a granted Mining, Exploration and Prospecting licenses constituting an adjoining land package of over 20km of strike length located 40km to the south of Menzies in Western Australia's Eastern Goldfields.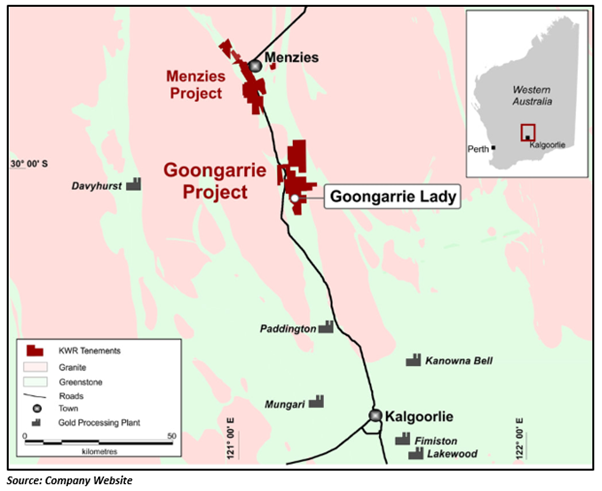 Moreover, the project is situated at the northern end of a major greenstone belt between Menzies and Kalgoorlie within the Archaean Yilgarn Craton's Kalgoorlie Terrane, the Bardoc Tectonic Zone (BTZ). The tenements border the western edge of the BTZ with all deposits either on or close to a significant NNW trending strike parallel shear zones differing in intensity from 20 to 200m wide.
Tenure
The project comprises a single Mining Lease and one Miscellaneous Licence under WA legislation, registered in the name of Black Mountain Gold Pty Ltd and is in the process of being transferred to Kingwest subsequent to the acquisition of project in September 2019.

Historical Background
Between 1893 and 1901, several small gold workings utilized narrow high-quality quartz reefs in the Goongarrie region. Subsequently, Julia Mines NL constructed a treatment plant at Goongarrie in the late 1980s, mining numerous small open pits nearby, including the Goongarrie Lady.
The mining was commenced in 1989 by Julia at Goongarrie Lady on the Mineral Resource estimated at 58,000t at 4.5g/t Au. However, Eastern Goldfields got flooded due to heavy rains from a cyclonic depression after six months of mining, resulting in slips on the eastern side of the pit and thereby mining halt. As per treatment plant records, Julia mined 28,606t at 2.7g/t Au prior to slip.
Drilling at existing Goongarrie Lady pit (250m long, 60m wide, 22m to 25m deep) demonstrates that mineralisation extends to a depth of minimum 40m and gold mineralisation is along strike to the south and open at depth.
The project also adjoins Lake Goongarrie and is in the vicinity of Menzies township and the Goldfields Highway. Geotechnical studies undertaken at the project concluded that the average depth of the water table was 7.9m beneath the ground surface.
Mineralisation
Situated in the BTZ, the Goongarrie gold mining area is hosted by metasediments and sheared basalts. Intense sub-vertical shear foliations striking to the north exposed in the walls of the pit are displaced by sinistral faults trending north-west by 10m to 100m. Moreover, barren quartz trending to the north strikes up to 10m wide extend for up to 100m along the zone of the most intense shearing.
In the Goongarrie gold mining area, mineralisation comprises a series of stacked 400 to 600 west dipping quartz dominated lodes, that also demonstrates a shoot development plunging gently to the south. Besides, mineralisation exists in thin planar quartz veins (less than 2m) with flexible dip directions and strike lengths of tens of metres.
Mineral Resource Estimate
A Mineral Resources Report for the Goongarrie Lady deposit was prepared by the Hawker Geological Services Pty Ltd (HGS) in March 2018, and the estimate was compiled in line with 2012 JORC Code. The 2018 estimate was an update of HGS July 2016 estimate, comprising more than 6,000m of drilling.
HGS declared grade-tonnage estimates at different grade cut-offs for each oxidation profile, leading to a Mineral Resource estimate at a 0.5g/t Au cut-off.

All these key aspects indicate considerable gold exploration potential of Kingwest's Goongarrie project, from which the Company intends to pull out about $10.3 million in 10 months prior to tax and financing.
KWR closed the trading session at $0.155, with a rise of 3.33 per cent on 8th May 2020.