Under the Coronavirus Job Retention Scheme until 31st May 2020, over 6.4 million jobs were effectively saved by the furlough scheme in England. As per the UK Chancellor Rishi Sunak, the British economy is well-placed to rebound quickly since the shrinkage of 20.4 per cent in GDP in April. It was primarily driven by the lockdown restrictions. Moreover, the lifeline provided in terms of stimulus related to grants, loans, furlough, and tax cuts will put the UK in the healthy position for a quick recovery.
Meanwhile, Wallstreet also closed higher following the gains of London and Europe markets. The gains were propelled by shares in Financials, Oil & Gas, and Basic Materials. The Global markets looked jittery initially (due to concerns of the second wave of coronavirus infection, which can derail the pace of re-opening of economies) but looked to rebound from the massive sell-off witnessed on Thursday.
There were several factors which influenced the market sentiments to close the week, including
On the economic front, GDP contracted by 10.4 per cent in the three months to April compared to the same three months of the previous year, the Office for National Statistics (ONS) reported.
On the corporate front, the airlines companies - EasyJet, Ryanair and British Airways launched legal actions against UK government's quarantine rules and enforced the government to re-adopt its former quarantine policy introduced on 10th March 2020, wherein quarantine was restricted to travellers from "high risk" nations.
Given the prevailing market conditions, we have chosen to review two Financial Services to see how they have been navigating through the economic turbulence. The two financial stocks are Derwent London PLC (LON: DLN) and XPS Pensions Group PLC (LON: XPS). The stock of DLN and XPS closed the week (as on 12th June 2020) on a bright note and gained 4.23 per cent and 4.35 per cent, respectively, against the previous day closing.
Derwent London PLC (LON: DLN) – Operating with High-Quality Portfolio and Strong Liquidity
Derwent London PLC is a FTSE 250 listed Real Estate Investment Trust, which has been listed on the London Stock Exchange since 13th August 1984. The Company's property portfolio comprises owner-occupied property, trading property, and investment property. Its wide range of properties includes office buildings, retail, hotel, light industrial properties, residential, and land.

(Source: Presentation, Company Website)
Synopsis of Recent Regulatory Updates
8th April 2020: The Company affirmed that none of its employees had been furloughs and all employees below the Board have been receiving full salaries and benefits during the pandemic.
30th January 2020: The Company announced the acquisition of freehold interest in Blue Star House in Brixton for a consideration of GBP 38.1 million before costs.
First Quarter Business, AGM and COVID-19 Update: Well-Positioned Despite Abridged Rent Collections and Fall in Values
On 8th April 2020, the Company provided a Q1 FY20 update, along with its AGM and COVID-19 update. In this update, the Company stated that it had received less than three-quarters of its rent due for March 2020, but reported an increase of 4.6 per cent to GBP 2.1 million on 52,700 sq ft in new letting in Q1 2020, completed the acquisition of Blue Star House, Brixton SW9 for GBP 38.1 million, and completed the sale of 40 Chancery Lane WC2 for GBP 121.3 million. Some Additional Highlights are:
The Company has collected 73 per cent of rent due on the Quarter Day (March) as compared with the corresponding period of the last year (March 2019: 98 per cent). In terms of number, it received a total of GBP 43.3 million in March 2020 against GBP 37.45 million in March 2019.
Therefore, at least 79 per cent of total rents are anticipated within the quarter.
The real estate investment trust company affirmed its intention to its final dividend per share of 51.45 pence.
On 31st March 2020, the EPRA (European Public Real Estate Association) vacancy rate stood at 1 per cent.
The Group witnessed robust finances, with LTV of 16.2 per cent, cash and undrawn facilities of GBP 554 million, and rents and values could fall 70 per cent and 71 per cent, respectively.
Share Price Performance Analysis
(Source: Refinitiv, Thomson Reuters) -1-Year Chart as of June 12th, 2020, after the market close
DLN's shares closed at GBX 3,006.00 on 12th June 2020. Stock's 52 weeks High is GBX 4,362.00 and Low is GBX 2,462.00. Total outstanding M-Cap. (market capitalization) stood at approximately GBP 3.38 billion.
Business Outlook
The Group believes the central London office market was on-track and anticipated the portfolio to see ERV (estimated rental value) growth in the range of 1% to 4% with property yields to tighten. Given the lack of clarity over the duration of COVID-19 pandemic and the ongoing uncertainty, it is also too early to give guidance with respect to the impact on EPRA earnings or cash receipts for 2020. Derwent London has always been attentive on a long-term view, outstanding quality, and close connections with business partners, communities, and occupiers. Moreover, DLN is well-positioned to balance its stakeholder responsibilities and to meet its commitments to invest in its longer-term objectives.
XPS Pensions Group PLC (LON: XPS): Well-Positioned in a Stable Long-Term Market with Recurring and Non-Cyclical Revenue
XPS Pensions Group is a FTSE All-Share listed Pensions Advisory and Administration business. It provides consultancy related to employee benefits. The Company advise on more than 1,200 pension schemes to over 884,000 members, with around 1,100 employees across 15 locations in the United Kingdom.
Company's principal businesses are:
XPS Pensions, which provides advice and support to pension scheme trustees and sponsoring employers.
XPS Investment, which provides clear, independent advice to pension scheme trustees.
XPS Administration, which provides services including scam identification, pensions administration, pension scheme accounting, payroll services, technical consultancy, and de-risking projects.
XPS Transaction caters to advice and analysis for corporate events.
Besides the above services, the Company also provides The National Pension Trust and SIPP and SSAS solutions to financial advisers under the Xafinity brand.
On 26th November 2020, the Company will announce its half-year results for FY21.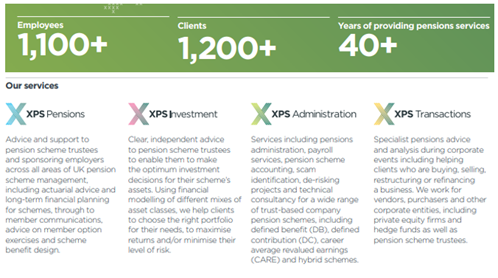 (Source: Annual Report, Company Website)
Recent Significant Developments of 2020
2nd June 2020: Sophia Singleton has joined the Company, as head of DC business from 2nd June 2020.
28th April 2020: The Company confirmed its liquidity with GBP 9.5 million in undrawn facilities and around GBP 14 million in cash balance.
FY 2020 Pre-Close Trading Update – FY20 Results in line, Delivered Decent Cash Generation
On 28th April 2020, the Group provided a trading update for FY 2020 (year ended 31 March 2020) ahead of its full-year results which will be released on 25th June 2020. The Board reported that the full-year results (FY2020) would be in broadly in line with its anticipations. Total revenue increased by 9 per cent year on year, with the Pensions Investment Consulting business grew by 18 per cent, and the Pensions Administration business grew by 15 per cent. Some Additional Highlights are stated below:
In the Pensions Actuarial & Consulting business, the revenue surged by 4 per cent, with the division returning to modest growth in the second half.
As the revenues were robust, profit is expected to be broadly in line with the management's expectations, and costs were also marginally ahead of expectations.
On 31st March 2020, the cash balances were approximately GBP 14 million and GBP 9.5 million of this facility remained undrawn.
The Group witnessed a decent balance sheet, with improved cash collection and revolving credit facility (RCF) of GBP 80 million to December 2022.
Share Price Performance Analysis

(Source: Refinitiv, Thomson Reuters) -1-Year Chart as of June 12th, 2020, after the market close
XPS's shares closed at GBX 120.00 on 12th June 2020. Stock's 52 weeks High is GBX 164.50 and Low is GBX 90.72. Total outstanding M-Cap. (market capitalization) stood at approximately GBP 245.98 million.
Business Outlook
Looking to the potential impact of Coronavirus on the financial year 2021 and beyond, the Group's underlying business stays resilient, with approximately 80 per cent revenue being non-discretionary and recurring, received with a high degree of visibility. In the first half of the fiscal year 2020, the company's Board had declared good progress, through the addition of Punter Southall businesses now mostly completed, and an improved platform for inorganic and organic progress formed. The change in the combination of business and the one-off surge in central costs is projected to temporarily affect the growth in profits for the upcoming twelve months. The macro-economic outlook is uncertain, and with only around one month of trading in the COVID-19 crisis, it is too early to provide guidance for FY2021. The Group said it would provide an additional update on the outlook at the scheduled FY20 results.