Summary

Vaccine development and stronger economic recovery are driving consumer sentiments to record levels.
Westpac Economics now expects a contraction of 2% in 2020 and an expansion of 4% in 2021.
The Westpac-Melbourne Institute Index of Consumer Sentiment marked a 10-year high after clocking 112 in December.
The December figure reflects a 4.1% increase over the previous month. The index is now up 48% from the low in April 2020.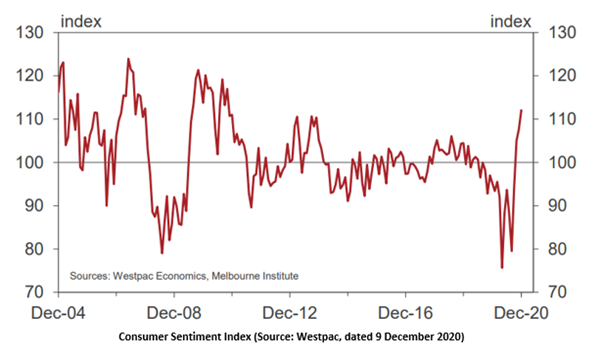 Good Read: Consumer Confidence in Focus Ahead of Christmas Rally
In this pandemic-led recession, recovery in the sentiment has been far better than the recessions earlier faced by the country, including the GFC and the early 1990s recession.
During the GFC, the consumer sentiment index only recovered 8.4% after the low and took a full year to indicate that the recession is behind. In the early 1990s recession, it took around three years to recover from the lows.
The survey has noted two things that have been different in this crisis compared to the previous ones; the financial systems and the response by authorities to limit the economic damage.

Vaccine development is now at an advanced stage. Sentiment among health care workers jumped 25% and sentiment in the 55-64-year age group also rose 20%.
The expansion in the Australian economy during the September quarter and the hopes regarding vaccines have driven expectation from the economy.
Must Read: Australia's Economic Charter: Any Emerging Green Shoots?
The survey has suggested that Australians are now optimistic about the domestic economy over the next 12 months; the sub-index that measures this sentiment rose 9.9%, marking a 10-year high at 111.9.
The respondents also believe that the economy would do better over the next five years. The sub-index measuring the sentiment was up 5.9% to 121.1, which is the strongest reading since December 2009.
The results also indicated that surge in sales of household goods witnessed during the pandemic is now moderating but remains above the pre-pandemic level. The time to buy a major household item index rose 0.7% over the previous month.
Unemployment expectations index dropped 16.2% over the previous month. It indicates that fewer number of respondents are expecting unemployment. A double-digit drop implies falling job loss concerns.
The time to buy a dwelling index fell 5.9% over the previous month but is above the long-run average. There is apparent optimism around the house prices.
Also Read: How COVID-19 has Impacted Australian Labour & Property Markets?
Westpac has also revised its economic forecast, expecting a contraction of 2% in 2020 and an expansion of 4% in 2021. It anticipates unemployment rate at 6% at the end of 2021 and 5.2% at the end of 2022.