Summary

Element 25 on the drive to raise funding by selling shares either in old acquittance Rare X Limited or by utilizing the CPA option with Acuity Capital
Total proceeds of AU$ 1,017,780 builds upon company's cash balance of AU$ 1.94 million as at 31 March 2020, as it advances its flagship world-class Butcherbird Manganese Project in WA.
Mineral Explorer, Element 25 Limited (ASX: E25), advancing its world-class Butcherbird Manganese Project (100%-owned) in Western Australia's southern Pilbara Region, has announced to have utilised the Controlled Placement Agreement (CPA) with Acuity Capital to raise AU$ 555,000 (inclusive of costs) by agreeing to issue 1,530,000 Shares at an issue price of AU$ 0.363. Acuity Capital is also entitled to receive 10% as fee for acting as a lead manager to the transaction.
The issue price represents a 1.3% premium to the 15- day trading VWAP of AU$ 0.358 to 26 May 2020 (inclusive) and a 1% discount to the last closing share price of AU$ 0.365. The settlement of the transaction is scheduled for 29 May 2020 (Friday).
The funds raised have been indicated to be directed towards additional working capital with the shares being issued out of the Company's LR7.1A capacity.
In addition, the Company also informed that in May 2020, around 12,537,965 Rare X Limited (ASX:REE) shares were sold on market for total proceeds of AU$ 462,780 after brokerage costs.
The total combined funds raised from these two transactions amount to AU$ 1,017,780.
The Butcherbird High Purity Manganese Project – Overview & Updates
It is a significant mineral resource hosting ~263 Mt of manganese ore in Measured, Indicated and Inferred JORC resources, with Maiden Proved and Probable Reserve of 50.6M tonnes at 10.3% Mn for 5.22t of contained Mn. It straddles along the Great Northern Highway and the Goldfields Gas Pipeline, underpinning turnkey logistics and energy solutions in vicinity.
Recently, Element 25 completed the Pre-Feasibility Study (PFS) into project development to produce manganese concentrate for export and generate early cashflow with a modest capital cost requirement. The PFS has returned outstanding economics and low capital hurdle, which will allow the Company to develop the project in a shorter timeframe than would have otherwise been possible.
Some of the key highlights form the PFS include Low capital cost AU$ 14.5 million; nominal NPV8 of AU$ 441 million (Real NPV8: AU$ 283 million); nominal IRR of 255% (Real IRR: 223%); strong cashflows; simple payback period of 6 months; a long mine life with the mine plan expected to utilise only 20% of the resource.
For More, Read: Element 25' Butcherbird Project: Turbocharged By Early Cashflow From A Low-Capex Concentrate Export Opportunity
The project development would be undertaken in stages and the first stage has the advantage of potentially providing early cashflow to strengthen the Company's balance sheet and provide funding for the larger high-purity manganese production hub, which is the subject of a parallel, complimentary work stream.
For the power solution, Element 25 is also considering integration of renewable energy to minimise the carbon footprint as well as reducing energy costs, that is sure to place the Butcherbird project at the forefront of global sustainable metal production.
A development timeline provided by the Company in its investor presentation indicates that first production is being targeted for Q1 2021. The Company has also come up with a project financing strategy.
Following outcomes support the study
Baseline environmental studies have been completed
Detailed engineering is underway and
the Company is negotiating with offtake partners and equipment suppliers.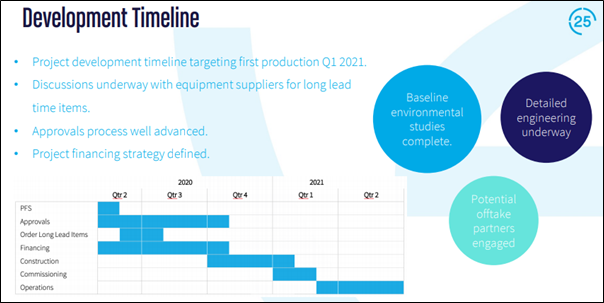 The Company is looking forward to moving into production as the demand for manganese is witnessing a global surge and supply seems to be constrained. Supporting this, Element 25 is on a clear path of transitioning from an explorer to a miner as the Butcherbird Project is located quite close to some buyers, who can be termed as end users.
Stock Information: The E25 stock settled the day's trade on 27 May 2020 at AU$ 0.400, climbing up 9.59%.