Summary

Owing to 2020 challenges, some of the strongest companies on the planet are now on their knees with most business professionals agreeing that it will get worse before it gets better.
Despite this, Crowd continues to improve in the most important of all metrics- underlying EBITDA, which is now positive and slowly improving.
CM8 has streamlined every single aspect of the business - size of the Team, renegotiation of the office rental agreement, new lucrative alliances, sustainable verticals to be explored.
"Crowd has got its mojo back!" exclaims Chairman Steven Schapera.
In the early days of 2020 when COVID-19 had not wreaked havoc on business conditions and financial markets, the global pioneer in influencer and social media marketing, Crowd Media Holdings Limited (ASX:CM8) was well on track in every way with strategic brand sales beginning in February, fintech and insuretech products were in pipeline ready to complement revenue and nascent brand sales.
As weeks passed, CM8 weathered the COVID-19 storm with revenue streams from the mobile division, showing growth while tapping commercial opportunities buried in the pandemic. More recently, driven by Management's constant and relentless focus on the quality of revenue, agility from top to bottom and cost efficiency, CM8 remains on track to accomplish its goal of at least a breakeven operational position for FY20.
Financial Turnaround Across Months
The Company has evolved into a business run (and part owned) by entrepreneurs, not corporate managers. It looks up for (and dream up) great ideas, and then implement them with vision, capital, and zeal. After recording substantial losses for two financial years, the Board has been reporting near-breakeven position, at the underlying EBITDA level over the last few months-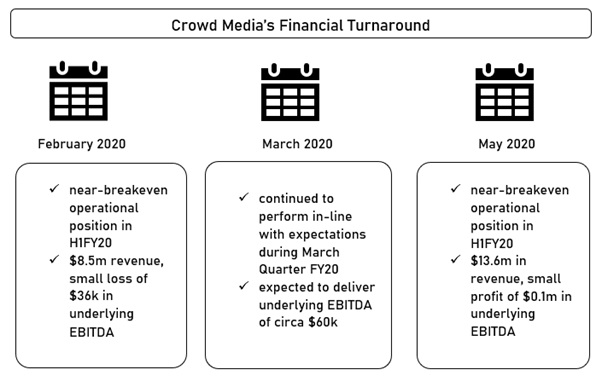 What is Working in Crowd's Favour?
When the pandemic had not caused substantial downturn in all economies in which Crowd operates, Management continued to deeply inspect the quality of revenue derived from both the Q&A and Subscription verticals, further extracting maximum profitability from these two streams. This process included discontinuation of business in certain unprofitable markets, efficiency improvements and rebalancing the service- and reaped benefits from the same, improving ongoing efficiency, and uncovering of new opportunities and alliances over time.
For instance, the recent agreement with home-care and home/personal hygiene products pioneer KINN Living provides CM8 with products that are especially marketable in the "new normal". Crowd remains excited to operate this vertical with strong gross margins, and though it could possibly be a slow-but-steady tactic to revenue building, it could turn into a substantial and scalable business unit.
Following the substantial restructuring of costs and personnel overheads in June 2019, Crowd optimized its workforce to match the size of the business and maintained the capacity to build upon the new direct-to-consumer (DTC) initiatives/ strategic alliances- specifically selling of London Labs and I am Kamu brands, that have compelling offerings. Though marketing of these products was made difficult by COVID-19, in May 2020, CM8 saw the tide turning and is gradually increasing its marketing spend and should begin to see the early benefits of these trials.
In March, the Company was in a strong position financially to overcome the COVID-19 crisis with $1 million cash at bank as at the end of the quarter. In this period, what particularly worked in favour of the Company were revenue streams from the mobile division (Q&A and subscriptions tech platforms) that demonstrated growth as a result of more digital entertainment being consumed by people staying home due to self-isolation.
The Company sought to further explore opportunities from other verticals where it assessed growth, especially in the digital space. It has a competitive edge to take advantage of the tectonic consumption shift from conventional retail to digital, with people spending more time on social media. Besides this, Crowd is also taking benefit of the chance to additionally streamline operations and achieve further cost-cutting.
Management View & Stock Performance
Crowd continues to evolve into a lithe, lean, and nimble business. Mr Schapera believes that the Company's future is more secure today than it has been for some time and there are many exciting opportunities ahead. At the back of right products, a healthy financial position with cash in the bank, the Company's 3-yr plan is on time and on track.
As the Chairman states-
"We have many years of experience in dealing with the unexpected; combined with our innate agility, we will ride out this global economic rollercoaster."
The Company's stock seems to have garnered investor attention on the ASX, as on 10 June 2020, it was up by over 3 % and quoted $ 0.034 (03:06 PM AEST) and on a YTD basis, it has delivered a return of ~73.68 %.
(Note: All currency in AUD, unless otherwise specified)