Summary

Despite witnessing substantial downturn in economies of all the markets in which Crowd is active, a positive turnaround has been driven by Management's focus on quality of revenue, cost efficiency, and agility from top to bottom.
An over-arching strategy saw Crowd pulling out unprofitable customers, improving efficiency, and identifying new opportunities and alliances that could be profitably deployed
In FY21, Crowd aims to launch 6 D2C brands across mobile, web and Amazon platforms, advance insuretch, fintech, Q&A technology plans
In a recent situational update, global media and marketing company Crowd Media Holdings Limited's (ASX:CM8) Chairman Steven Schapera proclaimed that the Company is in a reasonable position to assess where it has been, where it currently is and where it is headed.
June 2020 turned out to be a significant month for the Company owing to execution of an exclusive and binding Marketing Services Agreement with VITAL Innovations Ltd (VITAL), a promising millennial (CM8's prime focus) update, a heavily subscribed Placement and a situational update suggesting that Crowd's plan is on track.
With July 2020 just in, let us cast an eye over Crowd's developments in June 2020 –
Crowd Media's Milestones in June 2020
The below timeline highlights the milestones that the Company achieved in the month, each significant in their domains and paving the development strategy for Crowd-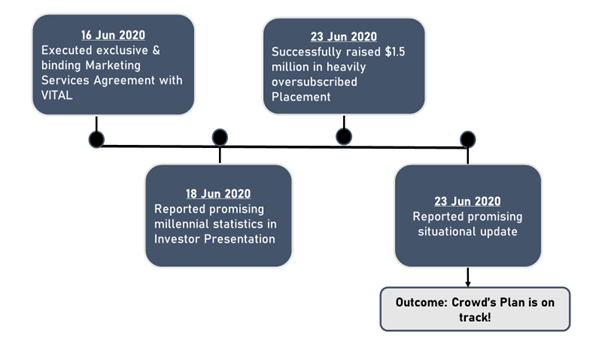 Exclusive Social Commerce Agreement with Vital
VITAL is a UK-domiciled (London-based) family-owned business and has created and launched a number of successful brands across a number of sectors.
To market and sell key VITAL portfolio brands and products into the European market, Crowd executed an exclusive and binding Marketing Services Agreement leveraging its core strengths of digital marketing / direct-to-consumer (D2C) digital commerce / social media / influencer marketing / social commerce. This would in turn enable VITAL to roll out its award-winning brands into the EU markets, driving web and mobile sales.
Moreover, VITAL also agreed to subscribe for 5 million Crowd shares at 3 cents each, a slight premium to the market price, further cementing the relationship between the parties and raising $ 150k to aid Crowd with strategic marketing initiatives and bolster sales.
For more details on the Agreement, READ HERE- Yet Another Milestone for Crowd Media: Exclusive Marketing Service Agreement with UK Firm
Millennial & Influencer Marketing Statistics- A Boon for Crowd?
Crowd deems itself to be millennial focused and has acquired 5 million+ millennial customers in the last 5 years. Millennials and Gen Z are globally becoming the largest demographic- over 4.9 billion worldwide by 2020.
There is a whopping 400 million+ digitally minded population of the tribe in Europe, a region where Crowd plans to sell exemplary products integral to the lives of millennials on a D2C model. The Company already has deep experience in digital marketing to millennials in most European countries, across 12 different languages.
Crowd also informed that the influencer marketing is growing rapidly, with an estimated market of USD 20 billion by 2020. Crowd has collaborated with over 10k influencers over the last 5 years across 30 countries and 10+ languages.
To know more, READ HERE- What's New with Millennial Focused Crowd Media Holdings Limited?
Heavily Subscribed Placement
In a strategic move, Crowd successfully raised $ 1.5 million via placement of 62.21 million ordinary shares at 2.5 cps and ~ 31.1 million options (subject to shareholder approval) with an exercise price of 4 cents and 2-year expiry from issue.
Proceeds from the heavily subscribed placement are likely to strengthen Crowd's balance sheet, accelerate scale up, bolster sales and reduce the Billfront facility by up to $ 500k.
Chairman's Situational Update
Mr Schapera opines that the Company is now more agile, more capable and more efficient despite operating upon a substantially lower cost base. This is evident from positive underlying EBITDA results for January through to June. Crowd remains on track to meet the Board's goal of at least a breakeven/near breakeven underlying EBITDA position for the FY20.
Moreover, in a mere span of three months, Crowd tested three new brands (I Am Kamu, London Labs, KINN) on its sales platform (with another six to come in the next twelve months!)
For more details on Crowd's latest situational update and Placement details, READ HERE: Crowd Media Concludes Heavily Subscribed Placement, Chairman Acknowledges On Track Plans
Crowd continues to improve in the most important of all metrics with underlying EBITDA positive and steadily improving. The Company has evolved into a lithe, lean, and nimble business run by entrepreneurs, not corporate managers, identifying and flushing out opportunities, developing strategies to secure them, and executing with speed and professionalism.
On 3 July 2020, CM8 closed the day's trade at $ 0.025.
GOOD READ: How Crowd Media Accomplished Significant Financial Turnaround Across Months?