Summary

Cobalt Blue's flagship Broken Hill Cobalt Project (BHCP) is a globally significant Australian project, also the largest primary cobalt project outside Africa.
Strong economics are backed by long-life, low-cost and large-scale cobalt operations at BHCP.
Pilot plant and ore reserve update expected in 2020, while feasibility study and financial investment decision anticipated in 2022
Cobalt Blue Holdings Limited (ASX:COB) is an Australian exploration and development company, advancing on its 100% owned Thackaringa or Broken Hill Cobalt Project (BHCP) in New South Wales, the largest greenfield primary cobalt project outside Africa.
The Thackaringa Cobalt Project is located in the neighbourhood of mining friendly Broken Hill, the region that hosts some of the world-renowned nickel, lead, silver and zinc mining operations including Perilya's mega Broken Hill operation.
The au courant audience must know that the green energy explorer is also testing its proprietary technology for pyrite ore processing to produce battery ready cobalt products.
To know more, please read Cobalt Blue Advancing Government-backed Proprietary Cobalt-Pyrite Ore Processing Technology
Long-Life, Low-Cost Cobalt Mining Operation: BHCP, A Rare Gem
Cobalt Blue completed the pre-feasibility study for BHCP in 2018, which uncovered the large-scale potential of the project. The study highlighted processing of 5.25 million tonnes of ore every year to finally produce a cobalt sulphate product containing 3,657 tonnes of cobalt a year.
The initial life of mine as per the PFS is 9.3 years, however, as per the latest company reports, it is targeting a mine life of more than 20 years. Cobalt Blue plans to upgrade the mineral reserve estimates during 2020, which may further stretch the mine life. Currently, the resource estimation is 111 Mt @ 715 ppm Co & 7.8% S, for 79,500 t Co & 8.7 Mt S.
On average based on reserve, the C1 cash cost for the cobalt product has been estimated at around US$11.90 a lb including elemental sulphur, as per the PFS. Cobalt Blue has collaborated with government bodies for further optimising and improving the sulphide ore processing method to produce battery grade cobalt products.
Australia presently produces ~4,000 tonnes of cobalt every year, and the Broken Hill Cobalt Project on commencement is expected to hold the potential to almost match this volume during peak years of the production plan.
Both the feasibility study and final investment decision (FID) into the project is expected in 2022.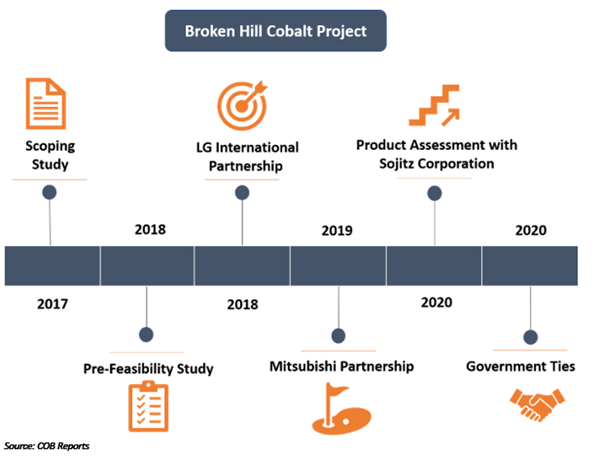 Must Read: Cobalt Blue Supported by Industry Majors: LG and Mitsubishi, Many More to Follow
BHCP Exhibits Strong Economic Aspects
As per the PFS, initial project capital would stand at around $550 million including $66 million to account for contingency and excluding $25 million for pre-stripping. In accordance with the project target financial model, BHCP holds a payback period of only 4 years with a pre-tax NPV of $792 million (declared in 2018), holding a Post-Tax Internal Rate of Return (IRR) of 22%.
It is to be noted that the economic aspects may change over the course of period due to business related activities and macro-economic factors, such as commodity prices.
The economics of the project are expected to be enhanced with the optimisation of power pricing, metallurgical recoveries, and much anticipated extension of mine life.
Excellent economics and improving proprietary cobalt technology would enable large-scale, long-life, low-cost cobalt mining operations at BHCP.
The Way Forward for BHCP
In 2020, Cobalt Blue is extensively testing the sample ores from different mining partners to further establish the proprietary technology and the product specifications.
The Company with the help of Australian government's financial aid is building a pilot plant, anticipated to commission in Q4 2020, and later scaled to a subsequent larger scale fully integrated demonstration plant. Cobalt Blue plans to revise the mineral reserves estimation, which holds the potential to substantially extend the mine life and project economics.
COB stock was advancing further by 11.11% to trade at $0.110 on 3 July 2020 (AEST 02:49 PM).
(All financial information pertains to Australian Dollars unless stated otherwise)