Summary

Professional sports such as cricket, netball, AFL and rugby are all set to make a comeback with enforcement of multiple safety and testing protocols.
NRL season return kicked off on 28 May 2020 with smiles on over 1 million people.
The broadcaster Nine Entertainment revised its deal with NRL until 2022, benefiting profit and loss statement by hitting ~$27.5 million every year during 2021 and 2022.
Prominent players such as Pointbet and Super Retail Group with sporting outlets are expected to leverage the benefits of return of AFL and NRL.
The mantra has changed from 'Stay Home' to 'Stay Safe'. Yes! Good news seems to be on its way folks. Amidst government's three-phase economic opening plan, various sports are announcing their come back in the sports and gaming world.
Grab your beer and enjoy your favourite sports at home, while COVID-19 outbreak that threw the sporting calendar of the country into disarray is back on track! Undoubtedly, the return of games with some relief on virus spread has bought a smile on several sports fans.
However, the new normal in sports space has come with a twist wherein the shouts of players will now echo into our living rooms, while the roars of joy or disapproval from the masses in the stands will no longer be heard.
Notably, sports leagues and competitions are given the green light by various officials based on different norms and guidelines including strict social distancing rules and regular tests for COVID-19.
Marne Fechner, CEO, Netball Australia said that they are preparing for the return of netball across the country with full dedication.
Yes, you heard it right, netball is preparing to make a comeback!
Netball Australia has released guidelines to assist the member organisations in kicking off a safe return to netball. The below guidelines are expected to give clarity to the entire netball community across Australia regarding the commencement of the type of netball activities and creation of a safe training environment.
Did you read; PointsBet Becomes Exclusive Wagering Partner for Fox Sports AFL During 2020 Season
Aussie Rugby league kicks off with the clash of the Broncos and Eels
The suspended rugby league amid COVID-19 kicked off again on 28 May 2020, wherein the Broncos and Eels had a face off in Brisbane. This comeback was with a new look and a hint of jitters. No fans were spotted inside the stadium and broadcasters played virtual crowd noises, with application of the new six-again rule and revert to a single referee in the game.
As per NRL, the total audience for the Eels 34-6 victory was 1.3 million, an upsurge of 29.5 per cent on the previous round-three game in 2019.
The game was broadcasted to other countries as well including Sky Sports across three channels in the UK and Fox Sports 1 in the US.
While, Fox Sports is set to remain as the sports pay-TV broadcaster with Fox until end of 2027, Nine is in the deal for another two years, i.e. 2022 following the revised agreement with NRL.
Nine Entertainment (ASX: NEC), released a revised contract with NRL on 28 May 2020 including the codes 2020, 2021 and 2022 seasons. A much shorter season will be played with 20 rounds, with the finals set forth for 25 October 2020. Also, Nine will broadcast rugby season finals along with the State of Origin series. This revised contract will benefit the profit and loss statement of the Company, with due changes in rights fees along with associated production and services arrangements- the expected hit of ~$27.5 million every year during 2021 and 2022.
The Company announced on 25 May 2020 that it plans to sell off Stuff Limited, New Zealand business of Nine, to a management buyout that will be led by Ms Sinead Boucher, current CEO of Stuff. This means that the ownership of Petone print plant in Wellington will be retained by Nine, to be subsequently leased back to Stuff.
AFL set to come back from 11 June 2020
The Australian Rules Football League has confirmed that its matches will resume on 11 June 2020. The modified training for the players resumed from 18 May 2020 in a maximum of a group of eight, with full contact training from 25 May 2020. The training is expected to be accompanied by twice a week test of players for COVID-19.
AFL has confirmed that their games' first block will be released in another ten days and is scheduled at AFL venues that approves the conduct of matches and full-contact training.
Cricket- mad Australia welcomes back the game!
Cricket Australia welcomed the game after a halt amidst COVID-19 fear, and has announced the 2020-21 summer schedules inclusive of men and women side matches against New Zealand. They also plan to welcome several other countries starting 3 December 2020 in Brisbane. Though, The schedules are subject to change amidst virus uncertainty.
However, the international schedules every month starting August 2020 till February reflect confidence that the season will be able to move smoothly amid loosening restrictions.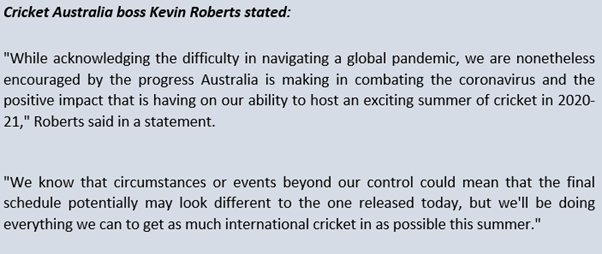 Did you read; Rolling - 3, 2, 1: A take on the Australian Media Industry
Eager to get out on the slopes this winter – here is something you should know
With June long weekends round the corner, Grab your gears as the ski season is about to begin following the announcements by Victorian premier and NSW confirming the season to start from 22 June 2020.
To be Covid-19 Safe, people need to make sure that they adhere to social distancing and other guidelines such as pre-purchase day lift passes or multi-day passes before arrival, maintenance of social distancing in the queue of lifts and a limit of two per quad chair.
Happy snow season guys!
NOTE: $ used in the article refers to Australian dollar unless stated otherwise.