Summary:
Management buyouts or selling a business to its existing management team has always been an attractive option due to- quick private deals, minimum disruption to the business and secured legacy.
Ending months of speculation around a potential takeover, Nine Entertainment has sold Stuff Limited, its New Zealand business, to a management buyout.
For decades, management buyouts have been considered as a quicker, cheaper, and easier option to buy either a total or majority stake in a company, wherein confidentiality surrounding the sale can be much more easily maintained with higher chance of ongoing success and profit.
Management Buyout is a process of selling one's business wherein the current management group of the business entity works collectively to buy an aggregate or a majority stake in the company. In a nutshell, it is the process of the current management team buying out the current owner and taking control of the company or break a certain department of the business away from the main operations. Management buyouts occur in businesses and companies of any size and can pertain to any industry.
Recently, Australia's largest locally owned media company, Nine Entertainment Co. Holdings Limited (ASX:NEC) entered into a share sale agreement pertaining to Stuff Limited, its New Zealand business, as a management buyout.
Post announcing the share sale agreement, NEC was trading up by over 5.8 % on the ASX, quoting $1.45 a share during the trading session. NEX last traded at $1.47, up by 7.299% from its previous close. The stock has an annual dividend yield of 7.3% and has generated returns of 18.61% in the past one month.
Nine's Share Sale Agreement
On 25 May 2020, the Company notified that it plans to sell Stuff Limited, its New Zealand business, to a management buyout that will be led by Ms Sinead Boucher, Stuff's current CEO. This means that Ms Boucher will be taking over complete ownership of the business as it sets to return to a Kiwi ownership. The direct proceeds from the sale were reported to be NZ$1 and the transaction is likely to be completed this year by 31 May.
However, Nine will have the possession of Petone (print plant site), located in Wellington, New Zealand later to be leased back to Stuff. Besides this, Nine will receive 25% proceeds from the recent and successful completion of the Stuff Fibre sale prior to completion of the Stuff sale to assist Stuff to operate as it settles into its new ownership structure; besides which will be an additional 75% over the subsequent 36 months, which will depend on Stuff business' ability to raise funding.
This buyout follows Nine's recent decision of terminating negotiations with New Zealand Media and Entertainment (NZME), which is supposedly a Stuff rival.
Besides the management buyout update, the Company intimated that it expects an associated Specific Item cost of approximately $40-45 million at its FY20 result which will be released in August.
Nine and Stuff Association
Nine is Australia's largest locally owned media company that is known for creating and curating quality content. Its investments span across television, video on demand, print, digital, and radio. Stuff is New Zealand's most popular and largest news site and specialises in investigative journalism, long-form writing & visual storytelling and opinion & analysis.
Nine acquired ownership of Stuff a couple of years back in 2018 post its merger with Fairfax Media.
Management's Take on the Management Buyout
Hugh Marks, CEO of Nine stated that it was important for Stuff to have local ownership. According to him, the recent buyout is the finest outcome for consumers as well as competition in New Zealand.
According to Ms Boucher, who was appointed Chief Executive in August 2017 after serving as its digital editor has grown the brand to be the biggest digital news site in New Zealand, the buyout transaction provides the business far greater certainty in times wherein the media industry navigates through the challenging waters of the post COVID 19 ad market and regards the day to be "an important moment for Stuff as a business".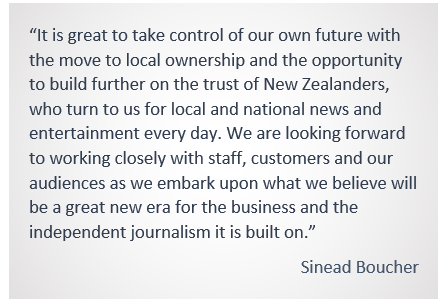 The timing of this transaction has come around at a time which is perhaps a new era for the media business and independent journalism, given the coronavirus crisis and the critical role that the industry has to play.
While we garner information about the recent business deals in two of the most renowned names in media and journalism in the Asia Pacific region, let us touch base upon the role of the media industry amid the COVID-19 crisis hour-
Current Role of Media
The media reaches millions, each and every day in the large consumer-driven society to today that relies upon information they can trust and have confidence in more than ever today through radio networks, newspapers, websites, and digital products. Besides this, media also has the significant role in supporting businesses to stay connected with their customers and its role currently is beyond usual advertising and sponsorships.
With employers encouraging their teams to work from home and limit their face to face interactions, the media's role in bridging gaps is paramount amid the coronavirus crisis as this is the platform where people currently share experiences, stories, advice and often provide the much-needed reassuring companionship.
It sure seems great for Stuff to have reserved control of its own future with the strategic move to local ownership in times when media and information is overriding. In the coming days when the role of media is likely to be of extreme importance, it will be interesting to gauge how Stuff works with staff, customers, and audiences from here on.
(NOTE: Currency is reported in Australian Dollar unless stated otherwise)