Leading Biotherapeutic giant CSL Limited (ASX: CSL) is involved in development, manufacturing and marketing of pharmaceutical and diagnostic products, cell culture media and human plasma fractions. The Company is engaged in the development, commercialisation and delivery of innovative biotherapies and influenza vaccines. The two core Businesses of CSL include, a company dealing in biotherapeutics with wide-ranging quality products; CSL Behring and a company dealing in influenza virus; Seqirus.
CSL's shares have been trading at a market-beating price since release of results for the year ended 30 June 2019 in August, reporting robust profit earnings. Investors' sentiment strengthened with the company reporting a solid growth in revenue of 11%, or 17% on a constant currency basis with the net profit after tax of $1,919 million for the year ended 30 June 2019. CSL also reported US$1.85 total full year dividend per share.Â
Operational HighlightsÂ
CSL Behring Portfolio
CSL's largest franchise, the immunoglobulin portfolio, has been performing extraordinarily well with a substantial market growth with sales up by 16%, and delivering a continued strong growth which was reflected by the growing sales of PRIVIGEN®, up 23% and HIZENTRA®, up 22%.
As per the Chief Executive Officer and Managing Director of CSL, Mr Paul Perreault, to some extent, Company's new Chronic Inflammatory Demyelinating Polyneuropathy (CDIP- a devastating neurological disorder) indication for HIZENTRA® and the inclusion of this indication for PRIVIGEN® in the US market, played a role in driving its growth.
Additionally, demand drivers include- augmented usage for chronic therapies, increased awareness & diagnosis, CIDP indication as mentioned above & expanding usage for SID.
The sales of ALBUMIN grew 15%. Albumin delivered strong growth in 2H which was driven by China and Europe. In FY19, the China sales were up by 14%. For Kankakee AlbuRx®, the approval in China is pending.
Other factors that contributed to the strong financial results of CLS include high patient demand for its specialty products Haegarda and Kcentra and positive development of its Haemophilia portfolio.
HAEGARDA® (therapy for Hereditary Angioedema (HAE) patients) and IDELVION® (CSL's therapy for Haemophilia B patients), have been CSL's transformational products which was reflected by remarkable growth in sales; HAEGARDA® sales increased by 61% and IDELVION® sales grew 40%, KCENTRA sales up by 14%.
CSL Behring Portfolio Financial Highlights. Source: Company Presentation
 Seqirus Portfolio
CSL's Seqirus influenza vaccines business is also delivering strong profit growth, which is in line with CSL's strategy, paving way to position CLS well in the marketplace with a differentiated product portfolio and innovative production process. The total sales was reported to be increased by 19% and revenues up by 12%.Â
Under this portfolio, FLUAD® sale grew more than two folds. FLUAD indicates active immunisation in patients aged 65 years and older suffering from influenza.
Â
Further, convincing insights were provided by the real-world effectiveness data for FLUCELVAX® which is an influenza vaccine derived from cell culture.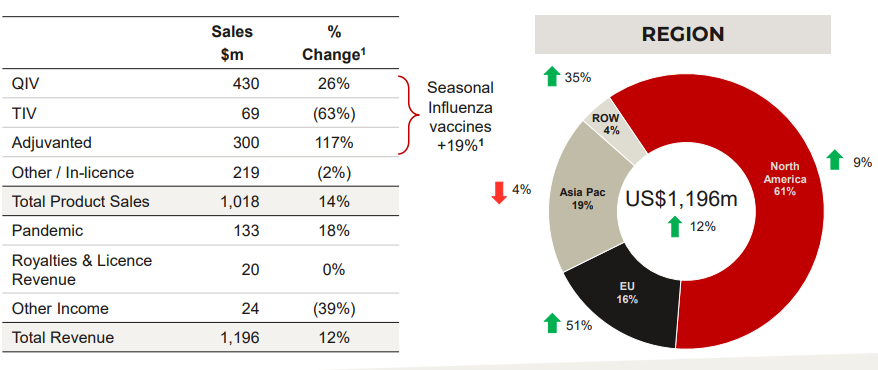 CSL Seqirus Portfolio Financial Highlights. Source: Company Presentation
Efficiency
Â
A total of 30 new plasma collection centres were opened in the United States.
Overall, 221 centres were opened in the US, eight in Germany, three in Hungary and five in China.
CSL is further planning to open around forty new centres in the financial year 2020.
CSL also attained sustained efficiency in both labour as well as yield.
To further support the plasm collection, CSL procured liquid saline & sodium citrate facility.
New Enterprise Resource Planning systems were implemented worldwide.
Underpinning the future demand, CSL's major capital projects at all manufacturing sites are progressing well.
CSL's manufacturing facilities underwent 440 regulatory inspections without impacting licenses or operations.
Innovation cum Development
In terms of innovation and new developments, the Company inaugurated new research facility; Bio21, in a premier medical research hub in Melbourne, Australia.
CSL achieved 24 new product registrations during the year.
CSL also reflected decent progress with its early research portfolio and with the projects in later stages.
CSL112 phase III study for cardiovascular disease is progressing well with enrollment of patients in more than 44 countries.
CSL312 phase II study that targets Factor XIIa, has been initiated registering HAE patients.
CSL964 phase II/III study targeting the prevention of GvHD with AAT commenced.
Additionally, received approval for HIZENTRA® and PRIVIGEN® (for CIDP indication) in Japan and for HIZENTRA® in Australia.Â
People and Culture
During the given year, CSL was listed in the Top 100 Global Diversity and Inclusion Index (Thomson Reuters).
CSL hired key leaders to its management board., Mr Paul McKenzie who will be serving as Chief Operating Officer and Ms Anjana Narain, who would serve as Executive Vice President and General Manager for Seqirus.
CSL's Employee workforce grew by 13% to 25,000 in comparison to last year, with female employee base represented 57% of total employees.
The Company achieved 74% employee engagement score along with the execution of workplace safety improvement plans.
Shared Value
Shared value underpins the responsible business practice as well as builds trust with Company's shareholders.
CSL distributed US$8.4 billion over the year. This included payments to suppliers, salary and benefits to be given to employees, returns to shareholders, government taxes, and contributions to community.
CSL strategic area of support also included global community investment wherein the Company invested US$56 million.
Financial HighlightsÂ
Total ordinary dividends for the financial year 2019 ended 30 June, amounted to US$1.85 per share comprising interim unfranked dividend of US$0.85 per share and a final unfranked dividend of US$1.00 per share.
CSL' earnings per share was valued US$4.24.
CSL's investments in research and development activities amounted to US$832 million that included new product development (57%), market development (13%) and for lifecycle management (30%).
The total operating revenue was US$8,539 million with Net Profit of US$1.9 billion.
CSL's Financial Highlight. Source: Company Presentation
 CSL's Awards and Recognition
The visibility of CSL across the globe was validated by the awards and recognition earned by CSL's employees and operations, including-
Included in the FTSE4Good Index Series Constituent for meeting globally recognised corporate responsibility standard
Received reconfirmation for addition in the Ethibel EXCELLENCE Investment Register, reflecting Company's performance which was better than the average in the concerned corporate sector.
Received Forbes' Best Employer for Diversity in the United States and Americas Best Large Employers.
Received Most Attractive Employers in Switzerland (Universum).
Bagged Most Charitable Award (Philadelphia Inquirer, Corporate Philanthropy Conference and Awards).
Key Insights on Inventory ManagementÂ
The Company plans to continue to produce as per the demand.
Inventory as a proportion of revenue steady.
Strain notification impacted Seqirus inventory mix.
Capital Expenditure
CSL believes in investment in order to support demand. The main projects related to capital expenditure include investment in new manufacturing capacity at all sites, opening of new collection centres, and new ERP systems. The expenditure is estimated to $ 1.3 billion in this regard for the year 2020.Â
Outlook for FY20Â
Demand for plasma and recombinant products remained to be strong for the year 2020. CSL's transition to a new distributor model in China results in arising One-off effect on albumin sales.
The Company also expects a trivial marginal growth arising from plasma product mix shift, growth of recombinant products & conclusion of HELIXATE®.
It is also expected that, CSL's Seqirus business would deliver in accordance with the guidelines provided previously and would realise benefits from product differentiation and process improvement.
Â
Latest ASX AnnouncementÂ
Dated 04 October 2019, CSL released a notice regarding the change of directors interest. It was updated that Mr Paul Perreault, changed his relevant interest in securities effective from 03 October 2019.
Whilst disposing 650 Ordinary Shares, No. of securities held after change are 127,381 Ordinary Shares, 51,727 Performance Rights 163,514 Performance Options 54,113 Performance Share Units.
Â
Stock Performance
At the end of the session on 11 October 2019, the shares settled near its 52 week high at $244.54, up approximately 2% from its previous close at $239.8. The market capitalisation of the Company Stood at $ 108.84 billion with 453.86 million outstanding shares.
CSL witnessed a 52 weeks high price of $246 and a 52 weeks low price of $173 with an annual average volume of 773,754. CSL's P/E ratio stood at 39.7x with EPS at $6.04. The Company generated annual dividend yield of 1.11%, with the most recent dividend amount of 145.45 cents, dividend ex-date being 10 September 2019 and dividend pay date being 11 October 2019.
---
Disclaimer
This website is a service of Kalkine Media Pty. Ltd. A.C.N. 629 651 672. The website has been prepared for informational purposes only and is not intended to be used as a complete source of information on any particular company. Kalkine Media does not in any way endorse or recommend individuals, products or services that may be discussed on this site. Our publications are NOT a solicitation or recommendation to buy, sell or hold. We are neither licensed nor qualified to provide investment advice.