Amidst high volatility in the secondary capital market, the primary market is emerging as a golden goose for investors. With many companies going public and several in line to launch initial public offering (IPO), the IPO space has garnered investors' attention across the world. Investors generally invest in an IPO considering it as an investment with high growth potential, that could help them grow their wealth in the long run.
Though IPOs are fascinating for investors, not all IPOs succeed in making a blockbuster entry; some fail when their new stock is sold below the IPO price while some others have to delay it for one or the other reason.
Let us discuss one of such IPOs that pulled out its plan of market debut in September after receiving a flat response from investors. We are talking about the American real estate firm, WeWork, that has been in headlines after it joined the list of high-profile IPO flops this year.
The reports are swirling that WeWork requires a cash infusion as it is likely to run out of the cash by next month without any fresh financing.
Rescue Work for WeWork
Experts believe that the struggling office-space sharing start-up, WeWork needs cash after the ouster of its former CEO Adam Neumann and its failed IPO. The company was also planning to lay off a quarter of its workforce and sell some of its acquisitions to fill the gap. However, now the company is likely to evaluate the Japanese investor, SoftBank's financing proposal to keep itself afloat.
As per the proposal, SoftBank is planning to take control of the company by spending USD 4 to USD 5 billion on new equity, valuing the company between USD 7.5 billion and USD 8 billion. It is a shocking fall from the glory for the company that featured its valuation at about USD 47 million. Softbank's stake is expected to avert the looming cash crunch in the troubled startup.
SoftBank and its USD 100 billion Vision Fund already hold about one third of WeWork via their former investments totalling USD 10.6 billion.
If successful, SoftBank will have a majority stake of 70 per cent or more in WeWork, conditional on the results of the tender offer. SoftBank's CEO Marcelo Claure is likely to take over as the board chairman, with the stake of Adam Neumann falling to low double digits.
WeWork was also engaged in negotiations with its third-largest external shareholder, JPMorgan, with regard to a USD 5 billion debt package. The bank is also ready to help the startup avoid a cash crunch.
Both SoftBank and JPMorgan have come forward as WeWork's rescuers and the company now has a choice to make between the two financing proposals. Reports suggest that WeWork is leaning towards the SoftBank offer to rescue its embattled company.
Besides WeWork, Latitude Financial Services also failed to launch its IPO after being disregarded by foreign institutional investors. It was the company's second attempt to secure a listing on the ASX (Australian Securities Exchange).
Though WeWork and Latitude Financials have abandoned their IPO, investors are eyeing some other scheduled listings, including Onsite Rental Group and PropertyGuru that are targeted to float in October and November this year, respectively.
Let us take a look at each one of them in some detail below:
Onsite Rental Group to Launch IPO in November
Onsite Rental Group is a specialist B2B equipment rental business, with over 30 years of experience in this industry. The company fulfils its customers' rental plant and machinery requirements wherever their next project is located, whilst remaining nimble enough to support local projects.
The company is planning to formally kick off its run at the Australian Stock Exchange boards on 20th November 2019. Though the company wants to trade on a conditional and deferred settlement basis, its brokers expect it run a bookbuild on 28th and 29th October 2019 to sell shares on the term sheet.
The following are the disclosed terms for Onsite's IPO:
Onsite seeks to make a market debut on 20th November 2019.
The company has planned to raise ~ $253 million (8.9 - 9.6-times of expected profit).
The deal has been priced at $2.87 to $3.15 per share, and the company will determine the final price at bookbuild scheduled on 28th October 2019. The price represents 4.9 to 5.2-times of FY 2020 anticipated EBITDA and 8.9 to 9.6-times of cash earnings.
The deal values Onsite at $490 - $520 million on the basis of enterprise value, and $400 million to $430 million on the basis of market capitalisation.
According to market sources, Onsite expects to generate a revenue of $279.4 million in 2020 financial year. The company has also forecasted a growth in its EBITDA and net profit to $99.1 million and $31.1 million, respectively.
PropertyGuru to Commence Trading on 25th October 2019
PropertyGuru, the well-known real estate portal in South-east Asia, is also considering a listing in Australia. The company is a preferred destination of more than 23 million property seekers to find their dream home, every month, and runs digital property classifieds marketplaces in five countries across Southeast Asia – Thailand, Singapore, Malaysia, Vietnam, and Indonesia (collectively called "Core Markets").
The company intends to list on the ASX to fund its prospective expansion plans like data offerings and online mortgage marketplace.
In its recently lodged prospectus, the company highlighted that it is planning to raise about $362.6 million (includes $180.1 million for the sale of Sale CDIs by Jeroboan Pte. Ltd and $182.9 million from the issue of New CDIs by PropertyGuru for the company's benefit) at an offer price of $3.70 to $4.50 per share.
The offer price signifies 9 - 10.9 times of the company's projected revenue for 2020. The company is looking for buyers for 84.5 to 93.3 million securities.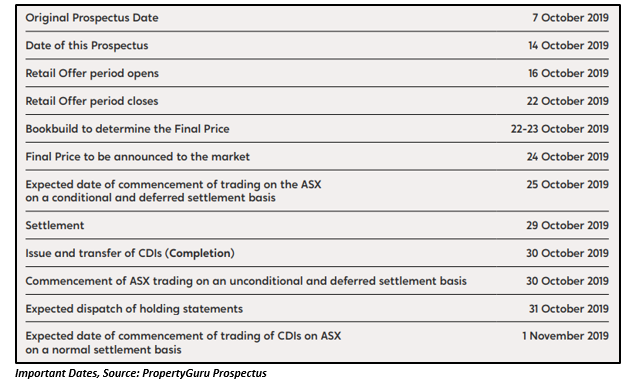 The deal values the company at $1 to $1.22 billion on an enterprise value basis, and $1.16 to $1.36 billion on the basis of market capitalisation.
PropertyGuru expects the commencement of trading of CDIs on a conditional and deferred settlement basis on or about 25 October 2019.
Purpose of IPO
Provide financial flexibility and funding to continue with its growth strategy;
Allow the Current Shareholders with an opportunity to realise all or part of their investment in the Company via the sale of CDIs through Jeroboan Pte. Ltd;
Fund other payments including the repurchase of Shares issued on the conversion of the Warrants and deferred consideration for the acquisition of shares in Dai Viet in 2018; and
pay the costs of the Offer.
The deal's joint lead managers, Credit Suisse and UBS, have opened their books for the company's IPO. As per a recent book message sent by these lead managers to investors, the institutional demand is oversubscribed. The company has found support at the lower end of the indicated price range.
The company's majority shareholders, TPG Capital and KKR have decided not to sell their stake in the proposed IPO.
Amidst the current scenario in the IPO space, wherein some major IPOs have failed to float, an added pressure is mounting over the planned listings. It would be interesting to watch the launch of these planned IPOs in the prevailing situation.
---
Disclaimer
This website is a service of Kalkine Media Pty. Ltd. A.C.N. 629 651 672. The website has been prepared for informational purposes only and is not intended to be used as a complete source of information on any particular company. Kalkine Media does not in any way endorse or recommend individuals, products or services that may be discussed on this site. Our publications are NOT a solicitation or recommendation to buy, sell or hold. We are neither licensed nor qualified to provide investment advice.