Australian health care is a lucrative sector with strong growth prospects. Amid global worries, the health care sector gained tremendous attention from the investors in having the potential to generate a huge profit in a short span of time. In this article we will be discussing about the latest developments in four ASX-listed health care stocks Mesoblast (ASX: MSB), AVITA Medical Ltd (ASX: AVH), Clinuvel Pharmaceuticals Ltd (ASX: CUV), Regis Healthcare Limited (ASX: REG), focusing on financial and operational progress along with the clinical developments.
Mesoblast (ASX: MSB)
Regenerative medicine company, Mesoblast (ASX: MSB), is a world leader with more than ten years of experience in scientific development, manufacturing, clinical development and corporate development with a mission to bring to market innovative allogeneic, off-the-shelf cellular medicines for inflammatory diseases.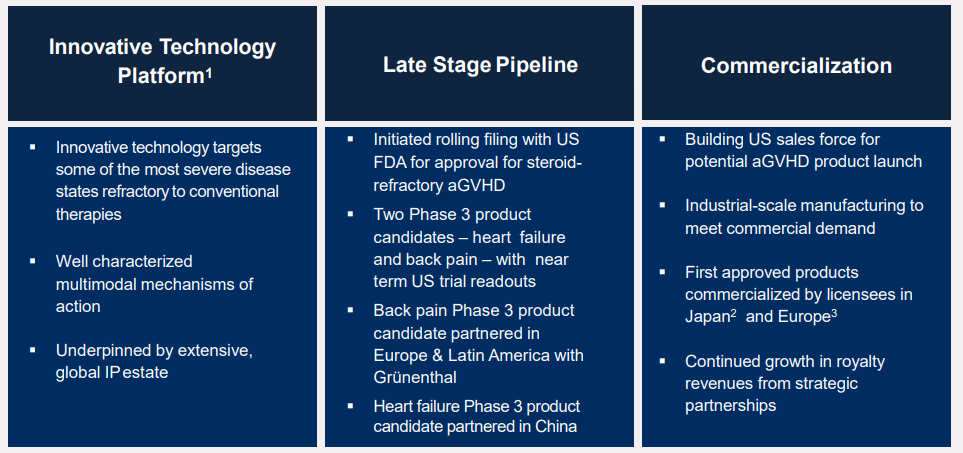 Source: Company Presentation
MSB's Financial Highlights for the first quarter of the financial year 2020 (Q1 FY2020).
Reported significant 46% increase in revenues driven by-
Strategic partnerships: Increase in milestone revenues by 43% which is of the value US$15.0 million as compared to US$10.5 million for the first quarter of FY2019.
TEMCELL® HS. Inj. Sales: Reported an increase in revenue by 85% from the sale of TEMCELL® HS. Inj. which is a registered trademark of JCR Pharmaceuticals Co. Ltd. This was reported by Mesoblast's licensee for steroid-refractory acute graft versus host disease (aGVHD) situated in Japan in comparison to the first quarter of financial year 2019.
Reported significant reduction in loss after tax amounting to US$5.5 million, down by 72% in comparison to US$19.5 million for Q1 FY2019, driven by-
Reduction in R&D expenses: Reported R&D expenditure of value US$12.4 million for FY2020 versus US$18.5 million for FY2019, reflecting 33% decrease.
Milestones & Commercialisation: Reported 46% revenue growth.
Strong balance Sheet with 20% reduction in operating net cash outflows-
Cash on Hand as at 30 September 2019 reported at US$34.5 million while pro forma cash on hand was reported at US$100.0 million. It was further revealed that an additional US$65.0 million in non-dilutive capital would be accessible to the Company under the existing strategic partnerships and financial arrangements.
Operational Highlights
Successful adoption of aGVHD in the Japan market laying the foundation for expected uptake of remestemcel-L for aGVHD in the United States.
Entered into an agreement with Lonza for commercial product manufacture before the planned launch of remestemcel-L.
Entered into strategic partnership with Grünenthal, for the development and commercialisation to develop and commercialize MPC-06-ID with exclusive commercialization rights to MPC-06-ID for Europe and Latin America.
Mesoblast's product Revascor is under development for patients with end-stage heart failure under current FDA Regenerative Medicine Advanced Therapy (RMAT) and Orphan Drug Designations.
MSB's stocks closed at $1.810 on 29 November 2019.
AVITA Medical Ltd (ASX: AVH)
A regenerative medicine company, AVITA Medical (ASX: AVH) is engaged in the development of a technology platform which is well-positioned to address significant unmet medical needs related to therapeutic skin regeneration targeting burns, aesthetics indications and chronic wounds.
RECELL System
It is an FDA-approved Skin Regeneration Platform designed by Burn surgeons works by functioning as an autologous cell harvesting device using a patented enzyme and buffer formulations to prepare Spray-On Skin™ Cells in just 30 minutes at point of care. It is the first burn care product with pre-market approval in over twenty years with proven safety profile and effectiveness, underpinned by positive U.S. clinical trials in burns validated by renowned publications. With life-changing outcomes and economic benefit, the company believes that RECELL is ideal for the treatment of deep partial-thickness facial burns.
Highlights from 2019 AGM Presentation
Avita's Key Achievements Through 2019
Avita's RECELL system received FDA approval of Pre-Market Approval in September 2018 and is placed well for successful adoption in U.S. burns.
Avita's current RECELL platform is expecting to address potential market opportunity surpassing USD $2 Billion in the United States with the current market opportunity (In-patient Burns) of ~200 Million.
Its RECELL® System: In-patient Burns addresses critical patient needs as the current standard of care has multiple shortcomings including extended hospitalization costs, risk of infection and many more. For instance, current standard of care for a 40% Total Body Surface Area (TBSA) burn incur average cost USD $579,000 and 59.4 days in hospital.
Avita's Development Pipeline & Growth Potential
The company's focus is to constantly evolve its current platform that facilitates healthy dermal cell delivery from one part of the body to another to allow delivery of dermal cells that are modified to become healthy. It is also expected that the next generation products will enhance Ease of Use and support Adoption of New Indications.
Source: Company Presentation
Milestones through 2020
Growth in US revenues.
Enrolled first patient in U.S. Pediatric Scalds Clinical Study, U.S. Soft-Tissue Repair Clinical Study and in U.S. Vitiligo Pilot Clinical Study each.
RECELL'S PMDA approval in Japan.
Early research is underway with progress reports on Gene Therapy (EB) & Rejuvenation Field.
Financial Highlights
During the year ended June 30, 2019 the company reported-
Global sales: $7,705,398 for 2019 vs $1,198,861 for 2018.
Total income: $16,421,245 for 2019 vs $11,371,559 for 2018.
Total net revenue: $14,723,422 for 2019 vs $10,859,913 for 2018.
Cash & Cash Equivalents: $28,983,491 for 2019 vs $14,825,532 for 2018.
Net Loss: ($35,160,227) for 2019 vs ($16,519,155) for 2018.
As at 22 November 2019, Avita held cash equivalent to $ 134.5 Million.
AVH's stocks ended flat at $0.625 on 29 November 2019.
Clinuvel Pharmaceuticals Ltd (ASX: CUV)
Australian based biopharmaceutical company, Clinuvel Pharmaceuticals (ASX: CUV) is engaged in the development of therapies for skin diseases with its lead product SCENESSE® completed Phase 2 and phase 3 trials for erythropoietic protoporphyria (EPP) in the US & Europe. SCENESSE® is FDA approved product to provide treatment in United States to adult patients with EPP.
Highlights from 2019 AGM Presentation
Reported mean quarterly cash burn amounting to $2.81 m and mean annual cash consumption amounting to $12.74 m.
Reported A$138 m in terms of total funding to 1st European market.
Main asset deployed in EPP generated the cumulative cash equivalent to 50.4% of the total market expenditure.
Clinuvel further reported yielding a ROE for the last 3 years as 31.57% (FY2019), 32.3% (FY2018), 27.97% (FY2017) exceeding way beyond any of the ASX global pharma index (8.9% in 2017 and 1% in 2018) or global biotech index (11.9% in 2017 and 12.5% in 2018).
Update on SCENESSE® Distribution in Europe and United States
FY2019 has been an outstanding year for the company with A$32.1 million generated revenues, A$18.4 million profits before tax, and 65% CAGR on YoY basis, the increase on YoY basis is a result of more prescribers, more centres and more patients requesting the SCENESSE® treatment.
Clinuvel's SELF-DISTRIBUTION Decision Model
Conventionally, small pharma firms prefer to out-license their technologies to licensees in anticipation of higher profits. With both numerical and long-term strategic considerations, Clinuvel perhaps opted for a SELF-DISTRIBUTION decision model and expects an upfront payment ranging from A$15 million to A$60 million in an out-licensed model at first. The royalty streams are expected ranging from 25% to 40% to serve as annual cash flows with 1.16% risk free rate and 11.4% cost of equity (COE). The company foresee a higher cashflows than under a license agreement scenario.
CUV's stocks closed the trading at $28.100, down 1.92% on 29 November 2019.
Regis Healthcare Limited (ASX: REG)
Australia-headquartered Regis Healthcare Limited (ASX: REG), is one of the largest residential aged care provider, with 6,753 operational places across Queensland, Victoria, New South Wales, Western and South Australia. The company offers services covering ageing-in-place and transitional care, dementia care, respite care, palliative care.
Highlights from 2019 UBS Conference Presentation
Industry and Business Overview
Key industry dynamics of residential aged care market include $18.1 billion annual revenue, $12.3 billion government funding, $4.8 billion resident funded, $1.0 billion other sources. With 213,000 residential aged care places, it is forecasted to increase by ~88,000 over the next ten years. The industry is heavily regulated by Federal Government and has a unique capital funding model.
The Company was founded more than twenty-five years ago with an aim to offer a superior quality aged care experience to residents. The national care & support service underpins the onsite care and other support services. Regis also has a diversified portfolio expanded across globe with metro focus. In Australia Regis' aged care portfolio is one of the largest and most diversified portfolios.
Regis Growth Profile
Regis has seen a significant growth in new places in the last ten years via both development with 1684 new places and acquisition with 1964 new operational places acquired while the growth since its listing in October 2014 is reflected by 1247 new places through development program and 1440 operations places via acquisitions. Regis' timeline of portfolio for the last 20 years is shown below-
Source: Company Presentation
Regis growth strategy includes management of a disciplined balance sheet with a focus on value enhancing growth opportunities. The company also entered into an agreement to acquire two Homes from Lower Burdekin Home for the Aged Society. There have been substantial changes in expectation as well as requirement during the year, in other words it was a busy and challenging year for the company.
Overall, FY2020 will continue to be a challenging year for Regis with its focus to remain on care and positioning for growth.
REG's stocks ended flat at $2.980 on 29 November 2019.
---
Disclaimer
This website is a service of Kalkine Media Pty. Ltd. A.C.N. 629 651 672. The website has been prepared for informational purposes only and is not intended to be used as a complete source of information on any particular company. Kalkine Media does not in any way endorse or recommend individuals, products or services that may be discussed on this site. Our publications are NOT a solicitation or recommendation to buy, sell or hold. We are neither licensed nor qualified to provide investment advice.