Securities & Investment regulator, the Australian Securities and Investment Commission (ASIC) gave some breather to investment managers following the six months-long review. Prior to the latest decision, in July this year, ASIC had restricted internal market making and admission to the exchanges for actively managed ETFs or ETPs (Exchange Traded Products).
Active ETFs Vs Passive ETFs
Actively managed funds do not follow the conventional approach of replicating the portfolio of a fund similar to a benchmark index, which is used by a wider market. Meanwhile, the active fund managers utilise their intellect to construct a portfolio of securities which would not replicate any mainstream benchmark completely.
Passively managed strategies follow mainstream benchmark and replicate the index in their portfolio completely. In a passive fund, the portfolio allocation and weightings are similar to the benchmark index, and the rebalancing is also replicated according to the benchmark index of the fund.
Comparatively, actively managed funds are said to be better return generators due to the selective approach and composition followed by the fund management companies in an active fund. Conversely, the passively managed funds are designed to match the portfolio and composition similar to the benchmark index.
As a result, active managers are capable of beating the benchmark indices more often. On the other hand, passive managers are less capable of generating a return in excess of their benchmark index.
In the disclosure, the active managers do not disclose their portfolio holding on a daily basis as compared to passive managers. However, actively managed strategies disclose the portfolio holdings on a quarterly basis to maintain transparency.
According to Australian regulations, all trust structures (including LITs) are required to distribute the income and capital gains generated by operating the trust annually. Likewise, the realised capital gains, depending on the trading activity, are liable to for tax obligations arising out of distributions.
Prior to discussing the ASIC judgement, let's get you acquainted with some terms;
Market Makers
Alternatively known as broker-dealers in the ETF market, these market participants facilitate a transparent pricing mechanism for the exchange traded products and facilitate trades that close the net asset value. Market makers act as a third party between the buyers and seller of the exchange traded products.
Internal Market Making
Internal market making is undertaken by fund management companies to market their funds, and these fund management companies submit pricing. Usually, this process is a part of funds that are actively managed.
ASIC Guidelines
Recently, the regulator concluded the review of market making practices of actively managed funds. The review has indicated certain integrity risks in the internal market making that is used by active fund management companies.
In some cases, the regulator has found that quotes by market makers are leading indicators of changes to the portfolio value of the fund compared to widely available information like indicative net asset value.
In a bid to mitigate these risks, the regulator has identified measures that must be taken by the companies. Meanwhile, the exchange operators were told to remove the restrictions on the admission of new managed funds based on internal market making.
The regulator has presented its intention to work with concerned market participants to ensure that the new funds introduced in the market must be consistent with guidelines provided by the ASIC. By early 2020, the regulator would be releasing further information related to its findings to manage the non-public information effectively.
Major concerns were raised on the practices used by internal market making, which were indicative of a possible integrity issue. When fair value (reference price) of the funds, which is provided by internal market makers, deviates from the indicative NAVs, the risk of market integrity arises.
ASIC has demanded the following from market makers and responsible entities;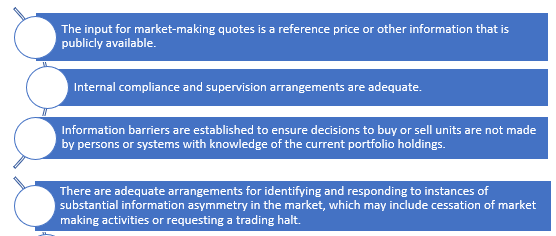 Source: ASIC
Further, the regulator also reviewed the existing frameworks in other jurisdictions in relation to similar market making activities by active funds that are following the non-disclosure of portfolio holdings on a daily basis.
It is the regulator's conviction that the measures in place would help to mitigate any risk to market integrity, and the regulator would continuously monitor overseas developments
Possible Tailwinds to ASX Players;
While there would be many companies with capabilities to launch new active funds that could be actively traded on ASX, now that the barriers have been lifted to launch new active funds for ASX.
We might see more competition in this space now, which would ultimately deliver the customer value. Increasing competition could also result in fewer which are charged by the fund management companies to operates these vehicles.
As customers would look for quality products, this development highly favourable for markets as well as the customers. We shall expect more global players entering into this area, and creating a competitive market.
Platinum Asset Management Limited (ASX: PTM)
Based in Australia, Platinum is an asset manager with a focus on international equity asset classes. It applies a contrarian, long term, bottom-up, index-agnostic investment philosophies to its investment decisions.
Among its ASX-quoted vehicles, the funds include Platinum International Fund (ASX: PIXX) and Platinum Asia Fund (ASX: PAXX).
On 13 December 2019, PTM last traded at $4.55, up by 7.56 per cent from the previous close. On a YTD basis, the stock has delivered a return of -12.24 per cent. Commanding a market capitalisation of $2.48 billion, PTM is recognised in S&P/ASX 200 Financials (Sector), S&P/ASX 200 among other indices.
Magellan Financial Group Limited (ASX: MFG)
Since 2006, Magellan has been involved in providing Australians with decent returns. It is focused on listed infrastructure and global equities, and the company has offices in Australia, New Zealand and the US.
Some of its ASX-listed funds include Magellan Global Trust (ASX: MGG), Magellan Infrastructure Fund (ASX: MICH) and Magellan High Conviction Trust (ASX: MHH).
On 13 December 2019, MFG last traded at $55.88, up by 3.65% from the previous close. On a YTD basis, the stock has delivered a return of 130.68 per cent. Commanding a market capitalisation of $9.83 billion, MFG is recognised in S&P/ASX 200 Financials (Sector), S&P/ASX Dividend Opportunities Index among other indices.
---
Disclaimer
This website is a service of Kalkine Media Pty. Ltd. A.C.N. 629 651 672. The website has been prepared for informational purposes only and is not intended to be used as a complete source of information on any particular company. Kalkine Media does not in any way endorse or recommend individuals, products or services that may be discussed on this site. Our publications are NOT a solicitation or recommendation to buy, sell or hold. We are neither licensed nor qualified to provide investment advice.