What human being is subjected to currently has been unimagined and unforeseen. Did you ever feel that there could occur a disaster so gloomy, that every nation in around the globe will be left with no choice but to experience wartime eventsbecause of a virus? Your answer must be a no,well nordid we!
Are you home quarantined, self-isolating yourself and worriedwhat if you are next in line?Here, in this article, we present to you, a few ways to boost your immune system to fight against coronavirus (COVID-19).
Coronavirus at a glance-
COVID-19- This respiratory disease originated in Wuhan, China and threw the country into a state of emergency. Now the Coronavirus has become a health threat across the globe that requires all hands-on deck approach.
According to WHO as of 31 March 2020, at AEDT 01:22 PM the outbreak has affected nearly697,244people across the globe, with a total death toll to more than 33,257in 204 countries, areas or territories.
Below represented graph shows the cumulative cases of COVID-19 infection in the lastthree months period.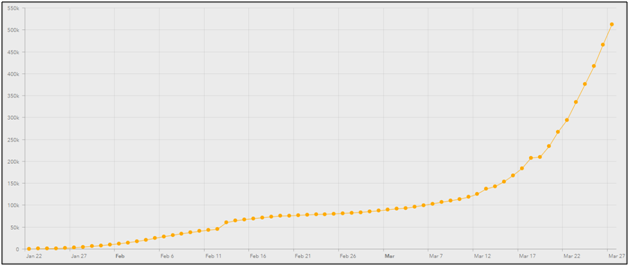 Source:WHO
The graph shows how speedily the coronavirus has spread in the past few days. The coronavirus (COVID-19)posesnumerous insecurities, and none of the individualscould entirelyeradicatethe threat of getting contaminated. But one and most important thing we can follow is to eat as healthy as possible to boost our immune system, so thatin caseif we do catch the virus, our immune system is strong enough to fightwith it.
Do Read:How To Use Psychology To Aptly React To The Coronavirus Pandemic?
As Covid-19 scare grapples across the world, people are getting concerned about their health. Every individual is getting used to life in the era of COVID-19, and researcherspersist working on developing vaccines and antivirals, numerous experts are recommending the public take a holistic attitude to general health care.
Here are a few ways to boost the immune system before anyone catches the virus-
Good personal hygiene- While practising good hygiene is a practice everyone must adopt, the one thing you can do is to look for ways to boost your immunity naturally. By following the precautions, you can stop the infection before it enters your body and prevents spreading it to others.
Here's what one should follow-
Washing your hands properly before preparing food and after bathroom use;
Contain the germ spreading by coughing or sneezing into a tissue or your elbow;
Take caution during cooking and separate raw food from cooked food for avoiding cross contamination;
Do not touch at healing blemishes or wounds, doing so allows microorganisms to enter the body.
Microorganisms (bacteria and viruses) can undoubtedly enter the body through your eyes, nose and mouth, so, remember to wash your hands frequently and avoid touching your eyes, mouth and nose. On the top, if you are not feeling well, seek assistance from a medical professional.
Maintain a proper diet- Your diet has a direct effect on your health, the majority of your minerals, vitamins, fibres and antioxidants comes from your diet and lifestyle- all things needed for a healthy immune system. A healthy diet comprisesof plenty of fresh fruits and vegetables, vitamins and minerals along with some protein and carbs.Avoid alcohol as increased intake can diminish your immune system, also,try not to smoke as smoking can harm your entire body, including your immune system.
Immune-lifting vitamins and supplements-
Supplements and vitamins can be added into diet to increase your deficiency in specific vitamins and minerals but should not be considered as a replacement for a nutritious diet. Some supplements to improve immunity are-
Vitamin C which is an immune stimulant, antiviral and antioxidant agent. One morecommon supplement is Turmeric which hasplentiful anti-inflammatory as well as antioxidants properties.
Cod Liver Oil- This supplement is rich in Omega 3 fatty acids, vitamin D and vitamin A, and stimulatethe immune system and reduce inflammation.
Interesting Read- Coronavirus Outbreak: Swings and Roundabouts
Regular Exercise - Exercise can boost your mood as well as keep you healthy by keeping your body functioning well,since research shows that it diminishes inflammation and provide support to the infection-fighting cells. If you are quarantined, working from home and staying out of the gym, there are a lot of approaches to still get your sweat out bymaking use of bodyweight movements like push-ups, burpees, lunges, and more can give you a quick full-body workout sans any equipment.
Another way to naturally uplift your strength without having to step out of your comfort zone throughout this lockdown is yoga.
Decrease Stress- Since stress triggers an inflammatory response in an individual's body that can significantlyimpacthuman body's fight-or-flight reaction by releasing overly the stress hormone cortisol.Try to manage stress,even throughout anxious and uncertain conditions,decreasinganxiety and stress is one of the most important ways to stay fit and healthy.
Chronic stress weakens the immune system and henceraises the risk of several types of diseases, especially when there are frightening or uncertain incidentstaking place in the environment around you.Yes, this suggestsfear management about the COVID-19 itself- some good approachescould be taking breaks from social media and relying on trust media sources for information, both of which can help you avoid misinformation and panic.
Moreover, sleeping is crucial for your body's capability to fast recovery and defend itself, hence it is also recommended to take plenty of sleep.
There are severaltypes of mindfulness practices which can aid in stress management, varying from the slow-moving poses of yoga and tai chi to innumerable breathing methods.
Eat healthy, Do Exercise, Stay Fit!
Also Read:Investors abandoning risky growth stocks amid COVID-19 fears
---
Disclaimer
This website is a service of Kalkine Media Pty. Ltd. A.C.N. 629 651 672. The website has been prepared for informational purposes only and is not intended to be used as a complete source of information on any particular company. Kalkine Media does not in any way endorse or recommend individuals, products or services that may be discussed on this site. Our publications are NOT a solicitation or recommendation to buy, sell or hold. We are neither licensed nor qualified to provide investment advice.
There is no investor left unperturbed with the ongoing trade conflicts between US-China and the devastating bushfire in Australia.
Are you wondering if the year 2020 might not have taken the right start? Dividend stocks could be the answer to that question.
As interest rates in Australia are already at record low levels, find out which dividend stocks are viewed as the most attractive investment opportunity in the current scenario in our report.
CLICK HERE FOR YOUR FREE REPORT!