Coronavirus has pushed the global economy into a severe downturn due to lockdown measures and restrictions on movement imposed by various countries to contain the virus. It has rattled the financial markets, disrupted many businesses and has brought the travel industry to a standstill.
RBA reduced its cash rate to a record low at 0.25% in March due to a very high market volatility following COVID-19 outbreak and has held the rate since then. Financial markets that reached to record lows in late February and through March are now improving while credit markets have been opening to more firms. However, long term bond rates have stayed at historically low levels.
The uncertainty regarding COVID-19 and robust containment initiatives worsened the economic outlook of Australia, making investors risk-averse. This caused prices of risky assets to decline sharply and increase in the prices of risk-free government bonds.
Hence, the rise in bond prices resulted in fall noted in the government yields. Below is the graph reflecting the same: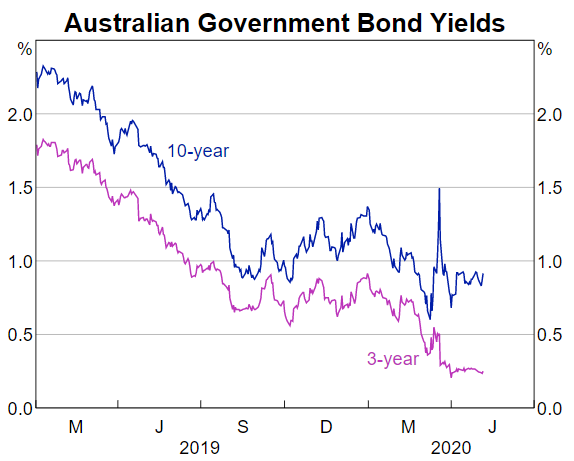 Source: RBA
Since market volatility has been much more muted in April than in the month of March, the 10-year government bond yields have plummeted as central bank intervened with stimulus measures to stabilise and lift the economy. The Australian 10-year government bond yields fell to 0.86% in April-end from 0.89% in March.
RBA has targeted 3-year Australian government bond yield at 0.25%, which has come to the target level after being around at 50 bps. The Bank will retain the target for 3-year yields until it achieves the bank objectives of full employment and inflation.
Let's have a look at the performance of some of the proxy stocks.
Sydney Airport
Sydney Airport (ASX: SYD) envisions itself providing a top-notch airport experience and boost the development of Sydney Airport.
The stock last traded at $5.65 on 11 May, up by 3.67% from its last close, with a market capitalisation of $12.32 billion. The stock has fallen about 38% from its mid-January high noted at $9.04.
As per a trading update released on 20 April, SYD secured $850 million of additional bank debt facilities making its balance sheet more robust with combined liquidity of $2.8 billion.
However, the Board has suspended its half-year dividend distribution ending June 2020 and is planning to reduce operating expenses due to COVID-19 impact and uncertain outlook ahead. As long as travel and social isolation restrictions prevail, reduction in traffic is expected to persist.

Source: Company's report
Further, border closures and containment measures have stranded Australian aviation. Authorities anticipate a fall in passenger volumes until June-end after which recovery is expected.
Transurban Group
Transurban Group (ASX: TCL) is the owner, developer and operator of electronic toll roads and intelligent transport systems in Australia and North America.
The stock last traded at $13.80 on 11 May, up by 1.471%. TCL stock has fallen 15.5% from a high of $16.37 noted in mid-February 2020.
TCL has been providing financial support to frontline customers and those who are witnessing hard times due to COVID-19. It has been taking a range of initiative like giving people more time to pay, fee waivers, deferring account suspension for retail customers while the extension of payment terms and payment plans for commercial customers.
TCL witnessed traffic deterioration from early March and then improving during the second half of April. Express lanes traffic and revenue have been showing higher sensitivity to government responses, while commercial traffic has been displaying greater resilience.
The Group raised $3.7 billion in new facilities during March and April 2020 and has sufficient liquidity to meet capital requirements and debt refinancing obligations to end of FY21. TCL expects to declare its 2H20 distribution in late June 2020 and pay in August 2020.
TCL remains well-positioned with early signs of stabilisation in traffic, strong liquidity and increasing investments in significant development projects.
Webjet Limited
Webjet Limited (ASX: WEB) provides online travel booking services for hotels, flights, cars and tours.
WEB has a market capitalisation of $993.28 million with an annual dividend yield of 7.68%. The stock last traded at $3.5 on 11 May, up by19.454% compared to its previous close, as domestic travel opens up in line with Federal government's 3-step plan of economic revival to gradually uplift the economy disrupted massively by coronavirus pandemic.
Each state and territory is set to unveil its plans for regional and inter-state travel on 11 May. However, uncertainty prevails for the tourism and entertainment sector who would bear the major brunt of the downturn in economic activity.
On 1 April, Webjet declared equity raising of $275 million through institutional placement and entitlement offer. The proceeds from the same are to be utilised to manage operating costs, capital expenditure and balance sheet currently affected due to government travel restrictions amid COVID-19.
WEB is focussing on reducing the short-term impact to earnings and chasing capital strength to be well placed to gain from likely alterations in the competitive landscape due to severe financial pressures. The management is firm on the WEB to perform well when restrictions are lifted, and conditions are back to normal due to its diversity of global source markets and product lines.
As the economy reopens, markets are expected to lift up; however, uncertainty remains after RBA's dim economic outlook of unemployment to top at 10% and GDP to contract by 5% in 2020.