Australia stands second in the global thermal export ranking. It exports almost ~75% of produced thermal coal in the country, shipping 210 million tonnes (Mt) worth $26 billion in FY19. Most of the earnings from export come from Japan, followed by China, South Korea, Taiwan and India, with New South Wales and Queensland being the primary producers in the country.
Operating mines and market destination as of FY19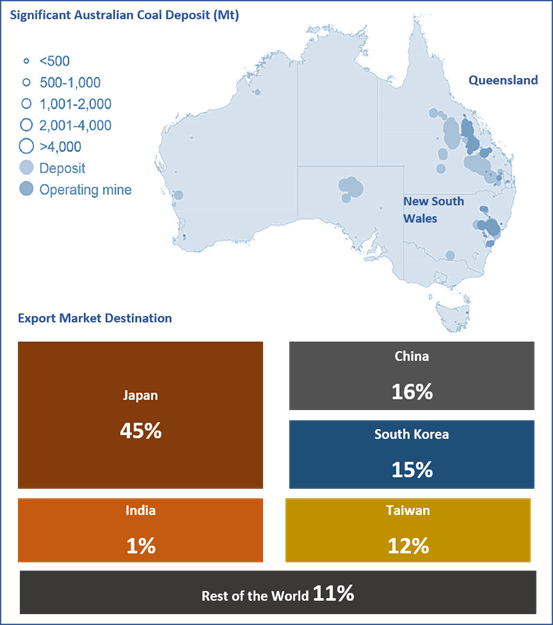 Source: Department of Industry Innovation and Science
The thermal coal price, i.e. Newcastle benchmark index, is forecast to fall from US$74 per tonne in 2019 to US$72 per tonne in 2021 due to the falling demand in comparison to supply. Also, it is pertinent to note that apart from plunging demand, drop in LNG prices encouraged the switching of coal to gas, especially in Europe impacting the coal import in the country. The demand from Asian countries has also affected the coal price due to the decreased economic activity.
Interesting Read: The Coal Outlook: Whitehaven, New Hope, Yancoal
Climate Change and Coal Analogy
The coal sector has been one of the significant contributors of emissions right from mining to combustion emitting methane to SO2, CO2 and ash to mention few. Many developed countries are moving toward cleaner fuel policy hampering coal demand. Recently, BlackRock-an asset management company in the move toward sustainable development has started to remove companies from its portfolio that are generating 25% of revenues from thermal coal. The advancement is done with a focus on the renewable side, aiming climate-related initiative and developing sustainability culture in its business process.
However, this move is unlikely to majorly impact the coal business as major producers such as BHP Billiton (ASX: BHP) and Rio Tinto (ASX: RIO) hold maximum production and yet revenues from coal happen to be lesser due to the revenues coming from other metal and mining operations. Also, the demand fueling from the Asian economy will continue to rise due to the economic growth and renewable may not be capable yet to supply baseload demand.
Coal Dynamics
The world coal trade is expected to fall in 2020 and 2021. The coal import from developed countries has declined due to the Government decision to remove coal-fired power generation. On the other hand, the Asian countries have expanded their conventional power generation using coal, maintaining the demand in the market. However, the import is anticipated to fall by 1% in 2021 from 2019.
China: The limited domestic production and high local coal price relative to import have supported the demand for coal import courtesy to government import caps relaxation. This easement in import policy has encouraged the Chinese utility to opt for imported coal than domestic coal to meet their demand. However, Chinese production is expected to grow in the next few years, and thus import is expected to fall by ~8.3% from 2019 to 225Mt in 2021.
Japan: Future import demand of the country is expected to be almost same as 2019, i.e. around 140Mt supported by nuclear power plant outages or closure of the plant for security reasons. In longer-term, the restart of the nuclear plant may hinder the Japanese coal import market, and thus the same import may fall by ~2.1% from 2019 to 138Mt in 2021.


South Korea: The country's coal import market seemed to be almost constant hovering around ~105Mt amid 2018-2021 due to the comeback of nuclear power generation and the government decision to close six coal-fired generation plant by 2021. The removal of old six plants will reduce 2.62GW of capacity, which will be offset by the addition of 3.1 GW of capacity from the new conventional power plant. However, in the coming years, the government has planned to do more shutdown resulting fall in coal import in future.
Also, it is pertinent to mention that the increase in coal dust from Russia has boosted the Australian coal export to South Korea.
Taiwan: The country's coal import is expected to hover around 60 Mt consistently between 2019 to 2020 due to the government decision to increase power generation from gas and renewables.
India: The coal import is expected to increase by ~3.6% from 2019 to 228Mt in 2021. The increase in import is expected due to the rapid consumption growth than the domestic production in future.
South-East Asia: The import demand from South East Asian countries is anticipated to play a crucial role in future coal demand. The new and planned coal-fired power plant will overweigh the coal demand than the domestic production capacity. For example, Vietnam coal import between January-October 2019 increased by 112% to 37.47Mt in comparison to the previous year.
The surge in Vietnamese coal demand has benefitted Australia, resulting in increased export volume by ~3x to 13.58Mt in January-October 2019.
Good Read: Coal Industry Besieged Over Environmental Concerns
Export Dynamics
The global export is expected to fall by ~2.8% from 2019 to 1002Mt in 2021. The significant fall in trading is likely to be coming from the Americas and South Africa, where the critical source of the export growth seemed to be coming from Australia and Russia.
Future Thermal Coal Import and Export vis-à-vis Countries
The demand coming from Asian countries and China is expected to increase the Australian export market by 8Mt to 216Mt in 2021 from 2018. The increased export demand is expected to be supported by the expansion, ramp-ups and productivity improvement of Australian mines.
To know about coal-related stocks, please read: Updates On 4 Coal Related Stocks – YAL, NHC, SMR, PAK
---
Disclaimer
This website is a service of Kalkine Media Pty. Ltd. A.C.N. 629 651 672. The website has been prepared for informational purposes only and is not intended to be used as a complete source of information on any particular company. Kalkine Media does not in any way endorse or recommend individuals, products or services that may be discussed on this site. Our publications are NOT a solicitation or recommendation to buy, sell or hold. We are neither licensed nor qualified to provide investment advice.