These six stocks have been among the best performers on ASX, as on 11 October 2019. The benchmark index (Australian) closed higher by 0.9% or 59.7 points. Also, the stocks- CCA, SIL, BUD, KAM, MAG and MHG have recorded a change of 10% or more over their last close. These companies are from a range of sectors, including financials, health care, information technology, consumer discretionary and metals &mining.
Let's discuss these stocks:
Change Financial Limited (ASX: CCA)
CCA is a US-focused fintech company, developing innovative and scalable payments technology to provide a solution to business & financial institutions.
Recently, the company has announced that it successfully built innovative payments & card issuing platform, achieving a key milestone in the process. It also received PCI DSS certification, and its US banking partner, Central Bank of Kansas City, has registered the company as a Mastercard payment processor.
It is said that the platform is the new standard for innovative payments & card issuing, allowing banks and businesses to develop, customise and launch innovative payment solution within their own brand.
Its platform is second to Marqeta Inc. for the payments & card issuing capability in the last 20 years, and the first one in the last five years. Presently, the company is emphasising on the commercialisation of the platform, which was scheduled to start this month.
Change Financial intends to target over 7000 FDIC (Federal Deposit Insurance Corporation) Banks, 6000 credit unions, along with innovative players in the financial services arena across the US, leveraging innovative mobile banking services.
For the year ended 30 June 2019, the revenue of the company increased to USD 1.83 million compared to USD 1.07 million in the previous. It also contracted its losses coming down to USD 4.76 million from USD 9.04 million in the previous year.
On 11 October 2019, CCA last traded at $0.27, surging up by 22.72% relative to the last close.
Smiles Inclusive Limited (ASX: SIL)
In a letter to the shareholders, the CEO of the company – Mr Tony McCormack has acknowledged that some parties had sent misleading and deceptive information to the shareholders, issuing media releases that misrepresent the matters related to the company and its operations.
Earlier this month, the company issued shares in relation to the fully-underwritten 1 for 1 entitlement offer. It was reported that ~$3.33 million was raised as a part of the offer at a price of $0.05 per share.
In Its full-year report ended 30 June 2019, the company mentioned that it was operating 56 dental practices throughout Australia. In its full-year financial report, it was said that the high cost and resounding failure of the original implementation of the business model have required wholesale changes within the business.
In FY 2019, the company incurred a statutory loss after tax of $31 million, largely due to impairment of goodwill, property, plant & equipment of $31.1 million, among others. Presently, the business is in Turnaround phase; the Board had approved the appointment of new CEO in February 2019, and shareholder ratified new Chairman.
In addition, the turnaround plan was developed by Deloitte on behalf of the company's banker – National Australia Bank Limited (ASX: NAB), and implementation started in June 2019.
On 11 October 2019, SIL last traded at 0.054, up by 10.204% relative to the last close.
Buddy Technologies Limited (ASX: BUD)
Smart-space solutions provider, Buddy Technologies reported that it started selling the LIFX brand of smart lighting products through Dixons Carphone Warehouse, particularly via Dixons' UK & Irish store brands – Curry's PC World & Carphone Warehouse.
Previously, the company had notified on the products' (as discussed above) shipment to the European retailers for around 140 stores. Presently, it was confirmed that Dixons represent the majority of volume, and the order is increased to supply over 250 stores.
Source: Company's Report
The company's products have a presence in the brick & mortar retailers in the UK, and it believes that the market in the European region is of significant interest due to only one competitor.
In addition, the company has launched first in the world – Polychrome Smart Light. It was said that the company had launched pre-sales for the world's first multi-colour smart light – LIFX Candle Colour.
It would be available exclusively in the US on lifx.com, and the pre-sales of it would commence from 12 PM AEDT on 11 October 2019. The new product is the first-ever, multi-zoned, multi-coloured light bulb with Polychrome Technology™.
On 11 October 2019, BUD last traded at $0.025, up by 25% over the last close.
K2 Asset Management Holding Ltd (ASX: KAM)
On 11 October 2019, the company notified that an additional 415k unlisted options exercisable at 6 cents each on or before 1 April 2023 were issued to eligible employees. In addition, 2.81 million unlisted options exercisable at 20 cents on before 5 April 2020 were cancelled.
At the start of this month, the company reported the monthly fund performance and monthly funds under management. Accordingly, the total funds under management as of 1 October 2019 were $153.1 million.
Further, the net outflows as at 1 October 2019 were at $48.8 million, including $42.1 million of outflow in the K2 Australian Absolute Return Fund mandate, the inflow of $14.6 million in the K2 Global High Alpha Fund, among others.
On 11 October 2019, KAM last traded at $0.065, up by 18.18% relative to the last close.
Michael Hill International Limited (ASX: MHJ)
Dual-listed retailer, Michael Hill International is listed on the New Zealand Stock Exchange since 1987. It is a jewellery retailer, having operations in Canada, Australia & New Zealand with 304 stores (as on 29 September 2019).
On 11 October 2019, the company announced the first-quarter trading update. In Australia, the same-store sales were up 6.8% for the quarter, and all store sales were up 2.3%, both over pcp. It was said the market remains challenging due to widespread discounting as competitors fight to maintain market share. It also closed three underperforming stores.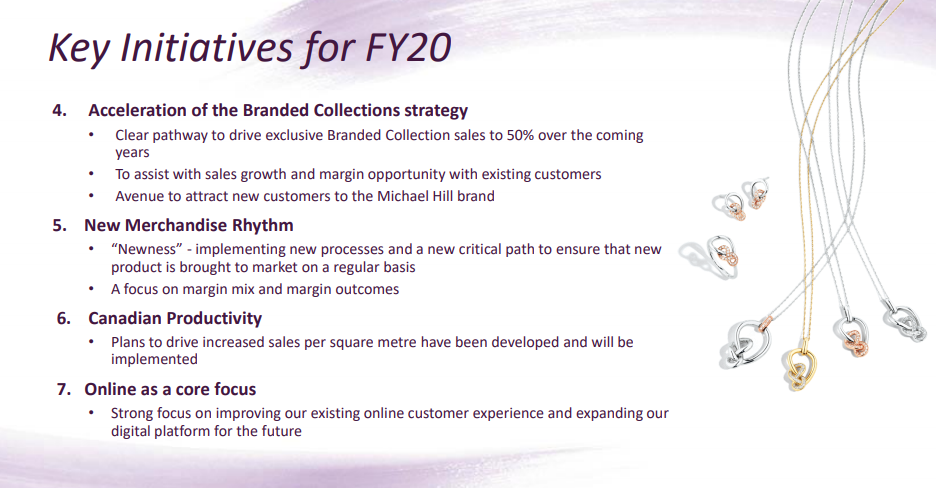 FY 20 Initiatives (Source: MHJ's Investor Presentation, August 2019)
In New Zealand, the company achieved same-store sale growth of 10.1% for the quarter, and all stores sales were up by 11.8%, both over pcp. The optimistic results depict the strong strength of the brand and lift in the market share.
In Canada, the same-store sales were up by 16.4% for the quarter, and all store-sales were up by 17.6%, both over pcp. These results were underpinned by the Canadian productivity strategy, and one store was opened.
In addition, it was said that the margin pressure continues, and early signs of positive movement were noticed with a slight recovery over Q4 FY 2019. However, the margins were not back to historic levels, and the retail environment continues to be challenging.
On 11 October 2019, MHJ last traded at $0.68, up by 19.298% relative to the last close.
Magmatic Resources Limited (ASX: MAG)
Magmatic Resources operates gold & copper exploration projects. In addition, the company entered binding sale & purchase agreements to acquire three projects, subject to shareholder approval at the AGM on 15 October 2019.
East Lachlan Exploration
According to the Annual Report, the company has four wholly-owned projects with no royalty agreements, consisting of eight licenses in the East Lachlan, NSW. The region is home to major Gold and Copper mining operations. Besides, the region is witnessing substantial exploration activity by major miners of the country.
These projects include Myall, Moorefield, Wellington North, Parkes JV with Japan's public exploration company – Japan Oil and Gas National Corporation.
Western Australian Projects
According to Annual Report, the company is excited with potential new additions in the WA region. If approved at the AGM, it would result in the formation of the gold-focussed junior explorer with a potential to produce gold in the near term.
Magmatic's Yamarna and Mt Venn projects (Source: Annual Report)
The company expects to conclude groundwork at the projects, or it might look to find a suitable JV partner to progress with these projects. In addition, these projects would add up to further pipeline for the company, consisting of high demand commodities like gold, copper & cobalt.
On 11 October 2019, MAG last traded at $0.075, up by 25% from the previous closing price.
---
Disclaimer
This website is a service of Kalkine Media Pty. Ltd. A.C.N. 629 651 672. The website has been prepared for informational purposes only and is not intended to be used as a complete source of information on any particular company. Kalkine Media does not in any way endorse or recommend individuals, products or services that may be discussed on this site. Our publications are NOT a solicitation or recommendation to buy, sell or hold. We are neither licensed nor qualified to provide investment advice.