You are undergoing a lockdown, you cannot come out of your house, can't go to work, can't meet people, can no longer be a part of social gathering. Being a social animal; human beings undergo dire urge to resume the normal outgoing life due to such restrictions.
In the organisational context, employees are staying at home and are unable to work. An organisation cannot run without human interaction or communication. With major cities undergoing a lockdown, businesses across the globe have become increasingly dependent on technology to maintain connection and execute their operations as much as possible.
Good Read: Easy on Dividend Cut or Salary Cut – How are Stocks Fighting COVD-19
This has led to an abrupt rise in the demand for video conferencing as well as other digital services that play a vital role in maintaining connectivity and coordination in daily business as well as organisational operations.
Technology to the Rescue
Currently, business across the globe are witnessing a huge challenge of maintaining the continuity in their operations. The highly contagious Covid-19 has compelled governments across the globe to impose restrictions on social gatherings as well as non-essential movements.
Measures like these and many more of fiscal as well as economic nature have been enforced by the authorities across the globe to curb the spread of Covid-19 disease. Due to the current slowdown in the economic activities, analysts, as well as researchers across the globe, are predicting for a severe financial crisis globally.
Currently, businesses are cutting expenses, temporarily standing down their employees, shutting down units, cutting down operations and much more to cope with the everyday mounting challenges in the micro as well as the macro environment of the business.
Related News: Assessing COVID-Induced Business Impact – RWC, IVC, RDC, WES, SGR
Amidst the outbreak of the coronavirus, several countries have been placed under complete lockdown. In such an appalling scenario, technology is acting as a rescue tool for the organisations to keep the businesses running to the best possible extent.
Organisations have moved to online sources of communication and connection within the organisation. Technology platforms are supporting everyday operations of businesses and helping the people behind closed doors to overcome the several challenges.
Technology has come to the rescue of many businesses across the globe, including funeral service providers.
PFP Adapts Streaming Options
The second-largest private provider of death care services in Australia and New Zealand, Propel Funeral Partners Limited (ASX:PFP) believes that funerals are an essential service and an important part of the grieving process making it the unchartered region for mourners as well as the funeral industry.
Stocks Update: Capital Raising to Aid Reeling Businesses – BGL, TCL, SES, COH, TRS
The Company looks forward to adapting and providing client families with the option of streaming services at many of its locations and a memorial service later, once restrictions implying social distancing are reduced.
Although, the restrictions announced by the Australian Prime Minister on attendees at funeral services to be limited to ten people and New Zealand's Ministry of Health's statements regarding restrictions on public gathering came as a jolter for the industry players.
Businesses are bound to comply with the restrictions placed by the governments to contain the spread of covid-19. Through its 128 locations of operations, including 31 cremation facilities and nine cemeteries, across Australia and New Zealand, Propel Funeral continues to provide essential funeral services in harmony with government guidelines and directions.
During the current COVID-19 pandemic and beyond, Propel intends to progressively care for client families and the deceased while being committed to the health and well-being of its staff. Moreover, PFP urges the client families and other mourners to extend their support those working at funeral homes, cemeteries, cremation facilities and related businesses.
Current times are a challenge for the funeral services providers as they maintain a balance between delivering the services needed and providing necessary protection to the client families and workers at the facilities while abiding by the government guidelines and directives.
Thankfully, Propel's funeral homes do not charge based on the number of attendees, except for certain related services such as catering. Yet, the guidelines issued by the government are expected to affect Propel's ability to offer a full range of services to its client families, thereby temporarily impacting the Company's financial performance.
Moreover, Propel believes that currently, it is too early to predict about the impact of the COVID-19 pandemic on its overall funeral volumes, Average Revenue Per Funeral, sales mix, revenue and earnings for the remainder of FY20, with economic and trading conditions expected to be disrupted by COVID-19.
In order to mitigate potential financial impacts, the Company has implemented several measures like
Postponing non-essential capital expenditure
Terminating non-essential operating expenditure
Staffing mix
Moreover, the Company stands well-funded with approximately $65 million of available funding capacity along with expanded debt facilities with Westpac of $150 million, with term debt maturing in August 2022 and August 2023.
The PFP stock settled at a price of $2.310, up by 5% intraday on 27 March 2020, with a market capitalisation of $217.22 million.
Pandemic Effect: Canberra's Next Stimulus, No Anzac Day March, Aviation Package Announced
IVC Resorts to Live Streaming
Another international company offering quality funeral, cemetery and related products and services, InvoCare Limited (ASX:IVC) has assured that it shall continue to arrange the funeral and memorial services since it has live streaming/webcast and recording facilities available in many of its locations.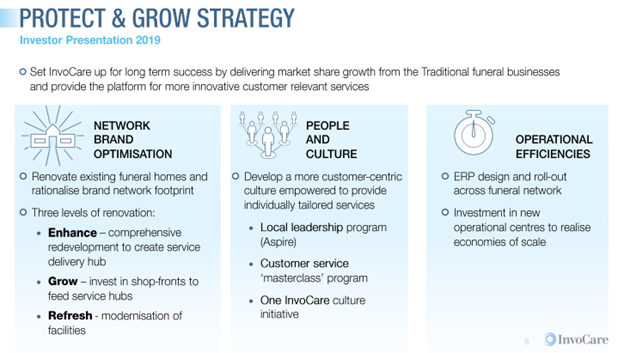 Source: Company's Report
In order to comply with the restrictions of social distancing, many families have been unable to attend the funeral services. IVC has sought to introduce services in order to meet the needs of client families and shall continue to offer a 24/7 service to assist its client families and the community.
The restrictions placed by the Federal Government as well as State Government has posed a challenge for the funeral businesses in providing their full range of services. Viewing the current situation of high anxiety, IVC is emphasising on executing a string of contingency plans for ensuring
Minimum impact of COVID-19 on its business
The needs of its client families are continuously met
In highly unprecedented times, funeral businesses are actively monitoring the fast-evolving impact of COVID-19 on their business and trading environment where considerable disruptions are expected in the economic and trading environment.
IVC's pandemic management plan encompasses minimal health risk to its employees and client families, along with adherence to the existing Government guidelines on social distancing. Moreover, the plan includes:
Activation of its reserve mortuaries to ensure that cases of COVID-19 are kept separate from our core business
Execution of operational changes that are required to maintain business continuity
Interesting Read: Developments in Industrial Stocks Amidst Covid-19 Pandemic - DOW, CWY
Although the crisis is currently in its initial stage, the core business of IVC sees an impact with the implementation of the Government's directives on social distancing and the widespread covid-19. Moreover, IVC believes that at this premature time, it is difficult to quantify the scale of the impact on Invocare's business.
Adopting a conservative approach, IVC looks forward to postponing its non-essential capital expenditure (Protect & Grow investment) as well as freezing the hiring and workforce optimisation. IVC looks forward to giving further guidance at its Annual General Meeting that is scheduled to be held in May 2020.
On 27 March 2020, the IVC stock settled at a price of $9.980, down by 5.043% with a market capitalisation of $1.23 billion.
Amidst the recent global sell-off, the funeral stocks were seen as a refuge for the investors in speculation that there shall be a likely rise in the activity of these businesses. The increase in the activity was expected to be fuelled by the projections of the increased mortality rate in Australia in times of covid-19.
Banking News: Major Banks in Long-Term: Weathering the Corona Storm
The equity markets across the globe have already undergone turmoil due to shaken investor confidence. However, ASX has shown signs of a rebound as it traded in the green zone for three consecutive days till 26 March 2020.
Moreover, as the uncertainty in the market due to coronavirus fades away, we shall see a greater jump in the markets across the globe. Funeral stocks, as well as others, are resorting to technology methods for sustaining their businesses in highly unprecedented times.
It shall be interesting to see if the stock markets across the globe bounce back in response to the technology fuelled ecosystem of business.
---
Disclaimer
This website is a service of Kalkine Media Pty. Ltd. A.C.N. 629 651 672. The website has been prepared for informational purposes only and is not intended to be used as a complete source of information on any particular company. Kalkine Media does not in any way endorse or recommend individuals, products or services that may be discussed on this site. Our publications are NOT a solicitation or recommendation to buy, sell or hold. We are neither licensed nor qualified to provide investment advice.
Want to get exclusive insights into the star stock of the year? Gold stocks stood solid and ensured a safety net for investors.
Click now to access our report on Gold Stocks to understand how the rise in gold prices propelled the ASX-listed gold stocks, and many emerged as the star performer of the year.
Inside this report, you shall discover
How the price trends of gold have got it where it is With the rallying gold prices and the record-buying from Central Banks, the gold spot rose from $1,655.14 (low in December 2018) to $2,322.26 (high in August 2019). A promising return of over 40 percent was seen in the year 2019. Get exclusive insights into how the trends set the foundation for the performance and how Gold stocks seem to be a safe bet when you look back.
Which stocks you should have been looking at: Find out which stocks delivered promising returns to investors. Gold stocks such as Gold Road Resources Limited (ASX: GOR), Kirkland Lake Limited (ASX: KLA) Newcrest Mining Limited (ASX: NCM) delivered better returns against the S&P Commodity Producers Gold Total Return Index.
CLICK HERE FOR YOUR FREE REPORT!