Summary

Budget has given reasons to cheer to retail sector player having turnover of less than $5 billion, but these tax concessions are not for large supermarket chains.
Supermarket chains like Woolworths Group Ltd (ASX:WOW) and Coles will benefit from wage subsidies, which would provide opportunity to cut wage bills by employing young Australians.
Small retailers stand to benefit most from the budget. But large supermarket chains can take advantage of lower wage bills, and bringing forward investments is not necessary, which means capital investments will likely remain constant or as per needs.
After the budget, commentary coming out of market participants has been constructive. Since monetary policy across nations has run out of ammunition to some extent, fiscal policies are going to play a crucial role in recovering the output to pre-pandemic levels.
In fact, the budget has been so comprehensive that critics are finding a relatively lesser number of losers compared to winners. This is certainly the type of budget that most anticipate, especially during a recession.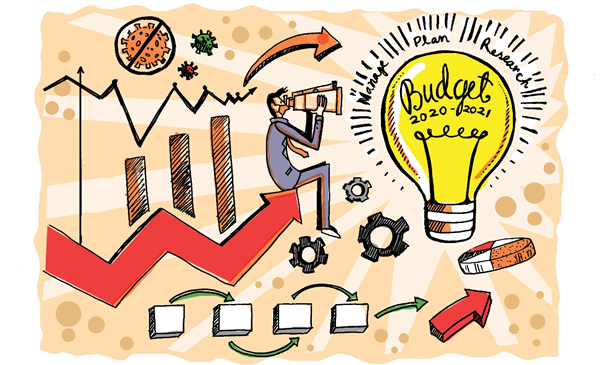 Image Source: © Kalkine Group 2020
Must Read: Is Federal Budget 2020-21 pandemic friendly?
As we have noted earlier, the fiscal position of Australia had been superior to most developed nations before the pandemic hit Australian shores. This very reason has partially allowed the Morrison Government to load debt substantially, while also maintaining its AAA rating on sovereign debt.
In order to evade the detrimental consequences of high leverage in the economy, the Australian economy will need to grow at sustainable levels, and certainly better than it has grown over the last decade.
A widely accepted consequence of loading sovereign debt is that the future generations of the nation will need to pay it off through taxes. In the middle of the pandemic, the calls had been louder for tax reforms, specifically goods and services tax (GST) reforms, where the matter is much political than economical.
It is certain that broadening the base of GST will help the Federal Government shore up revenues, and eventually offloading the paramount debt, which is slated to hit $1.7 trillion by the end of the decade, according to budget projections.
But the increasing burden of GST on households during a recession doesn't seem a wise policy. Politicians are likely to think about any GST reforms after the economy has recovered from the pandemic, and there is certainty in the economic environment.
But now we shall discuss what the budget means for companies in question.
Since the turnover of Woolworths Group Limited (ASX:WOW), Coles Group Limited (ASX:COL), and Wesfarmers Limited (ASX:WES) is well above $5 billion, these large-cap companies will not be the direct beneficiaries of business investment tax concession in the budget.
Personal tax cuts mean shot up spending
According to the Federal Budget, Australian households earning between $37,000 and $45,000 will have a tax rate of 19%, income earners between $90,000 and $120,000 will have a tax rate of 32.5%, and the 45% tax rate will apply to earners between $180,000 and $200,000.
Now the stage two personal tax cuts will be dated back to 1 July 2020. It will certainly give a boost to middle-class Australians, who mostly run on tight budgets. But the question here remains where the increased disposable income will be spent.
The personal tax reforms will help shore up spending levels. With interest-rates now at lower bound levels, it also suggests that households with high debt will likely be inclined to accelerate repayments and become less debt-laden.
With lesser debt burden on shoulders, the spending by households with debt commitments may not shot up over the near-term and is expected to increase when debt burden would be reduced.
But households with lesser debt-burden will have some motivation to increase spending levels and buy things that were perhaps looking expensive back in the days. This latest personal tax reforms have come in after the previous personal tax cuts in July last year.
Wage subsidies will help reducing wage bills
The Federal Government has also announced the JobMaker scheme, directed to spur employment for younger Australians, which will help companies like Woolworths, Coles, and Wesfarmers.
Since these companies engage more in casual employment, subsidies announced by the Government will help to reduce wage bills, therefore boosting operating profits for these firms.
Of late, there has been total revelation of wage abuse by corporates, including banks, retailers and conglomerates. Now companies are looking back in the history and compensating employees for the lost wages.
In addition, the Government is providing subsidies for apprenticeships, which would help businesses that need a skilled workforce.
Overall economic boost
The companies will also stand to benefit from the recovery, which will be induced by this budget over the next few years. The budget will boost job creation in the economy that will translate into better financial health of Australians over the years.
In the near-term, unemployment level and wage growth will continue to pose challenges for retailers. But this budget has widely addressed the concerns related to spending, job creation, business investments, infrastructure spending, etc.
All these initiatives taken by the Government place Australia in a sweet spot to recover from the contraction in the economy and its rippling effects on economy such as unemployment, wage growth and uncertainty.
Good Read: Impact of Coronavirus on Australian Economy and Way Forward
On 8 October 2020, WOW last traded at $37.92, COL settled at $17.59 and WES quoted at $46.75.