Will COVID-19 leave a heritage of unprecedented global debt behind? How will governments balance the present and the future with massive fiscal stimulus packages? Are these packages setting the foundation for indebted economies ahead? All these questions are popping into head as governments and central banks continue to intervene to spur the economic recovery amidst coronavirus crisis.
The IMF has estimated that Debt-to-GDP ratio of advanced economies will rise by more than 17 percentage points this year, particularly as a result of a direct fiscal response to coronavirus pandemic. The direct fiscal support by the governments worldwide is projected to contribute to a considerable increase in government debt levels, with lower tax revenue aggravating the situation.
Australia's Government Debt Surging Amidst COVID-19
Australia is no different! With government debt skyrocketing amidst battle against COVID-19 economic fallout, economists are voicing out their concerns of slow economic recovery in the months ahead.
Sizeable fiscal packages have been introduced by both federal and state governments in Australia to offset fall in business and household incomes and retain employment during the contraction period. The federal government has announced fiscal support worth $320 billion so far, which represents about 16.4 per cent of the GDP.
The government's fiscal response primarily targets three areas, demonstrated in the table below: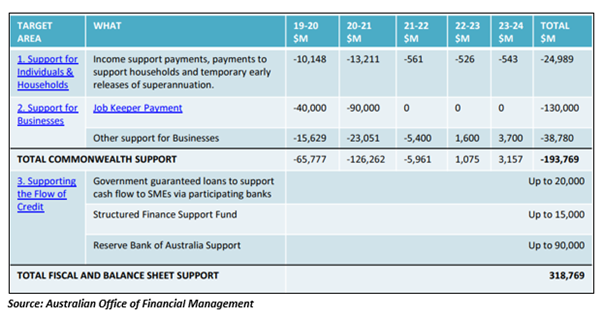 According to the RBA, the amount of debt outstanding by state and federal governments is expected to significantly increase in the coming days due to increased spending related to health expenditure, stimulus measures, lower revenues and increased unemployment benefits.
Moreover, Australian Office of Financial Management (AOFM) estimates Australia's gross debt (measured as the face value of Australian Government Securities on issue) to be at $556 billion or 27.7 per cent of the GDP in 2019-20 end prior to increasing to $576 billion or 25.5 per cent of GDP by the end of forward estimates.
Besides, the nation's net debt is likely to be at $392.3 billion or 19.5 per cent of the GDP in 2019-20 and is expected to fall to 16 per cent of GDP in 2022-23, further falling to 1.8 per cent of GDP in 2029-30 over the medium term.
Silver Lining: Australia's Net Debt Outstanding is Lower than Other Advanced Economies
What's worth noting is that Australia's net government debt outstanding is lower than other advanced economies of the world. Currently, Australia's net debt is about 20 per cent of the GDP, which is considerably less than other advanced economies. Below graph demonstrates the position of Australia's government net debt prior to the coronavirus pandemic:
As per AOFM, the Australian government marked entry into the coronavirus pandemic with a robust balance sheet and solid underlying fiscal position and outlook. The agency expects these strengths to underpin the federal government's response to the pandemic comfortably.
Moreover, AOFM believes that the nation's balance sheet position will continue to demonstrate a relatively low net debt post crisis in contrast to global standards.
Path to Economic Recovery
The fact remains that the federal government has fired its bullet of much-needed fiscal stimulus, foregoing budget surplus, and is leaving no stone unturned to bring economy back on track. Although keeping low debt levels appear to be a tall order for the government, the recently announced three-step framework is bolstering hope of sooner economic revival.
Recently, the federal government unveiled its three-step pathway to gradually ease restrictions and move towards a COVIDSafe Australia. The government announced a comprehensive plan to re-open the economy, giving leverage to states and territories to switch between different phases at different times, based on the public health situation and local conditions.
Below is a snippet of the government's three-phase plan to re-opening economy: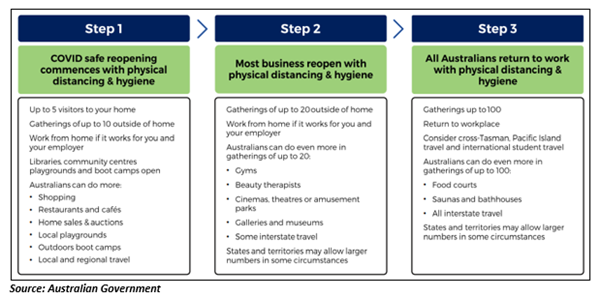 As per the government's plan, most of the businesses will resume operations by July 2020 in a coronavirus-safe environment.
Several market experts have raised concerns of possible second wave of infections in case the restrictions are lifted so soon in Australia. However, the RBA Governor, Mr Philip Lowe believes the faster the restrictions could be eased in Australia, the less economic scars the nation will experience.
The central bank sees three different scenarios for economic revival based on the pace at which the restrictions are removed in the nation – Baseline, Upside and Downside. Below table demonstrates the key differences between the three scenarios:

RBA's May Monetary Policy Meeting Minutes noted that the outlook for economic recovery remains uncertain in Australia; however, if restrictions are lifted and infection rates continue to lessen, the recovery could be anticipated later in 2020, backed by monetary and fiscal policy responses.
Moreover, Mr Lowe expects a slow economic recovery for Australia without a medical breakthrough to treat and prevent coronavirus.
Undoubtedly, Australia remains at the leading edge with its highest testing (over 1.1 million tests) and lowest mortality rates (~100 deaths) relative to other countries. Given Australia's effectiveness in containing the spread of COVID-19; IMF lately forecasted a V-shaped recovery for Australia from the coronavirus crisis. However, elevating government debt may delay the prospects of the same, setting the nation for a U-shaped recovery.