Summary

With total assets of $2.7 trillion, the superannuation industry is set for a major growth to reach around $10 trillion by 2040, showcasing the potential of growth for the industry operators.
The massive projected growth of the industry reflects the increase in investment across investment types, leading to a booming Australian economy and stock market.
Trends such as digitisation of service offerings and increased legislative controls will increase costing of the operators, thus diminishing their profit margin.
For an individual, surviving post retirement from job, with a steady income is a must have for a relaxing old age. And to give shape to this leisure, Superannuation funds play a pivotal role. The government also helps the younger crowd save on taxes, making it a good long-term investment.
Let's dig dipper to get acquainted with dynamics of the industry.
What is Superannuation?
Super is a great tool to save for retirement. Superannuation allows Australians to save for their retirement by investing a part of their earnings in various investment types. This acts as an addition to old age pension, giving more financial security at an old age.
An employer pays minimum of 9.5% of ordinary time earnings to an employee's super account, which is then put for investment to earn better returns once the employee retires. Shares, property, cash, bonds, PE or other fixed interest investments are few investment types where a super fund can invest their fund money.
Monthly deductions towards superfunds allow an employee to avail tax deductions. Super funds also cover insurance within the provided financial security in case of unseen unfortunate event.
There are two types of super funds – (1) Defined benefit (2) Accumulation.
Accumulation funds: A member's contribution accumulates over time, with the total money, i.e. summation of money that a member and their employer put in as super contributions, and amount generated as a return on investment.
Defined benefit funds: Retirement benefit is determined by calculating super contributions by the member and organisation they work for- average wage across the past few years prior to one retires, and number of years worked for the organisation. Moreover, most defined (benefit funds) are corporate or public sector.
The Australian government established MySuper, which employers can choose as default superannuation fund for employees. MySuper charges less fee, and is simply designed with basic features, with optional insurance coverage. MySuper is assigned to an employee by default, if the employee does not choose any other super fund.
Super funds where members are also trustees are known as self-managed super funds (SMSFs). Only SMSFs can invest in residential and non-residential (commercial/business) property.
According to various media reports, AustralianSuper, Australia's leading superannuation fund, bought a 25% stake in Assemble Communities', a build-to-rent and buy platform. The rationale behind the investment was to earn better long-term returns by investing in housing market.
Superannuation Investments
For March quarter 2020, Australian listed equities, international listed equities, and unlisted equities accounted for 47.5% of $1.7 trillion worth asset. Cash investments stood at 13.6%, an increase from 9.5% from previous quarter because of slump in equity market and people preferring more liquid assets. Besides, 14.3% investments were made in Property and infrastructure.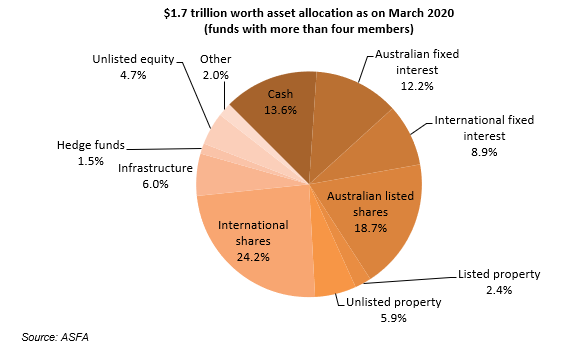 A look at Industry numbers
As per The Australian Prudential Regulation Authority (APRA), superannuation assets totaled $2.7 trillion as on March 2020 quarter, a 0.3% decrease Year-over—year (Y-o-Y).
Assets under MySuper, the default superannuation account, totaled $710 billion as on March 2020 quarter, a 0.4% decrease Year-over—year (Y-o-Y). The decrease was because of slump in financial markets because of COVID-19.
The superannuation industry has four main segments, industry, retail, public sector, and SMSFs and others which corporate funds and other. Till 2018, SMSF has been the largest contributor to the superannuation industry, representing more than 40% as share of GDP followed by retail funds.
According to the Association of Superannuation Funds of Australia Limited (ASFA), March 2020 (figures sourced from APRA) also revealed 598,153 numbers of funds with 27.5 million accounts. Industry and Public segment comprise of large funds with more than 50% share of the total $2.7 trillion assets.

Future Trends
According to ASFA, projected superannuation assets are expected to be around $9.0 - $10.5 trillion in 2040, representing 185% of Australia's GDP.
Technology is expected to create more seamless member experience from large funds operators. Products and solutions are expected to become more customised based on financial state of the customers.
Legislative changes such as recommendation from the Royal Commission will also affect the industry considerably, digging at the earnings of the super fund operators and third-party brokers.
The operators may have to incur costs to ensure data breach from happening.
Bottom-line
The superannuation industry, which is larger than the Australian GDP, is all set for a massive growth in the future, leading increased investment in various cash types such as shares, property, cash, or bonds. The increased investment will drive the Australian economy considerably and uplift the stock market consequently.
Disclaimer: All the currencies mentioned are in AUD unless specified