The revival of the Australian economy seems to be on track though it might take a significant amount of time for it to reach pre-COVID-19 levels. The S&P/ASX 200 (XJO) index had declined by ~32 per cent YTD on 23 March 2020. However, on 4 May 2020, the index was trading at 5319.8 points, an increase of ~17 per cent since 23 March.
While economies around the globe are suffering from the coronavirus pandemic, COVID-19 has also created an opportunity for online businesses. Several companies are exploring the option of increasing the usage of online platforms for their businesses. Social distancing, a critical measure to combat against the coronavirus, restricts the sale via traditional retail channels and thus, encouraging companies to look for alternate ways to conduct their business and reach the customers.
Interesting Read: Technology has changed the way we work amid the COVID-19 crisis: A look at in-demand technologies
Within the online businesses, the gaming industry has profited significantly from the current scenario. Specifically, the online lottery system is turning out to be a convenient way to quickly make money during the crisis induced by the coronavirus.
Let us dive deep into one such ASX-listed stock: Jumbo Interactive Limited and witness its business and financial performance.
About Jumbo:
Jumbo Interactive Limited (ASX:JIN) is an Australia based company engaged in the online business of both charity lotteries and national jackpot lotteries. The Company, through its in-house digital platforms, offers an engaging experience to its customers. JIN was incorporated in 1995 and got listed on the ASX in 1999.
Jumbo utilises the latest technology to provide a wide range of digital platforms for its customers. The Company aims to use the updated technology for an engaging, entertaining, and delightful experience to its customers. The Company started selling lottery tickets online in 2000. Now, JIN focuses entirely on the sale of lotteries via its digital platforms.
Under agreements with Tabcorp (ASX:TAH), JIN manages the website www.ozlotteries.com in Australia. Oz Lotteries is one of the Company's services for digital retailers in Australia. It operates more than 2 million customer accounts and processes nearly $150 million per year in lottery tickets sales.
Business Operations: The Company runs its operations as follows:
To attract new customers: JIN conducts comprehensive digital marketing campaigns to draw the attention of new customers. The Company allows the flexibility to its customers to buy tickets at any place and any time via its digital platforms.
To work with providers: To increase the sale of its tickets lot, JIN works in collaboration with official lottery providers. On the sale of each ticket sold, Jumbo earn a commission in exchange.
Facilitate transaction: To meet the needs of its customers' and manage the ticket transactions, JIN provide a secure online experience.
Earn customer loyalty: To deliver the best lottery experience, JIN provides jackpot alerts, additional ways to play, notifications of results and guaranteed prize pay-outs.
SaaS licence agreement with lottery operator: On 25 February 2020, the Company notified the market that it had agreed on a new SaaS licence agreement with MS (Multiple Sclerosis) Queensland, Australian charity lottery operator. The agreement is signed for five years, which can be extended to 10 years, depending on performance. To handle the entire lottery sales, MS Queensland will use a customised version of JIN's lottery platform as per the agreement.
COVID-19 Update: On 1 April 2020, JIN notified the market about the impact of COVID-19 on business operations, guidance FY 2020 and current trading conditions. The snippet of the update is as follows:
Keeping health as a priority: Complying with directives and guidelines issued by government and health authorities, JIN implemented work from home initiative. The Company mentioned that WFH would have minimal impact on its operations.
Shift towards online sales: As a result of measures induced by the coronavirus, the sale of lottery tickets had shifted from retail channels to the online platform. As a fact provided by the Company, approximately 75 per cent of all Australian lottery tickets were sold through retail channels before the coronavirus crisis.
Strong financial standpoint: As of 29 February 2020, JIN had no debt and surplus cash of $65.5 million. The Company also mentioned that since the onset of coronavirus pandemic, the business has continued to be cash-flow positive.
Guidance:

JIN has four contracts with approximately $140 million in prospective ticket sales volume. On the full roll-out of the four contracts, the projected incremental NPBT is around $3.5 million and incremental TTV and Revenue is ~$4.6 million. However, in FY 2020, no material contributions are expected from these contracts. Moreover, almost 80 per cent and 100 per cent of the incremental NPBT is projected in FY 2021 and FY 2022, respectively.
Jumbo management predicted that 41 large jackpots at an aggregate of $1,605 million and other operating conditions would remain constant for FY2020. While in FY 2019, there were 49 large jackpots at an aggregate of $1,880 million.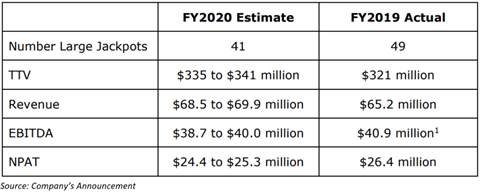 Vision of $1 Billion:
JIN has embarked on its "$1 billion vision" and expanded to the UK market with an acquisition of Gatherwell Limited in December 2019. The vision aims to attain $1 billion in the sales of tickets on the Jumbo platform by FY 2022.
Stock performance: On 05 May 2020, JIN shares were trading at $11.710 (at 01:13 PM AEDT), a decline of 2.172 per cent compared to the previous close. The stock has generated a positive 1-month return of 12.18 per cent. Jumbo's market cap is $747.21 million, and the Company has ~62.42 million outstanding shares. JIN has a P/E ratio of 26.260x and an annual dividend yield of 3.34 per cent.