COVID-19 is a major health issue, resulting in one of the most challenging times for economies on a global level, as humans stay indoors and businesses remain shut. However, not all is grim, as there are few countries that have started easing few restrictions imposed to stop the virus spread, such as Australia, which is allowing home visits and opening few beaches.
In Australia, as per the health department stats report dated 28th April 2020 as at 6:00 AM, there were 6,725 confirmed cases of coronavirus with a death toll of 84 and recovered cases of 5,602.
Interesting Read: COVID-19 Diaries: Dealing with the Virus and Staying Safe
The benchmark index S&P/ASX 200 was trading downward by 0.2 points to 5,321.2 on 28th April 2020 (AEST 12:59 PM).
In this backdrop, let us discuss two ASX-listed companies, covering their market updates and stock performance amid the COVID-19 pandemic.
Domain Holdings Australia Limited (ASX: DHG)
Real estate media and technology services company, Domain Holdings Australia Limited (ASX: DHG) is focused on the residential and commercial property market of Australia.
March Quarter Trading Update
The Company reported a rise of 3% and 15% in digital revenue for the March 2020 quarter and for the March month, respectively. Total revenue went up by 1% for the quarter and 10% for the March month.
During March 2020, DHG witnessed a recovery of new listings in key markets, with residential depth yield experiencing an increase of 17%, driven by positive impact of new flexible pricing model, as well as increased depth penetration across all states.
Strengthened Liquidity Position with Additional Debt Facility
On 26th April 2020, the Company updated the market regarding a new agreement with its banking group.
The agreement is for an additional debt facility as well as financial covenant waivers for June and December 2020;
The agreement cemented the Company's liquidity position with a new debt facility amounting to $80 million, with a term of 18 months;
The facility is in addition to the $225 million facilities, which were announced on 8th November 2019, with terms of three and four years;
As at 31st March 2020, the net debt of DHG stood at $149.5 million against $147.9 million at December 2019.
Response to COVID-19
DHG also updated the market with implementation of cost initiatives in order to manage the potential impact of the COVID-19 pandemic.
As the staff and employee-related expenses accounts for 45% of the total cost base of the Company, which cannot realistically be excluded from a broad-based cost management program, Domain Holdings introduced a voluntary staff program to deliver a 20% decrease in staff costs in order to address these competing priorities.
Domain has offered employees the opportunity to participate in a Share Rights program, wherein they could receive a percentage of their salary package over the next six months in share rights or alternatively elect to decrease working hours.
The stock of DHG was trading at $2.540 per share on 28th April 2020 (AEST 01:00 PM), indicating a decline of 0.392s% against its previous closing price. The market capitalisation of Domain Holdings stood at $1.49 billion, with total outstanding shares noted at 584.26 million. The stock of DHG has provided shareholders with a return of -32.89% and -21.05% within the time span of three months and six months, respectively.
AP Eagers Limited (ASX: APE)
AP Eagers Limited (ASX: APE) is engaged in the sale of new and used motor vehicles, in addition to the distribution of parts and car care products. The Company recently notified the market that Perpetual Limited and its related bodies corporate became an initial substantial holder in APE on 7th April 2020 with a voting power of 5.09%.
FY19 Final Dividend and Remuneration Reduced
As a result of the ongoing uncertainty of the duration and impact of the COVID-19 pandemic, the Company reduced the amount of the fully franked final dividend from 22.5 cents per share to 11.25 cents per share for FY19. The dividend was scheduled for payment on 20th April 2020.
In addition, the Company also executed remuneration arrangements for directors and senior executives, considering the current market disruptions. Non-executive directors of the Company decided to forego their full board fees, while Managing Director agreed on a 46% reduction in his remuneration package by foregoing all short-term and long-term incentives and decreasing his base salary.
Additionally, senior company executives would not participate in any new equity incentive plans for 2020.
Divestment of Refrigerated Logistics Division
APE in February 2020 announced to have inked a binding agreement to sell refrigerated logistics division of its subsidiary Automotive Holdings Group Limited to Anchorage Capital Partners.
The Company plans to use around $100 million secured in cash under the deal towards finance lease repayment and hire purchase liabilities concerning the division being divested. This would result in an anticipated reduction in net debt of around $95 million.
With the exit of Anchorage from its investment in the division, AP Eagers is likely to secure additional cash proceeds.
The deal is expected to be closed in 1H FY20.
Operational and Financial Highlights of FY2019
APE notified the market with its operational and financial performance for full year 2019 and outlined the following:
During the year, the Company wrapped up transformative merger with Automotive Holdings Group in order to create a leading automotive retail group of Australia.
As a result of challenging market conditions, the Company experienced a drop in underlying operating profit before tax to $100.4 million from $103.5 million.
Its underlying operating earnings per share stood at 31.5 cents and statutory loss after tax from continuing operations amounted to $80.5 million.
As the Company outperformed the synergy target set for FY19, it seems well on track to surpass the annual synergy target of $30 million.
During the period, APE maintained a strong cash position with net cash from operating activities of $170.8 million, reflecting a rise of $56.7 million.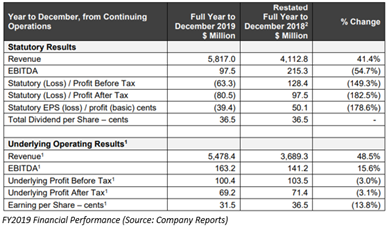 The stock of APE was trading at $3.880 per share on 28th April 2020 (AEST 01:01 PM), indicating a decline of 2.02% against its previous closing price. The market capitalisation of AP Eagers stood at $1.02 billion with total outstanding shares noted at 256.93 million. The stock of APE has provided shareholders with a return of -56.82% and -67.54% within the time span of three months and six months, respectively.