Oneflare – Online Listings
Oneflare is a big fish in the start-up world. Named last year in Crunchbase's list of 30 best-funded start-ups in Australia, the website provides a 21st century classifieds service. Oneflare connects users with experts and service providers across a wide range of fields, for example a plumber, a cleaner, or a DJ, which are just some of the service categories listed on the website. Businesses and professionals can register with the website to provide quotes whenever a relevant job is posted. Submitting a job is free and provides you with up to three quotes from registered professionals.
Oneflare is largely funded by Fairfax's Domain Group, who has a 35% share off the back of a $15 million investment, setting the market cap at $45 million. The Sydney based company has been on an acquisition spree in recent years, acquiring upwards of seven start-ups operating in a similar space, including UrbanYou and TidyMe.
Primarily an online marketplace, Oneflare has started moving into on-demand space as well. However, it's not all bright horizons, as just last month the company was hit with regulatory action, when the Australian Communications and Media Authority slapped it with a $75,000 fine for spamming phones. It remains to be seen whether the infraction will undermine Oneflare's public credibility.
Pair – Dating App
Founded and financed by Celeste and Hui Ong, the same minds behind restaurant rating platform Eatibility, Pair is a very young, Australia-based dating app. Pair is described on its website as a new dating app, which has been created to bring respect and honesty in terms of online dating.
It has been designed for time pressed singles genuinely looking for meaningful relationships. The way it's hoping to do that is with a unique selling point that sets it apart from other types of online dating; a user rating system. Someone treated you poorly on a date? Thumbs down. Got an unsolicited inappropriate picture in your DM's? Thumbs down.
Source: pair.app
The goal of the app is to bring community back to the online dating world, where there are no personal recommendations from mutual acquaintances to smooth things over. It's an attractive idea, dealing with one of the biggest problems with online dating – trust – and is being sold by one of very few dating apps based in Australia.
However, there is a reason why we mostly import this product from the US: market size. There may be plenty of fish in the sea, but they are not all jumping onto Australia dating apps.
Most recently the start-up RSVP tried the market, but they closed shop a few years back. However, public appetite for online dating does not appear to be slowing, and the market could present growth opportunities. After successfully navigating its first year, but still not cracking the critical mass needed for mainstream adoption (do you know anyone who uses Pair?), 2020 will be the true test for this new dating app.
Tablo - Self-publishing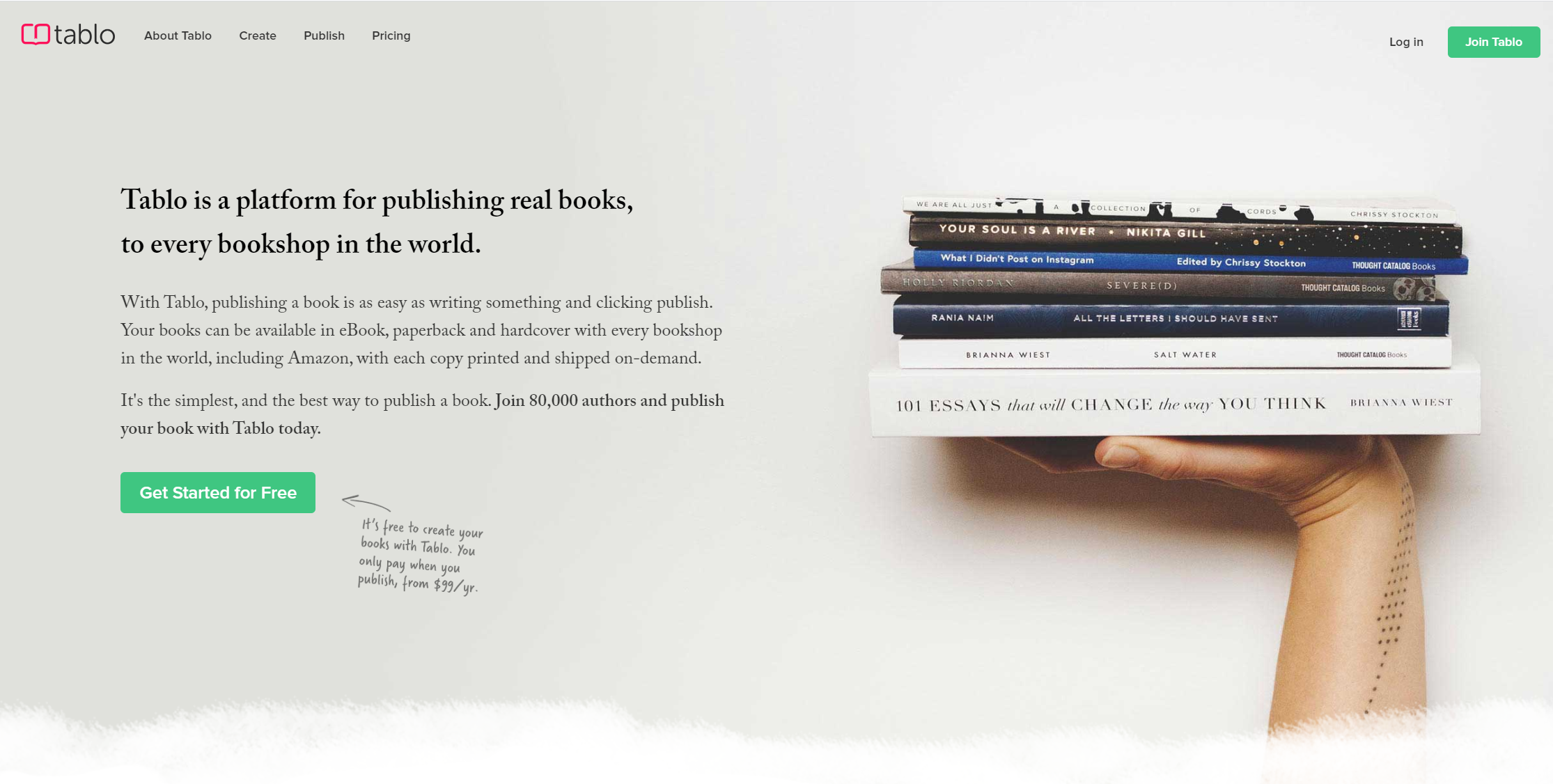 Source: tablo.io
Tablo is the kind of company we all picture when thinking about start-ups. It was started in 2013 by a Melbourne teenager - Tablo's current CEO Ash Davies – who came up against a problem for which he needed a solution. In Mr Davies case, he was a burgeoning writing struggling to get a book published, when he decided to drop out of university to start self-publishing website Tablo.
The site has expanded from its initial eBook publishing platform into an online community for readers and writers, with capacity for hardcopy publication, on-demand printing, and extensive distribution. Its website claims to have had 80,000 writers across 150 countries publish through their service, with books stocked by a distribution network of over 40,000 retailers and 30,000 libraries.
What seems to make Tablo different from other self-publishing sites is the payment model, which Tablo describes as "the most author friendly terms available in the industry." Tablo takes no commission on book royalties, operating instead on a subscription model, of payments between $99/yr for eBooks and $500/yr for hardbacks. This is an arrangement that's maybe not so great if your book doesn't sell well, but potentially far more lucrative than commission-based models if it does.
By comparison, the most popular self-publisher, Amazon's 'Kindle Direct Publishing' outfit, takes 30% of the sale price. Tablo's business model seems to work well for a small outfit, as it guarantees them consistent revenue regardless of sales figures. The company seems to be going from strength to strength; it's highly rated by users and independent reviewers, and Ash Davies was featured in a Forbes "30 under 30" list in 2018. His company continues to look bright heading into the new decade.
Huddle – AI Powered Insurance
Huddle was started in 2015 by Jonathan Buck and Jason Wilby as a peer-to-peer bank called "Huddle Money", offering an alternative to the traditional lending models of the big banks. The fintech company has a since dropped the "money" from its name and moved more into the insurance side of its business. The Huddle point of difference is what it calls "bot powered insurance" – the use of advanced artificial intelligence to process claims very fast, 24/7, cutting the need for layers of human bureaucracy. They also claim the Huddle algorithms are highly sophisticated at detecting insurance fraud, a scourge that is reported to cost the industry $2 billion a year. Fraud is generally an expense worked into the premiums of regular customers, and if managed effectively presents an opportunity for the new company to price themselves very competitively.
Huddle made a splash in 2018 when its second round of funding raised an impressive $19 million, a show of confidence from equity backers hoping that they could have a serious disruptor on their hands. Co-founder Jason Wilby has reported a year-on-year revenue growth of 700% to the AFR, and with early backers Seven West Media and Alium Capital, perhaps we finally have a fintech start-up ready to challenge industry titans like IAG and Suncorp.
Zookal – Educational Platform
As a student myself, this one has a special place in my heart. Started in 2011 by uni students in Sydney, Zookal was created to solve a huge barrier to entry for low income Australians wishing to enter tertiary education – textbook prices. If you haven't been to University in a while or at all, it may surprise you to know that a textbook for one of the many units that make up an undergraduate degree in Australia will often set you back more than $100. Sometimes it can be significantly more, and those prices stack up for an expense that is not covered by student loans.
Mr Ahmed Haider, Chief Executive Officer and co-founder of Zookal told SBS that the company's objective was to make education more accessible for all. The company provides online textbook rentals at a fraction of the price of traditional retailers, in eBook form and physical deliveries.
It has also expanded into an online educational portal with many other resources for Australian university students. ZooKal has been described by Crunchbase as "Asia Pacific's fastest growing educational platform," reportedly turning over eight-figure revenue numbers the past few years. This is an example of a start-up that recognised a need in the Australian market and filled it quickly and productively. The next test for this company will be seeing how well it expands overseas.
---
Disclaimer
This website is a service of Kalkine Media Pty. Ltd. A.C.N. 629 651 672. The website has been prepared for informational purposes only and is not intended to be used as a complete source of information on any particular company. Kalkine Media does not in any way endorse or recommend individuals, products or services that may be discussed on this site. Our publications are NOT a solicitation or recommendation to buy, sell or hold. We are neither licensed nor qualified to provide investment advice.