It is 2019 already, and the world is racing with three concepts, surprisingly all at once, that are amongst the many technological factors dictating businesses- simplification, centralisation and automation. Under this radar comes the concept of Robo-advisors, which is garnering the attention of businesses, as they are looked upon as the most lucrative and low-cost investment opportunity.
There are companies now that do not use humans, but algorithms and computers to trace the share market, and advice you on it. Interesting? Let's delve right in:
What are Robo-advisors?
Digital platforms that allow the user to deliver automated and algorithm-instilled financial planning services without or with less human intervention and supervision are referred to as Robo-advisors. They are wealth management services on the web that facilitate online investment management are a category of financial advisers. Ideally, they are cost friendly and require a basic and low opening balance.
How Robo-advisors originated?
Technological advancement received an all-together new identity with the origin of the first Robo-advisors, which were launched during the financial crisis of 2008. Jon Stein and Eli Broverman, who launched Betterment, are tagged as the visionaries of the technology. The first Robo-advisors were used as an online interface with the aim to handle and balance the assets of a client. The technology was already available in the market space but gained instant momentum at a huge level, that by the end of 2015 approximately 100 companies were using robo-advisers for managing the assets of their respective clients, with the market estimation that this growth trajectory would lead to an asset-management base worth almost $2 trillion in the next two years.
How do Robo-advisors work?
In a nutshell, Robo-advisors follow the below process: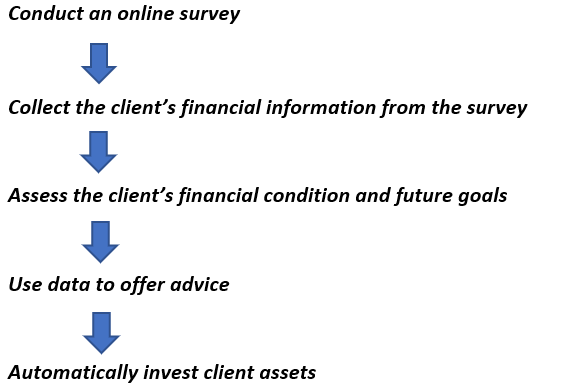 Breaking down this process, Robo-advisors are great solutions for people who do not wish to hire a financial advisor, or lacks the assets to do so, or cannot afford to dedicate time towards it. Robo-advisors automatically make investment selections and build a customised and diversified portfolio for their clients. There are few technologically advanced Robo-advisors that even trade automatically, on the client's behalf.
When it comes to the fees involved while utilising the Robo-advisor technology, the user is required to pay the reasonable service fees and the related expenses of the investments in use. However, online portals provide a free trial period as well, so that the user can test the portfolio solution, before investing in them.
What are the benefits of Robo-advisors?
The computer automated investment platform of Robo-advisors comes with a hoard of advantages in today's fast-paced and tech-savvy business environment. Few of these advantages are listed below:
Low-cost option when compared to conventional financial advisors.
Elimination of human intervention promotes advancement of technology, while saving labour costs.
Better accessibility as they are available round the clock on the internet.
Enhanced efficiency due to availability of online data and advice.
Vast availability of investment options.
Possibility of availing free-trial periods on few portals along with a further low initial investment.
What are the drawbacks of Robo-advisors?
Technology has aided businesses in a number of ways, but it comes with its baggage of shortcomings, like any other aspect of business. Few of the disadvantages of Robo-advisors are listed below:
Market penetration is a task with the concept being comparatively new to traditional financial advisors.
Lack of human presence can cause a lack of required sophistication and affinity.
Technical glitches can cause process hinderances.
Robo-advisors function with defined goals, and an amendment may take some time to be implemented and processed.
The technology is focussed on concepts of investments and retirements and not on other financial situations like creation of emergency funds or facing debts.
Performance of Robo-advisors when the market is down could get tricky, as no matter how rational we might get, the quick decisions and emotional quotients cannot be well handled in the dearth of human interference.
Best Robo Advisors of the Current times from across the Globe: Robo-advisors are also referred to as Robo-financial advisors at times and have instantly become the most preferred investment method for investors. Managing money at low costs and less risk is the most attractive feature that is upping the game of Robo-advisors in the global business. Let us have a look at the Robo-advisors from across the world that are trying to make a mark in the industry:
Betterment: An online financial advisor and regarded as the oldest player of the game, Betterment is the largest independent Robo-advisor firm with assets under management amounting to approximately $13 billion. The company charges an annual fee of 0.25 per cent (digital with $0 minimum balance) and 0.40 per cent (premium with $100,000 minimum balance). The company is based out of New York and offers solutions related to cash management, tax-smart investing, retirement planning and personalised guidance.
SoFi Automated Investing: Another giant in the Robo-advice business is SoFi, which provides products for savings, borrowing, spending, investing and protecting.
Wealthfront Advisers LLC: With over $16 billion in asset under management, it offers a software-based advice engine that delivers financial planning tools to help users achieve better outcomes. Regarded as of the best in the market for new investors, Wealthfront Advisers is the fully owned subsidiary of Wealthfront Corporation and an investment adviser registered with SEC. The Wealthfront Cash Account currently offers 2.57% APY.
Personal Capital: Interestingly, this advisor is of the hybrid category and is part human and part robot. The Robo-algorithms are paired up with investors and financial advisors to process the client's requisites. Personal Capital charges a fee between 0.49 per cent and 0.89 per cent and requires the user to maintain a $100,000 minimum in their account.
Schwab Intelligent Portfolios®: A Robo-advisor product from Charles Schwab, the Schwab Intelligent Portfolios® has approximately $3 trillion in assets under management. It charges no advisory and management fees and users can open an account with a minimum opening balance of $5,000. It uses the tax loss harvesting and automatic rebalancing tools, along with others, to provide deals to its users.
Robo-advisors in Australia: A relatively new concept in Australia, Robo-advisors are still picking up their market space in the Australian economy. There are few players who are live and active, but the volume isn't as high as the market in the US, where even banks are facilitating the Robo-technology.
However, the industry is picking up, especially in the banking and investment sector, in the era of new FinTech companies using Artificial Intelligence technologies. In Australia, there are companies providing an end-to-end range of services, and there are Apps that provide a much more basic range of investment services.
Stockspot: Tagged as Australia's most experienced online investment adviser, the company was founded by Chris Brycki in 2013. Currently, it is the fastest growing and largest robo-advice service in the country. In its 2019 ETF Research, the company stated that the ETF market had grown by 26 per cent in the last year and was worth $45.8 billion as on March 2019. The company provided its performance update for May 2019 and stated that its performance had been consistent. It's 12-month returns to 31 December 2018 was positive across its strategies.
Stockspot's April's Portfolio Performance (Source: Company website)
Raiz Invest Limited (ASX: RZI): Catering to the diversified financial group, RZI is a holding company for a micro-investment services group and is listed on ASX since 2018. It has its registered office in Sydney and was launched in 2016. It is regarded as the country's largest mobile-first financial services platform facilitating client to invest in or outside superannuation using its micro-investment platform available via the Raiz app or its website.
The fees range from $1.25 per month (for accounts under $5,000) or 0.275% p.a. (for accounts over $5,000).
In 2017 and 2018, the company won Australia's Investment Innovator of the Year. In 2019, it was granted with the Investment Platform Innovator of the Year, FinTech business awards. The company also won the Australian FinTech Award for FinTech Innovation in Wealth Management in 2018.
On 1 July 2019, RZI provided a new fee structure for its customers, and increased the monthly maintenance fee to $2.50 for active account balances of less than $10,000, effective 1 August 2019, with fees remaining the same at $0.275% a year for balances above $10,000. The company has also doubled its referral award to $5 per referral and referee, effective from 1 July 2019.
On 5 July 2019, the stock of RZI is trading at A$0.465, up by 1.087 per cent relative to its last trade. With a market cap of A$30.47 million, the stock has delivered a negative return of 4.17 per cent and 11.54 per cent in the last one and three months, respectively.
InvestSMART: The fees start at $99 p.a and capped at $451 p.a for investments over $82,000. The fees range from 0.67% to 0.97% a year, depending on the amount you invest.
Clover: Clover portfolios are designed using ETFs carefully selected for low management fees and high diversification with portfolios holding Global Shares, Australian Shares, Fixed Income and Cash.
Six Park: The fees amount to 0.3%, 0.4% and 0.5%, for the ultimate, premium and standard options provided by the company.
Spaceship Voyager: Launched in 2017, the company has no minimum investment, entry/exit fees and is free for the first $5000 invested, above which, it charges 0.05% p.a. (Spaceship Index Portfolio) or 0.10% p.a. (Spaceship Universe Portfolio).
Ignition Direct- This requires the user to open Macquarie Bank Cash Management Account for funding the trades and an OpenMarkets broking account for placing the trades. The fees start from $198 per month with a monthly subscription fee and a brokerage fee attached to the service.
Quiet Growth- This robo adviser Requires a minimum account balance of $2,000 and its fees start from a yearly 0.4%.
---
Disclaimer
This website is a service of Kalkine Media Pty. Ltd. A.C.N. 629 651 672. The website has been prepared for informational purposes only and is not intended to be used as a complete source of information on any particular company. Kalkine Media does not in any way endorse or recommend individuals, products or services that may be discussed on this site. Our publications are NOT a solicitation or recommendation to buy, sell or hold. We are neither licensed nor qualified to provide investment advice.