Australian Retail Industry:
As per the recent retail trade figures provided by the Australian Bureau of Statistics, Australian retail turnover climbed 0.2 percent in September 2019.
Ben James, Director of Quarterly Economy Wide Surveys, stated that there was a mix of results at the industry level in September 2019. Growth in other retailing was 0.8 percent, cafes, restaurants and takeaway services grew by 0.6 percent, food retailing by 0.1 percent. On the other hand, the growth in clothing, footwear and personal accessory retailing declined by 0.5 percent and retailing in department stores dropped by 0.2 percent. Household retailing remain unchanged.
In seasonally adjusted terms, New South Wales reported a growth of 0.3 percent, Western Australia of 0.7 percent, Tasmania of 1 percent, South Australia of 0.2 percent, and the Australian Capital Territory of 0.1 percent. On the other hand, Queensland declined by 0.1 percent in seasonally adjusted terms in September 2019.
Online retail contributed 6.3 percent to the overall retail turnover in September 2019.
For the September 2019 quarter, there was a decline of 0.1 percent in seasonally adjusted volume terms, driven by a decline in cafes, restaurants and takeaway food services by 1 percent and department store by 0.1 percent.
Other segments under the retail industry like Household goods grew by 0.9 percent, other retailing by 0.3 percent, and clothing, footwear and personal accessories retailing by 0.3 percent.
The S&P/ASX 200 Consumer Discretionary (Sector) index from 2 January 2019 to 11 November 2019 grew by ~26.15 percent and S&P/ASX 200 by ~ 21.86 percent, indicating that S&P/ASX 200 Consumer Discretionary (Sector) index had outperformed its benchmark index within this time frame.
About McPherson's Limited:
McPherson's Limited (ASX: MCP) is the leading supplier of health & beauty, consumer durable as well as household consumable goods in Australasia and increasingly in China, with operations in Australia, Asia and New Zealand. It is also engaged in marketing and distribution of beauty care, hair care, skincare and fragrance product ranges, kitchen essentials such as baking paper, cling wrap and aluminium foil and personal care items such as facial wipes, cotton pads and foot comfort products.
Apart from that, the company manages as well as represents major international brands along with retailers' private labels. Thus, it provides retail customers with a single-source opportunity for entire portfolio, starting from product innovation and range of development to a menu of how the ranges are delivered and managed in-store.
McPherson's Joint Venture with Access Brand Management
On 11 November 2019, McPherson's Limited (McPherson's or the company) announced that it entered into a joint venture (JV) arrangement with Access Brand Management (ABM) for expanding the sales of Dr. LeWinn's branded products in Greater China and together they would develop new brands as well as products for the Greater China market.
ABM forms a part of Access Corporate Group which at present manages as well as represents ~ 20 Australian and other international brands in the international market and takes aim on the Chinese market as well.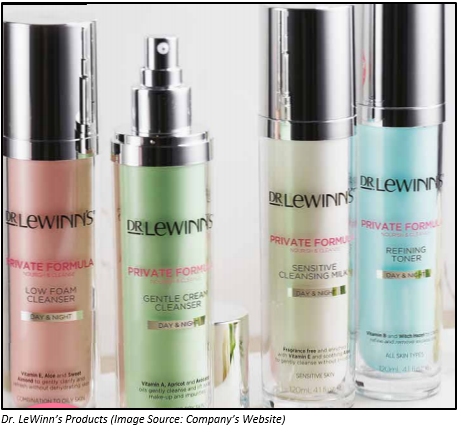 McPherson's Managing Director, Mr. Laurence McAllister, in the media release of FY2019 results, stated that the strong result of the company during the period was the outcome of the company's strategic business initiatives. He also highlighted that the stellar result from Dr. LeWinn's delivered growth in the revenue by 125 percent. Based on the FY2019, he stated that the company is seeing its success with its export strategy, especially in Asia. Further steps were also taken to expand the company's product range in the segment like health, wellness and beauty.
The joint venture between McPherson's and ABM is in line with the company's strategy to drive growth in the export markets by capitalising on the solid demand for Dr. LeWinn's products, including that from Chinese users.
For the past two years, ABM has managed and distributed Dr. LeWinn's in Greater China and reported a growth in sales from $0.4 million in FY17 to $3.3 million in FY2018 and $16.7 million in FY2019. In FY2020, the company is aiming to generate net sales of $25 million in Greater China through Dr. LeWinn's products. This would result in the Chinese market being its largest offshore market, representing ~ 12 percent of McPherson's sales and Dr. LeWinn's products becoming its most profitable brand.
Terms and Conditions of the JV:
Under the JV, ABM is required to attain a target of $35 million in yearly purchases of Dr. LeWinn's products from Mc Pherson's in any year earlier to 30 June 2022 or $82.5 million over the three-year period ended 30 June 2022 in total, depending on any appropriate adjustments. It represents a compound annual growth rate (CAGR) in purchases of ~ 30 percent over 3 years.
In case, ABM fails to achieve any of the above terms and condition, then Dr. LeWinn's trademarks that were transferred to the joint venture entity would be sold back to McPherson's at the initial nominal valuation.
In parallel with the signing of the JV agreement, Mc Pherson's and ABM have also expanded their distribution agreement for the Dr. LeWinn's brand in Greater China until 30 June 2022, and there is a possibility for further extension beyond this date.
Commenting on the JV between ABM and Mc Pherson's, Managing Director, Mr. Laurence McAllister stated that this joint venture fits perfectly into the company's strategic approach to grow international exports in Greater China. Through this JV, the aim is not only limited to further growth in Greater China but also improve the value of the brand internationally. He also stated that the JV gives MCP greater confidence to attain its ambitious objectives to make progress in Greater China, by strengthening its relationship with a successful partner like ABM which has a proven track record of market expansion.
The company increased its investment as well as strengthened its partnership with the Aware Group in order to fulfil the demand for the product. Aware Group is a competent, high quality and trustworthy Australian manufacturer as well as supply partner of the company.
With a strong relationship of the company with ABM as a partner and Aware Group as a reliable, innovative manufacturer, the company is hopeful that it would be able to attain outstanding growth as well as raise its shareholder value.
Stock Performance:
Since last 5 years, the shares of MCP have consistently given an outstanding return. The shares have generated a YTD return of 124.72 percent. The shares on 14 November 2019 closed at $2.720, up 0.741 percent from its previous closing price. MCP has a market cap of $288.48 million with approximately 106.84 million outstanding shares, PE ratio of 20.770x and an annual dividend yield of 3.7 percent.
---
Disclaimer
This website is a service of Kalkine Media Pty. Ltd. A.C.N. 629 651 672. The website has been prepared for informational purposes only and is not intended to be used as a complete source of information on any particular company. Kalkine Media does not in any way endorse or recommend individuals, products or services that may be discussed on this site. Our publications are NOT a solicitation or recommendation to buy, sell or hold. We are neither licensed nor qualified to provide investment advice.