The disruption and volatility have been the part of the Resources sector, advancing toward development. The sector witnessed the full range of challenges ranging from geopolitical tension, currency fluctuation, changing monetary or government policy and epidemic playing with supply and demand of the commodity.
Want to know about Australian Mining equipment opportunity? Please click: Upcoming Projects In Australia And Mining Equipment Market Opportunity.
In the environment of challenges, how resource company will succeed?
The resources sector has been sailing through the tides by evolving in the way they handle operations. Changing strategies from acquisition at the time of lower price to exploration and development at the time higher price, investing in the local community, addressing climate change, working directly or indirectly toward decarbonization- addressing ESG commitments etc. are some factors helped sustained the operations.
Mergers and Acquisition (M&A), Partnerships or Joint Ventures (JV) have been the medium since past in developing any projects for Junior companies or companies with the weak balance sheet. However, the M&A or JV has not only been game of Junior miners, but sometimes big companies also acquire a big company to improve overall operational synergy as well as to tackle any macro-economic factor by the change of management. Few example Newmont and Goldcorp mergers, Newmont and Barrick JV for Nevada operations and Acacia Mining and Barrick takeover deal. The above mentioned are some of M&A and JV that the industry witnessed, helping the industry to expand the position in the global supply outlook, improving the revenues by increasing efficiency and dealing with external factors hampering production.
Hence, the resources sector has been continually evolving by restructuring its business, adopting technology to tune the efficiency and venturing into newer products. In the milieu of which let us gauge through the recent performance in the resources sector company. For the same, we have chosen company listed on ASX ranging from oil and gas to mining companies.
Interesting Read: Climate Change and Bushfire – Impact on Australian Sectors and Kalkine Business
Oz Minerals Limited (ASX: OZL) is a modern copper-centred mining company in South Australia. The Company was formed in 2008 after the merger of Oxiana and Zinifex – An Australian non-ferrous metals mining company. The Company owns and operates Prominent hill, advancing Carapateena Cu-Au mine along with undeveloped West Musgrave Cu -Ni project in Australia. In Brazil its own Antas, Pedra Branca and CentroGold project.
OZL's FY19 production of 109.289 kt of copper and 128.874 koz of gold are within the range of target at lower C1 Cash Costs (US cents/lb) of 66.9 and All-in Sustaining Costs (US cents/lb) of 111 from the guidance. It is worth mentioning that the Company has achieved its fifth guidance consecutively. The Company's Carrapateena produced its first concentrate volume and is further, expected to reach a throughput of 4.25Mtpa and 4.7-5Mtpa by 2020 and 2023 respectively. Prominent hill life extended to 2031, it was able to advance the Carajás Hub strategy aided by the construction of underground satellite mine at Pedra Branca and Vale agreements. The details are depicted in asset timeline below: -
The share price closed at A$10.19 on 7 February 2020 and has a P/E ratio of 24.03 and EPS of A$0.424 at Annual dividend yield of 2.26%. Its 52 weeks high and 52 weeks low stand at A$11.72 and A$8.47, respectively, and has a market cap of A$3.36 billion.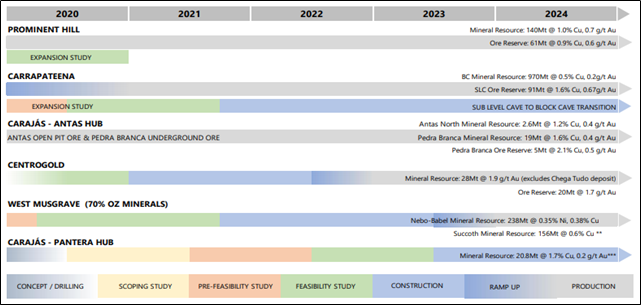 Oil Search Limited (ASX: OSH) is one of the largest oil and gas company in Papua New Guinea (PNG). OSH has 29% interest in PNG LNG Project operated by ExxonMobil PNG Limited. It also has substantial interests in the Elk-Antelope and P'nyang gas fields. The Company has positioned itself well as a long-term, low-cost oil and LNG producer. The group also acquired oil interests in the Alaska North Slope in the United States to balance the gas dominated portfolio.
FY19 for the company has been tremendous period with an increase of 11% in total production, i.e. 27.95 mmboe from the previous financial year. The sale volume and revenues increased by 11% and 3% to 27.79 mmboe and US$ 1,584.8 million respectively. OSH expects to produce around 27.5 – 29.5 mmboe during next financial year.
Recently, the PNG government has put P'nyang gas fields agreement to concentrate on the project, which is already in the pipeline. Also, exploration result was announced for well namely Gobe Footwall 1 (reservoirs are water-bearing, with minor oil observed), Mitquq 1 (sample data indicated net gas and oil pay in the well) and Stirrup 1 (well is spudded and it is expected to cement the surface of hole casing before drilling ahead to the primary objective, i.e. the Nanushuk reservoir).
The stock of OSH last traded at A$6.4 on 7 February 2020 and has a Dividend Yield of 3.04% with P/E ratio of 16.06 and EPS of AUD 0.398. Its 52 weeks high and 52 weeks low stand at AUD 8.46 and AUD 6.3, respectively, and has a market cap of AUD 1.52 billion.
To read Australia - largest LNG exporter in the world, Way Ahead!; click here.
Independence Group NL (ASX: IGO) is an ASX listed exploration and mining company, owning high-quality 100% of Nova nickel-copper-cobalt operation and 30% of Tropicana Gold Mine. The Nova operation is in the Fraser Range while Tropicana is located on the western edge of the Great Victoria Desert.
The revenue of the Company increased by 33% to A$ 474.7 million in 1H20 from the previous half-yearly result. The production for Nova operation was in the range of 15,236t of nickel, 6,779t of copper and 561t of cobalt at a Cash cost (payable) of A$2.5/Ib Ni, whereas, Tropicana produces total gold of around 257.3koz at a Cash cost of A$719/oz. Interestingly, 1H20 metal production from both Nova and Tropicana are above the top end of the pro-rata FY20 guidance range.
The share price closed at A$5.97 on 7 Feb 2020 and has a P/E ratio of 20.11 and EPS of A$0.297 at Annual dividend yield of 2.35%. Its 52 weeks high and 52 weeks low stand at A$7.11 and A$4.24, respectively, and has a market cap of A$3.63 billion.
Interesting Read: Independence Group to Provide Withdrawal Rights to Panoramic Shareholders.
South32 Ltd (ASX: S32) is a metals and mining company with a diversified portfolio across Australia, South America and Southern Africa. It also has a development option of high-grade zinc, lead and silver project in North America. It produces bauxite, energy and metallurgical coal, alumina, aluminium, nickel, silver, lead, zinc and manganese product.
The commodity production during 1H20 increased from the previous result.
Alumina (+4%) to 2,635kt,
Payable silver (+2%) to 6,164koz,
production Payable lead production (+14%) to 55.3kt and
Payable zinc production (+24%) to 32.5kt
whereas, there was no change in Aluminium production to 496kt. However, resources such as Energy coal (-2%), Metallurgical coal (-7%), Manganese ore (-3%), Manganese alloy (-17%) and Payable nickel (-2%) witnessed a fall in production from the previous period.
Good Read: South32 Limited Up Streams On US$1 Billion Capital Management Plan
Considering the above result, the Company revised the FY20 guidance recently, as shown below: -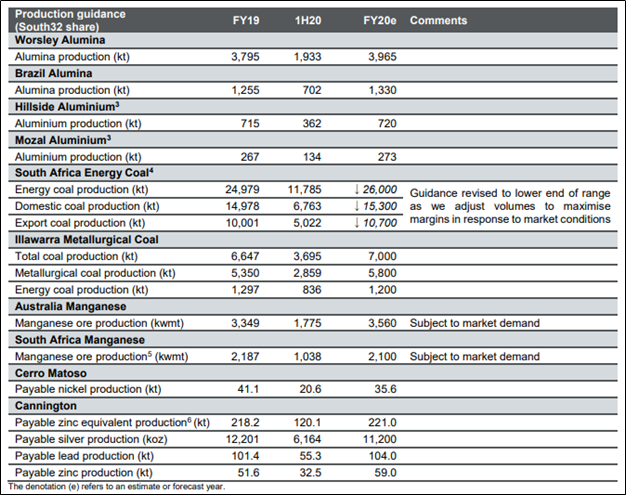 The stock of S32 last traded at A$2.62 on 7 February 2020 and has a Dividend Yield of 4.31% with a P/E ratio of 23.86 and EPS of A$0.11. Its 52 weeks high and 52 weeks low stand at AUD 3.937 and AUD 2.36, respectively, and has a market cap of AUD 13.03 billion.
---
Disclaimer
This website is a service of Kalkine Media Pty. Ltd. A.C.N. 629 651 672. The website has been prepared for informational purposes only and is not intended to be used as a complete source of information on any particular company. Kalkine Media does not in any way endorse or recommend individuals, products or services that may be discussed on this site. Our publications are NOT a solicitation or recommendation to buy, sell or hold. We are neither licensed nor qualified to provide investment advice.