The Commonwealth Bank Flash Composite PMI reflected a significant drop in the business activity during May due to coronavirus pandemic. Relaxation of restrictions in May resulted in only slight moderation in the pace of demand fall although it continues to decline sharply.
The Purchasing Managers Index (PMI) is an economic measure of business activity which surveys purchasing managers at a business in the manufacturing and services sector. It asks survey respondents about changes in opinion of some key business variables from the previous month. It is calculated individually for manufacturing and services, after which a composite index is created.
ALSO READ: Drivers for Australian Economic Rebuilding
To calculate PMI, executives from a significant sample running into various firms are asked to rate whether output, business expectations, new orders and employment have been better than the previous month.
A reading above 50 shows expansion in the business activity while below 50 reflects contraction. PMI data contains a headline number that indicates the health of the economy and sub-indices that provide insights into key economic indicators like GDP, inflation, exports, employment, capacity utilisation and inventories. Each PMI is compiled from the answers of questionnaires from senior executives of about 400 companies.
Composite PMI
The headline figure is Commonwealth Bank of Australia Flash Composite Output Index that shows changes in output in the Australian private sector. Composite PMI gauges the economic health of manufacturing and the services sector.
Australian private sector lingered in serious slump during May as coronavirus impact on the economy stayed brutal. The composite output index rose slightly from 20.7 in April to 26.4 in May.

Source: IHS Markit
Even though output fell at a weaker pace than in April, the scale of fall in the output was the second-fastest from the time when the survey started in May 2016.
Flash Services and Manufacturing PMI
The Commonwealth Bank (CBA) Flash Services Business Activity Index gives changes in the business activity in the services sector of Australia. Services PMI increased slightly from 19.5 in April to 25.5 in May with the rate of contraction only a bit softer than in April. Hence, coronavirus continued to reduce business activity in the services sector during May.
New orders, exports and employment reflected sharp reductions but fell to a lesser extent than April. Further, deflation rates of input costs and output prices speeded up. However, there was an upsurge in business confidence.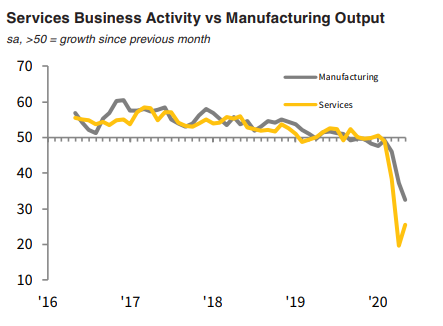 Source: IHS Markit
Commonwealth Bank Flash Manufacturing PMI that provides changes in business conditions in the Australian manufacturing sector declined from 44.1 in April to 42.8 in May as output dropped at greatest extent since the survey began in 2016. Manufacturing PMI is calculated form 5 indices for output, employment, new orders, stocks of purchases and supplier's delivery time.
ALSO READ: NAB Survey: Business Conditions Weakened in April 2020
The decline in demand and sharp contraction rate of new orders led manufacturers to scale back their employment and purchasing activity. A significant disruption to supply chain was evident with some firms emphasizing certain concerns with imported goods.
Currency depreciation and high freight costs led to a persistent rise in input prices. However, firms reduced the prices at which they sell for the first time in over 3.5 years. New orders continued to fall, which led to an easing of capacity pressures and decreased staffing level for 4th consecutive month.
However, business confidence soared sharply across both the manufacturing and service sectors to the highest in 8 months. Subjective evidence indicated that firms believe output will rise over the coming year as restrictions are relaxed and conditions return to normal gradually.
CBA Head of Australian Economics, Gareth Aird stated, "Though May should mark a bad period in PMI, business activity is expected to elevate from here every month. Views on Economic outlook have improved, and business sentiment is positive. However, the business activity will take a considerable amount of time before it resumes to pre-COVID levels as the economy reels under deflationary burden."
RBA points to 3 key points from coronavirus
In a special session of Australia's financial regulators, Robert Lowe, Governor of RBA spoke via webinar stated that the financial system of the country is well-positioned and resilient. However, the economy is going through the most significant and fastest economic slump since the 1930s. Australia has lost 6,00,000 jobs in April with total hours worked falling by a massive 9% in April. Hence, it is essential for banks to keep up the credit flow in the economy amid financial uncertainty.
He urged banks and lenders highlighting their importance to draw on their capital buffers and not be afraid to lend as coronavirus restrictions lift. The buffers act as rainy-day funds for banks to keep for use during an emergency. He asserted that the buffers are built for events like coronavirus, and they cannot be maintained during once in a century shock.
ALSO READ: Australian Economy Slumps in April as COVID-19 Measures Hit Service Economy
Secondly, confidence is very fragile despite easing of restrictions and reopening of the economy. He added that there has been evidence on countries with fewer restrictions are experiencing massive contractions in economic activity indicating voluntary decisions of people on their health and finances amid uncertainty is playing a major role. People are very reluctant to go out and spend while businesses are hesitant to invest.
Third, the country must resort to contingency planning. He stated that RBA is prepared to scale up its bond purchases if needed to keep yields near 0.25%. However, he did stick to its statement he made earlier that negative interest rates are extraordinarily unlikely.
He also asserted that Australia 's recovery would depend highly on when the vaccine is developed, which depends on the scientists.
Hence, economic recovery is uncertain in future for Australia and growth is expected to be slow unless a vaccine is developed to fight the virus.