Australia is set to enter into a recession, the first time the economy is in such a situation since June 1991, arising from the economic fallout from the coronavirus outbreak. With social distancing, lockdown and stay-at-home measures adopted by the government, the Australian economy has been massively disrupted. With the closure of schools and businesses, travel bans and restrictions on people movements amid coronavirus lockdowns, economic activity has come to a standstill with millions of job losses.
Unemployment rate to soar
As per ABS, the unemployment rate was at 5.2 per cent for March, but as the majority of lockdown measures have been taken in the end March and early April, coronavirus induced job losses are projected to be apparent in the April data.
On 21 April, RBA Governor, Philip Lowe stated that the unemployment rate is expected to be at 10 per cent by June as the total hours worked is predicted to reduce by about 20 per cent. However, he expects the rate to be lower if businesses could retain their employees on lower hours.
ALSO READ: Jobs and earnings Plummet amid Lockdown measures
The Australian government has been taking up measures to lift the economy, helping about six million workers through its JobKeeper Payment Program, supporting consumers and early release of superannuation.
Bill Evans, Chief Economist of Westpac, has predicted that the unemployment rate forecast for the June quarter at 9 per cent and later falling to 7 per cent by the end of December.
With the government not in a mood to lift restrictions till September after which there will be gradual ease in controls, lockdowns will leave more people jobless, subsequently affecting the housing market as people will have lower incomes, and thus, will not be able to get loans quickly and buy homes.
Property Market to take a hit
Storm clouds are now gathering on Australia's housing industry. The property market of Australia is headed for a slowdown with the evidence of a fall in housing prices can already be seen in the latest data figures released.
The ANZ Property Council Survey for the June quarter showed a sharp fall in the sentiment towards residential and all sectors of the commercial property. Confidence was weakest in the tourism and retail sectors. Residential prices, residential construction, employment and forward work schedule indices showed numbers in the negative region.
The Commonwealth Bank of Australia has predicted that housing prices will fall by ten per cent in the next six months due to persistent hampering of economic activity due to coronavirus.
Core logic index reflected a loss of impetus in the housing value growth rates since mid of March. Agent activity, listings volumes and valuations have all slumped so far in April.
A severe drop is expected within the property market in the months ahead with falling property volumes across listings and plummeting activity from real-estate agents. High uncertainty and increasing unemployment have slowed down the housing market and reduced activity.
Retail sales surge in March
According to the preliminary retail trade data released by ABS, Australian seasonally adjusted retail turnover surged by a record 8.2 per cent in March as coronavirus driven lockdown measures forced Australians to stock up on groceries, food and other staples. This surge had beaten the last record of 8.1 per cent during June 2000 when consumers brought forward purchases just ahead of the enactment of GST.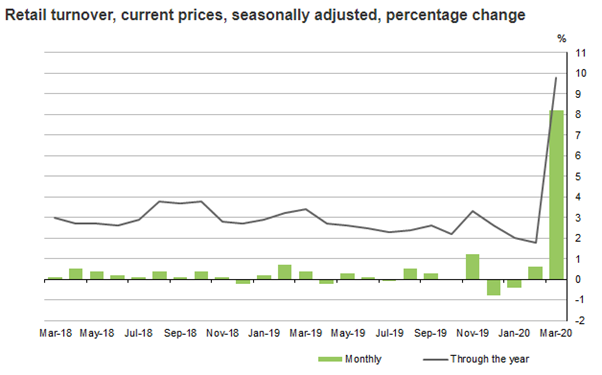 Source: ABS
The lift in sales was led by an increase in demand in grocery stores and supermarkets, liquor retail and other specific food retail. Food sales were up 23.5 per cent (more than $2.7 billion) while the supermarkets and grocery stores rose 22.4 per cent (approximately $2.1 billion).
Monthly turnover for toilet paper, flour, rice, pasta has doubled between the period of February and March. There was a 50 per cent bounce in monthly sales for medicinal products, canned food, and cleaning goods. Other areas that benefitted were electrical and hardware sectors due to remote working amidst coronavirus lockdown.
Cafes, restaurants, takeaway food services recorded significant falls in the turnover along with clothing, footwear and personal accessory retail stores. The plunge came due to social distancing regulations imposed by the government hampered business operations.
RBA and government measures
RBA has reduced its cash rate to a low of 0.25 per cent and has launched an unlimited bond-buying program. The Federal government has pledged measures worth $320 billion, including a wage subsidy scheme to protect the economy from coronavirus driven economic downfall.
The central bank has asserted that the country has a robust financial system with banks having high profitability and good asset performance to weather the effects of coronavirus pandemic. During this challenging period, banks are well-placed to assist households and businesses.
ALSO READ: Where is the economy heading to- RBA's Eye
However, the bank has asserted that vulnerabilities are expected to loom in the household sector with only one in five households having liquidity to flow through one pay period to other.
There is an anticipation of a rise in business failures and loan arrears in the months ahead.
Philip Lowe, Governor of RBA, has stated that the GDP of Australia will shrink by around 10 per cent during the first half of the year 2020. The majority of the plunge will occur during the June quarter.
The governor has described the economic contraction, that the economy is set to witness, as a "once in a century" event. With cash rate on a record low of 0.25 per cent, he also asserted on the rates to remain at the same level for a few years as inflation is expected to stay moderate.
The Australian economy is expected to pick up not before the September quarter and to further strengthen from thereon. However, the recovery is likely to be slow due to massive health and economic destruction caused to the economy. For the property market, this is a difficult situation, and the industry might more time to recover than expected.