The booming cannabis industry comprises three divisions- primary, secondary and tertiary. The primary division comprises raw material providers (seed providers and cultivators), secondary includes the manufacturers who transform raw materials into products (product manufacturers), and Tertiary are the retailers and supporting service organizations (ancillary service providers).
There has been growing demand of medical cannabis across the globe with key interlinkages between different divisions.
In Australia, medical cannabis is regulated by the Australian Government through the Therapeutic Goods Administration (TGA) and the Office of Drug Control. The Therapeutic Goods Administration is developing guidelines for medicinal cannabis compounds and medical conditions to inform medical practitioners.
Cultivation and production of cannabis is defined by the Office of Drug Control (ODC) and an individual or business interested in cultivation of medicinal hemp in Victoria is required to obtain licence as well as a permit from the Commonwealth Office of Drug Control to involve in the cultivation and production of medicinal cannabis and/or cannabis for research purposes.
In Victoria, the Australian Government's national licensing program regulates the cultivation and manufacture of medicinal cannabis under the Narcotic Drugs Act 1967.
The permit and licence are named as - ODC permit and ODC licence.
Medical cannabis, which is also known as medicinal marijuana, is used in at least 20 countries either to improve the disease symptoms or for the treatment of medical conditions. The dried flower bud extract of the plant has specific medicinal properties.
The hemp plant has two main cannabinoids delta-9-tetrahydrocannabinol (THC) and cannabidiol (CBD) which could be a good treatment option for many medical conditions including blood pressure, memory, pain, muscular problems, seizures, sensory stimulus and more. Medicinal marijuana products cover various approved and quality assured medicines intended for human therapeutic use such as oils, tinctures, tablets and other extracts.
In Australia, there are numerous companies which have started manufacturing, production and export of cannabis and related products after the legalization for therapeutic use.
There are undergoing clinical investigations for identification of the use of the constituents present in the hemp plant. The most important active chemical components in the hemp plant are cannabinoids which majorly consist of Cannabidiol (CBD) and tetrahydrocannabinol (THC).
Most common medicinal use of cannabis is in reducing the chronic pain and muscle spasm, and there is research going on for identification of other treatment benefits related to marijuana.
Let us now zoom the lens on recent activities of two ASX listed cannabis players- MXC and THC.
MGC Pharmaceuticals Ltd (ASX: MXC) Signs Supply agreement for Canndeo products
On 20 January 2020, MGC Pharmaceuticals unveiled that the company has signed a supply agreement with THC Global Group Limited (ASX:THC) for production and supply of white label pharmaceutical grade Canndeo branded phytocannabinoid products to New Zealand and Australia for THC Global, adding a new revenue stream to the company.
About MGC Pharmaceuticals
European based ASX listed company MGC Pharmaceuticals Ltd (ASX: MXC) is a leader in supplying medicines derived from GMP Phytocannabinoid for the patients across the globe. The company is working with the objective of manufacturing and supplying high-quality cannabinoid-based drugs for the emerging markets in Australasia, Europe and North America.
MGC Pharma has partnership and collaboration with companies, academia and universities at a global level for performing extensive research and developing the highest quality of pharmaceutical products for the patient. The company has a strong product offering targeting three widespread diseases- epilepsy, Irritable Bowel Syndrome (IBS) and dementia; further MGC pharma has multiple products in the under development stage as well.
The company has well-planned product pipeline for upcoming years with the clinical trials-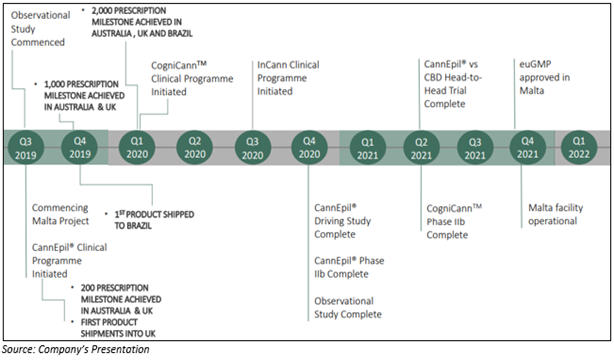 Highlights of the Agreement
New, and immediate, revenue stream for MGC Pharma;

The first purchase order has already been received by the company for approximately €25,000;
All subsequent purchase orders would be for a minimum order quantity of €50,000

The agreement between both companies helps to establish the high quality and price competitiveness of the medicines derived from phytocannabinoid produced by the company.
This supply agreement signed with THC Global is for the white label production and would be for a minimum duration of 18 months, for the supply of Canndeo branded products of THC Global in New Zealand and Australia.
The white labelling by MGC Pharma of THC Global's pharma grade Canndeo products under the Supply Agreement does not compete with existing MGC Pharma phytocannabinoid products in Australia.
Canndeo branded therapeutic cannabis product range of THC Global would launch in the first quarter of 2020.
THC Global would launch three oral liquid formulations in partnership with MGC Pharma-
high CBD + low THC
balanced CBD + THC
high THC + low CBD
In addition to finished goods, further expansion of the relationship between MGC Pharma and THC Global to include the supply of active pharmaceutical ingredients (APIs) and extracts.
THC Global Group (ASX: THC) Obtains TGA GMP Manufacturing Licence for Southport Facility
Completing all licences required to commence commercial manufacture of medicinal cannabis, THC Global Group Limited (ASX: THC) has been granted a Licence (GMP Licence) to Manufacture Therapeutic Goods for the Southport Facility.
The company now holds all three key cannabis licences including a Cannabis Research Licence, a Medicinal Cannabis Licence (Cultivation), and two Manufacture Licences through its domestic medicinal cannabis subsidiaries THC Pharma and Cannde.
NSW headquartered medical cannabis company, THC Global is into the cultivation and manufacturing of pharmaceutical grade cannabis.
The Southport manufacturing facility of the company is the biggest licenced and permitted pharmaceutical bio-floral extraction plant in the Southern Hemisphere.
THC has received import and export licences for its Southport Facility, that allow the company to start the supply of its medicinal cannabis products to the worldwide export market, in addition to providing products to patients in Australia.
Stock Performance
On 21 January 2020 (3:10 PM AEDT), the stock of MXC traded at $0.038, while THC traded at $0.430, up 10.3%.
---
Disclaimer
This website is a service of Kalkine Media Pty. Ltd. A.C.N. 629 651 672. The website has been prepared for informational purposes only and is not intended to be used as a complete source of information on any particular company. Kalkine Media does not in any way endorse or recommend individuals, products or services that may be discussed on this site. Our publications are NOT a solicitation or recommendation to buy, sell or hold. We are neither licensed nor qualified to provide investment advice.