The Department Store market in Australia has long been dominated by just two names - Myer and David Jones. Offering a one-stop shopping destination for fashion, homewares and just about everything else, Australian consumers loyalty spent their hard-earned pay checks at both the stores for over a hundred years. But in the past decade, these seemingly unsinkable titans have struggled to retain their grasp on the market, shedding profits like sale-rack fur coat.
In fact, last month Myer Holdings Limited (ASX: MYR) posted its first profits growth in 9 years, though this was not prompted by rising sales. Are fortunes beginning to turn for the biggest names in Australian fashion? Or will millennials never shop in the same way that their parents and grandparents did?
There are a couple of events that are likely to have precipitated this shift away from traditional high street shopping over the past 20 years, two in particular that shook the fashion landscape to its core. The first is the rise of fast fashion, and the second, online retailers.
Fast Fashion: Fast fashion is a term that describes the capability of certain modern retailers to move an item from concept to shelf in a very short span of time. In the late 90s, European megastores such as Zara and H&M began popping up in America, offering a uniquely flexible and responsive production model, allowing them to respond to current trends a lot faster than traditional retailers such as Myer, who generally release new clothing lines with the changing seasons.
Fast fashion is a numbers game. The newer styles that can be stocked and sold, the higher the sales, the lower the prices. In the years gone by, if you wanted to wear something that looked similar to what a celebrity in a magazine was wearing, you would need to pay top dollar for that designer item. Fast fashion stores bridged the gap between catwalk and affordability, by selling cheaply made copies of high street items. It was a business model that grew extremely popular in the 2000s, with new fast fashion retailers opening stores, and existing high street shops shifting towards the low cost, high turn around model.
This competition created a kind of polarisation of the market. High street retailers had to cut prices to keep up, and so needed to adopt cheaper production methods, but the designer market went on as always, because luxury consumers continued to pay high prices for well-made goods. Which left mid-range shops like Myer caught somewhere in the middle, having neither clothes that were as price-stable as European designers, but being unable to quickly restructured into a high-turnover model.
Now that we are seeing an environmental reaction against the societal costs of fast fashion, due to the high level of pollution and landfill it has created, perhaps this mid-ground in the market will start to grow again. But there are new competitors with which Myer now must deal.
Online Shopping
As brick-and-mortar stores once suffered under the rise of fast fashion, so online shopping did unto them. Just in the last couple of years, the great behemoths of fast fashion - e.g. H&M, Forever 21 - have been struggling under pressure from the shift in consumption towards ASOS, BooHoo, and Wish; shops that only exist online.
These shops have a number of advantages over physical stores, which have made them more and more competitive as consumers grow more willing to trust them. Firstly, they don't have the massive overheads associated with running large inner-city stores, that contain thousands of different items for sale, and must be kept clean, staffed and with the lights on. This means lower, more competitive prices. And as they've gotten better at faster, cheaper returns, benefit of trying something on in high street stores has been whittled away, making the value of those stores less and less.
Secondly, if H&M were fast at stocking new trends, online shops have that much more agility. They don't need to ship new lines out to thousands of stores and rearrange displays and update retail systems. In a turn around that might take a fast fashion physical store week, ASOS can have a new item for sale online in days. This speed has grown increasingly important for customers with the rise of social media. When a celebrity posts a photo of themselves in a cute outfit, consumers want to be able to hop online and buy a cheap knock off immediately. Fashions aren't seasonal anymore, they're weekly.
What does this mean for Myer?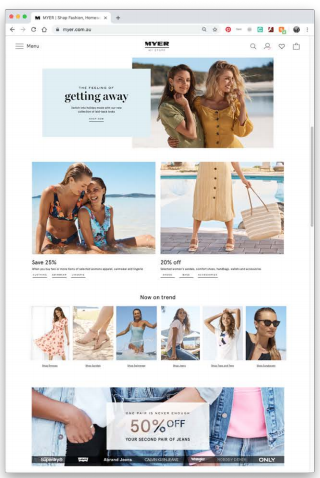 Fashion is certainly an industry undergoing a lot of change at the moment, which makes the future somewhat difficult to predict. The larger trend in clothing consumption is noticeably down, as consumers react to increasing warnings about environmental impact. Perhaps, Myer will be able to find its place in the sustainable, well-made clothing market, without the highly inflated prices of true designer goods. Or perhaps all clothing retailers will face thinner profit margins together, as sustainability becomes the new hot fashion.
---
Disclaimer
This website is a service of Kalkine Media Pty. Ltd. A.C.N. 629 651 672. The website has been prepared for informational purposes only and is not intended to be used as a complete source of information on any particular company. Kalkine Media does not in any way endorse or recommend individuals, products or services that may be discussed on this site. Our publications are NOT a solicitation or recommendation to buy, sell or hold. We are neither licensed nor qualified to provide investment advice.