200….500……6000….50000……89000!!! Not numbers from an Excel sheet with exponential growth but coronavirus confirmed cases in just 2 months.
According to media research, as of 03 March, the outbreak had affected over 89,000 people across the globe, with a total death toll of more than 3,000. In China, there were ~80,000 confirmed cases, over 44,000 people have recovered, and ~2,900 have died.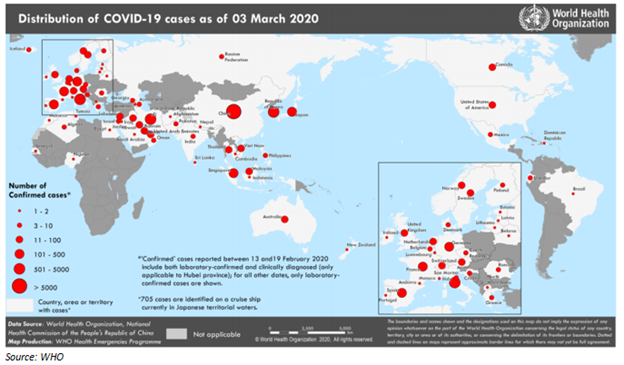 COVID-19 is caused by a Coronavirus family member, SARS-CoV-2 that has never been encountered in the past. In the same way as other Coronaviruses, the new virus has come from animals. Now the Coronavirus has become a health threat across the globe that requires all hands on deck.
Also read: Is Coronavirus Gender Biased? Health Tips!
In this article, we are discussing what preventive measure you should take before Coronavirus reaches you and also some myths related to the spread of disease.
Basic protective measures against COVID-19
Stay informed of the most recent information on the Coronavirus epidemic, available on the Centers for Disease Control and Prevention (CDC) or WHO websites and through the national and local public health organisation.
The novel coronavirus is found predominantly in China with some outbreaks in other countries as well. Most infected people experience mild illness and recover, but for some people, it can be severe too.
Following are some preventive measures to consider:
Wash your hands frequently- Wash your hands when hands are visibly dirty with soap and running water:
Maintain social distancing
WHO recommends maintaining a minimum of 3 feet (1 metre) distance with a person who is coughing or sneezing. If you stay too close, there are chances you can inhale the droplets, comprising the Coronavirus, if the person has the disease.
Avoid touching your eyes, nose and mouth
Everyone, in his/her daily routine, touches many surfaces and can pick up viruses. Once infected, your hands can transfer the virus to your mouth, nose or eyes. Hence, the virus can come into your body, and you can fall sick.
Practice Respiratory Hygiene
Always cover your mouth with a tissue before sneezing or coughing and then immediately dispose of the used tissue as the droplets can spread the virus. If you practice good respiratory hygiene, you can safeguard the nearby persons from viruses like flu, cold and Coronavirus.
Everyone is now aware of Coronavirus and people are raising many queries, here are some frequently asked questions and how to respond:
Should you cancel your travel plans?
The most asked question right now is should individuals postpone or cancel their travel plans because of this dreadful virus.
The Centers for Disease Control and Prevention has created geographical risk-stratification benchmarks with the aim of issuing travel health warnings for countries with COVID-19 Coronavirus transmission. According to the CDC:
Avoid all unnecessary travel to locations that fall under level 3 which currently include China, Italy, Iran, and South Korea. These locations are considered high warning travel zones.
High-risk groups (including older adults or those with persistent medical conditions) should defer their travel plans to countries that fall under level 2 locations. At present, Japan is the only country under Level 2 of the travel advisory levels.
Hong Kong is considered as a level 1 location where the risk of COVID-19 is low. Travellers should not cancel or postpone plans. However, they must take preventive measures such as avoiding contact with people who are sick; avoiding touching their nose, mouth or eyes before washing their hands; and wash hands frequently.
When to use masks? & Do they genuinely work?
As Coronavirus spreads further, it has been observed that face masks are sold out almost everywhere. However, the question is, do they actually work?
As per the health experts and authorities in the US, the answer largely hinges on the type of face mask you are using. According to the US CDC general guideline people are not advised to wear a face mask if told to do so by a health care provider.
Due to the increasing spread of Coronavirus, all of a sudden, the face masks have become an insufficient resource globally, selling out at drugstores and on websites online like Amazon.com. According to the CDC, it is recommended that one must wash hands frequently, as compared to wearing a face mask, to keep the virus away.
WHO says that if you are not having any infection, you only need to wear a mask while taking care of a Coronavirus suspected person. The most important thing, if you use a mask, is that you should know how to dispose it of properly. You should dispose of a mask in an enclosed bin instantly after use.
Will some diet help you fight against it?
Well, to an extent, yes. If there is a possibility that you are exposed to COVID-19, a balanced diet will definitely help in boosting the immune system and help you stay healthy. You can include anti-viral foods in your diet and avoid intake of raw foods such as raw vegetables, meat or eggs.
The anti-viral food people can include in their diet include Garlic, Ginger, Star anise, Coconut oil for cooking food, Vitamin-C rich foods, food rich in Resveratrol like peanuts, grapes red and white wine, cranberries, pistachios, blueberries, strawberries.
Interesting Read- Coronavirus Outbreak: Swings and Roundabouts
Myths and Beliefs
Due to the rising fear of COVID-19, a number of myths have been spreading:
Did the Coronavirus come from Corona beer? What? Really?
It might seem an improbable theory, doesn't it? But searches for "Coronavirus beer" soared over the last few weeks which is a sign of the types of queries people have been raising about this health emergency.
Here are a few myths about this Coronavirus to watch out for:
Pets can spread the Coronavirus- The myths range from the idea that spread of Coronavirus from pets and animal meat to considering the delivery of a product from China as unsafe.
But as per WHO there is no evidence supporting pets like dogs or cats spreading COVID-19. It is also worth notifying that COVID-19 is a respiratory infection that spreads if the individual contacts such respiratory secretion like saliva or discharge from the nose from the infected person, but not an animal.
Antibiotics can prevent or treat the new Coronavirus- Another myth worth mentioning is that is there any existing medicine for the treatment of the virus?
As of now, there is no specific medicine available for the treatment of disease. According to the CDC, antibiotics are for treatment of bacterial infections- not viral infections such as Coronavirus.
According to WHO to date, no vaccine and no other specific anti-viral therapy is available for the treatment or prevention of COVID-19.
Not to do Things - WHO mentioned a few measures that are not effective against Coronavirus and that can deteriorate the condition. These include smoking, taking traditional herbal remedies, wearing more than one mask and taking self-medication like antibiotics.
"If you have symptoms such as fever, cough, or breath shortness, it might be an indication that you have the Coronavirus. You must avert contact with others and get in touch with your health care provider right away."
Take care of your health and stay safe!
For the curious investors, here are a few interesting reads:
Coronavirus Takes a Toll on Global Markets
Coronavirus Blackswan Turns 3 Healthcare Stocks to Multibaggers
Stocks Benefited from COVID-19 Outbreak
Interest rates cut pulls ASX to the greener side
Investors abandoning risky growth stocks amid COVID-19 fears
There is no investor left unperturbed with the ongoing trade conflicts between US-China and the devastating bushfire in Australia.
Are you wondering if the year 2020 might not have taken the right start? Dividend stocks could be the answer to that question.
As interest rates in Australia are already at record low levels, find out which dividend stocks are viewed as the most attractive investment opportunity in the current scenario in our report.
CLICK HERE FOR YOUR FREE REPORT!
---
Disclaimer
The website https://kalkinemedia.com/au is a service of Kalkine Media Pty. Ltd. A.C.N. 629 651 672. The article has been prepared for informational purposes only and is not intended to be used as a complete source of information on any particular company. Kalkine Media does not in any way endorse or recommend individuals, products or services that may be discussed on this site. Our publications are NOT a solicitation or recommendation to buy, sell or hold the stock of the company (or companies) or engage in any investment activity under discussion. We are neither licensed nor qualified to provide investment advice through this platform. All pictures are copyright to their respective owner(s). Kalkinemedia.com does not claim ownership of any of the pictures displayed on this website unless stated otherwise. Some of the images used on this website are taken from the web and are believed to be in public domain. We have used reasonable efforts to accredit the source (public domain/CC0 status) to where it was found and indicated it below the image.