2018 witnessed several catalysts for the legal cannabis industry, with countries legalising medicinal cannabis, public and private sector getting into constructive discussions about the calibre and cons of the pot industry from a business point of view and cannabis stocks jumping substantially in market value due to the open-ended potential.
2019 kept the pot (or cannabis) stocks in the hot pick section for investors, amid the general market volatility, fierce competition and economic pressures. The sector is synonymous with growth and is exploding, with new listings and expanded production, as investors thrive to carve out a slice for themselves.
In today's article, we would graze over the ways in which one could possibly decipher the most in-demand pot stocks in Australia, and also look at a few related ASX-listed stocks. But foremost, let us understand the stance of the Cannabis industry across the globe and in the country:
The Global Cannabis Market
To understand the global cannabis market landscape, let us look at the below mentioned facts as stated by companies in the pot space:
According to ASX-listed cannabis player AusCann Group Holdings Limited (ASX: AC8), Medical Cannabis is a multibillion global business opportunity which is projected to grow in double-digit CAGR in coming years. Medical Cannabis is prescribed to manage the symptoms of a large array of medical conditions.
On similar line, a report by medicinal cannabis magnate Althea Group Holdings Limited (ASX: AGH) stated that Cannabis are well on track to become a $1.2 billion industry over the next 10 years.
As per MGC Pharmaceuticals Limited (ASX: MXC), the estimated cannabis for medicinal use would be valued at £47 billion in 2028. Moreover, the cannabis-based medicine sales would increase by 182% in the period 2016-2020. The company believes that Europe would likely to be largest medical cannabis market with a total healthcare spend of £2.1 trillion.
The Australian Cannabis Market
Acknowledging the global upward trajectory of the cannabis market in the world, let us glance through what is said and believed about the budding Australian cannabis market. At this point, it should be noted that Australia legalised the use of medicinal cannabis in February 2016 and recently in September 2019, the Australian Capital Territory (ACT) became the first jurisdiction of the country to legalise the possession and production of cannabis for personal use (recreational cannabis), under a few conditions.
To read about this revolutionary move, we encourage you to READ HERE.
Back to the Australian Cannabis Space:
The Aussie market is a rapidly growing market with significant regulatory barriers for patient access and entry of competition.
According to THC Global Group Limited (ASX: THC), there has been a rapid growth in patient numbers in Australia. Although real numbers remain low at 10,000 patients, this is expected to grow to 100,000 patients by 2021.
As per the AusCann Group Holdings Limited (ASX: AC8), the transition to using cannabis-derived products for medical purposes is gaining significant momentum in Australia.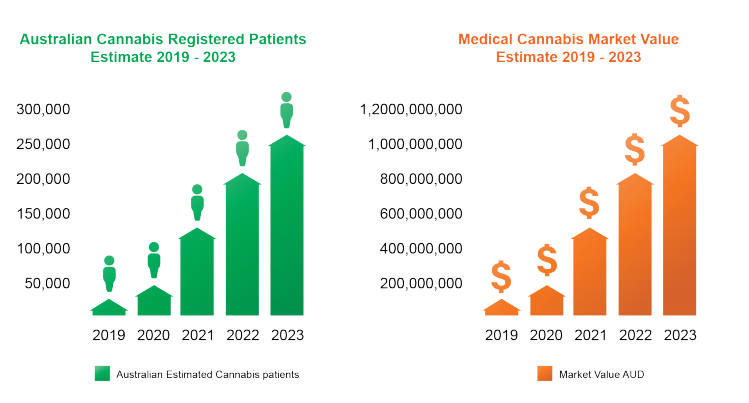 (Source: AC8's Investor Presentation)
How to tap in-demand pot stocks?
Even though the Australian cannabis sector is comparatively nascent when compared to other economies of the world, the country witnessed a ramp up in activities, fuelled by a rapidly expanding patient base, and a legislative landscape that is gradually beginning to liberalise.
After the Government gave the legislative green light to marijuana exports in 2018, industry experts have been eyeing the pot stocks as they thrive to dominate the international markets. This presents a golden opportunity for savvy investors, in and outside of Australia who are looking to buy into the cannabis market. A few check points to be adhered to whilst picking stocks could be:
Investors could buy shares in a company that is taking advantage of the surge in needed production, which would consequently have the shareholder's returns grow substantially as the cannabis industry propels.
Investing in companies that would ship out cannabis products. With the growth in the cannabis market, and even e-commerce, positive returns are a possibility.
An investor must apply knowledge and vigilance to understand the growth opportunities as well as the have the capability to capitalize on these perceived opportunities, while cherry-picking pot stocks.
Considering the worldwide risks associated with cannabis, which was once considered a taboo, investors should have awareness of the geographical regions where specific pot stocks are allowed to operate, and be aware of legal, political and tax information.
A smart bet when trading in pot investments could be to tap a stock in which cannabis is just one part of what the company does, which would give the investor more options and variables, and mitigate risks associated with the sensitive sector.
How have the ASX-listed Pot Stocks Performed?
Now that we understand the stance of cannabis companies in Australia, it would be interesting to look at the stock performances and returns generated by a few ASX-listed pot players. They are Elixinol Global Limited (ASX: EXL), Medlab Clinical Limited (ASX: MDC), Cann Group Limited (ASX: CAN), Althea Group Holdings Limited (ASX: AGH), Creso Pharma Limited (ASX: CPH), MMJ Group Holdings Limited (ASX: MMJ), Bod Australia Limited (ASX: BDA) and AusCann Group Holdings Limited (ASX: AC8). The below table highlights the same (on 10 October 2019 at 2:09 PM AEST)-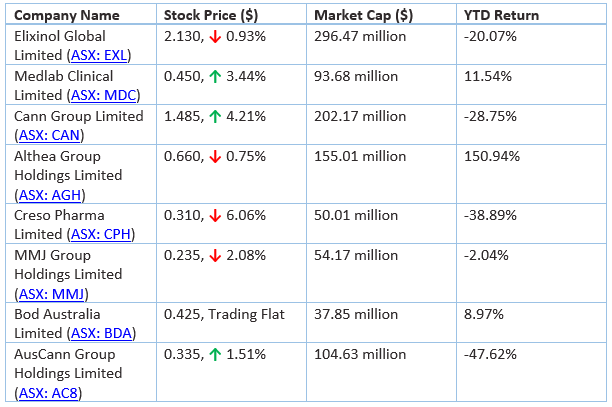 What do the experts say?
Given the recent revolutionary step to allow production and possession of recreational cannabis, after 3 years of legalising the medicinal section of the once the topic of a taboo, there is a burst of speculation around cannabis stocks in Australia. Market experts believe that even though there are huge opportunities ahead, the cannabis sector is surrounded by equally huge risks. Easing restrictions and enhanced legislative progress are definitely a huge step towards a contemporary Australia but investing in these stocks needs constant vigilance.
The market for cannabis is definitely growing fast, and with many small, niche companies currently in operation, the sector definitely feels crowded. This could attract mergers or acquisitions in this space, which consequently could be an attractive condition for investors.
---
Disclaimer
This website is a service of Kalkine Media Pty. Ltd. A.C.N. 629 651 672. The website has been prepared for informational purposes only and is not intended to be used as a complete source of information on any particular company. Kalkine Media does not in any way endorse or recommend individuals, products or services that may be discussed on this site. Our publications are NOT a solicitation or recommendation to buy, sell or hold. We are neither licensed nor qualified to provide investment advice.