Financial sector can be understood as lifeblood of an economy. The health of an economy is sensitive to most of the crucial macroeconomic events like movement in interest rates, APRA decision, and the recommendations put forward by the Royal Commission. Every financial company which is in the business of investment management, fund management, provision of superannuation and other financial services generally gets impacted by any of financial decision taken by the authority. Apart from the above-mentioned financial events, the company experiences a major change in investor sentiments on the release of its latest earnings results as major investors react on these releases and change their investment allocations. In the below article, we will look at three ASX-listed financial services companies with their latest earnings release in the financial year 2020.
Challenger Limited (ASX: CGF)
Challenger Limited (ASX: CGF) is a diversified financial services organisation having core businesses in funds management, administration platform and annuities.
Strong rise of 10% in Assets Under Management (AUM).
Recently, CGF notified the market with the operational financial performance for first half of financial year 2020 and outlined the following:
The company experienced strong growth in assets under management of 10% to $86 billion. This helped the company in driving its earnings growth.
Challenger possesses the ability to continue delivering solid earnings even with the significant and ongoing challenges in its operating environment through its business model, leading brand image and diversified distribution.
During the half year, the company reported normalised net profit before tax amounting to $279 million, reflecting a rise of $9 million or 3% over prior corresponding period. This includes the impact of the investment in future growth initiatives.
The company experienced decent progress on its strategic priorities. This primarily includes (1) beginning of a new arrangement with MS Primary in order to reinsure US dollar annuities in Japan, (2) addition of new partners in the Funds Management business as well as investment in a range of distribution channels.
With respect to shareholder returns, the company declared an interim dividend amounting to 17.5 cents per share, fully franked. This demonstrates its strong capital position as well as confidence in future growth.
How is the company prepared for the future?
The company is in a decent position for optmising performance in the current environment with the help of continuing execution of its carefully planned strategy, in combination with its response to industry disruption.
The company expects to witness a decent opportunity in engaging more directly with prospective customers and increase support for advisers in order to better meet customer needs.
The company is on track to attain its normalized pre-tax ROE target of the cash rate of RBA in addition to a margin of 14%.
For FY20, the company is expecting the full year dividend of 35.5 cents per share. This dividend target is above the dividend distribution proportion of 45% to 50% of NPAT. This indicates its strong capital position as well as confidence in future growth.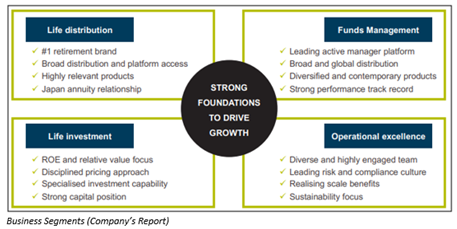 At the close of trading day on 14th February 2020, the stock of CGF last traded at A$10.110 per share with a fall of 0.492% The stock delivered returns of 27.80% and 52.55% in the span of three months and six months, respectively.
Pinnacle Investment Management Group Limited (ASX: PNI)
PNI (ASX: PNI) is in the business of developing and operating investment management businesses.
Recently, the company has released its results for the six months to 31 December 2019 (1H FY20) and outlined the following:
Net profit after tax from continuing operations attributable to shareholders amounted to $13.8 million, reflecting a rise of 36.6% as compared to $10.1 million of pcp.
The company reported basic earnings per share of 8.1 cents with a rise of 32.8% against 6.1 cents in the previous corresponding period.
As at 31st December 2019, funds under management of aggregate affiliates stood at $61.6 billion with a rise of 13.4%. Institutional net inflows stood at $1.1 billion.
The balance sheet of the company possessed cash and principal investments amounting to $44.7 million as on 31 December 2019; This includes investment of $35.3 million in strategies managed by Pinnacle Affiliates. Moreover, it excludes more than $9 million of cash applied for Affiliate equity recycling loans, working capital loans (Two Trees) as well as additional Affiliate equity purchased.
During 1HFY20, the costs of company stood higher against the pcp, because of the full year effect of the significant rise in resources for the full year FY19. Headcount in Pinnacle stood at 54 as on 30 June 2018, 68 as on 30 June 2019 and remained constant at 68 as on 31 December 2019. The company anticipates a minimal number of additional hires over the balance of FY20.
The company's debt facility of $30 million from CBA was fully drawn down in December 2019 to purchase 25% of CCI (Coolabah Capital Investments Pty Ltd).
The company is well placed to deliver superior business and financial performance in the medium term. Pinnacle is continuing the diversification of asset classes as well as diversification of client FUM by investor type and domicile. Pinnacle Investment Management Group Limited is focusing on supporting the growth of its current Affiliates with increased investment in distribution channels and infrastructure. The company would also continue to invest in and seed new Affiliates where management teams have a strong track record as well as growth potential.
At the close of trading day on 14th February 2020, the stock of PNI last traded at A$6.180 per share with a rise of 3.866% The stock delivered returns of 13.55% and 30.77% in the span of three months and six months, respectively.
HUB24 Limited (ASX: HUB)
HUB24 Limited (ASX: HUB) , involved in providing investment and superannuation platform services, officially got listed on Australian Stock Exchange in 2007. The company would be releasing its operational and financial performance for the first half of financial year 2020 on 25th February 2020.
Strong Growth in December 2019 Quarter
The company continues to witness a robust growth in the results for the latest quarter and outlined the following:
HUB24 reported quarterly net inflows amounting to $1,259 million. This led to the solid momentum for FY20 with rise in FUA of $3.0 billion since June 2019. Moreover, FY20 average monthly Net Inflows have witnessed a rise of 58% to $416 million as compared to FY19.
Across Australian platform market, the company stood at 2nd place for quarterly Net Inflows and maintained 2nd place for annual Net Inflows.
The company also maintained its position as the platform provider with the highest growth rate on an annual basis and has increased platform market share during the 1H FY20 from 1.3% to 1.6%.
Transition opportunities from new as well as existing adviser relationships, and organic flows from existing advisers and new business from advisers in the key account segment, self-licensed advisers and brokers have helped the company to drive FUA growth.
For the 1H FY20, the company experienced record Net Inflows amounting to $2.5 billion. This has resulted from advisers with larger client account balances and therefore access to competitive pricing.
During December 2019 quarter, the company added 39 new portfolios, as the company experienced strong demand for new portfolios on the platform.
In another update, the company announced that Mark Goodrick has stepped down from the position of Chief Financial Officer and Joint Company Secretary. However, Mr Goodrick will remain in the company till March 2020. The company has commenced search for the replacement of Mark Goodrick.
Opportunities for Future
For FY21, the company is aiming funds under administration in the range of $22bn - $26bn. The company is also making investments to secure the unprecedented opportunities. It is planning to innovate to unlock client value, disrupt existing investment paradigms as well as increase international investment accessibility.
It is also focusing on developing new portfolio capabilities as well as attracting new investment managers.
The company is planning to ramp up growth in market share via delivering a step change in its targeted FUA by increasing inflows. This would be underpinned by product innovation and expanded distribution footprint. It is also anticipating additional flows to result in 2H FY20.
Also Read: How was the Q1 FY19 numbers of HUB24?
At the close of trading day on 14th February 2020, the stock of HUB last traded at A$10.910 per share with a rise of 0.092% The stock delivered returns of -10.07% and -1.36% in the span of three months and six months, respectively.
---
Disclaimer
This website is a service of Kalkine Media Pty. Ltd. A.C.N. 629 651 672. The website has been prepared for informational purposes only and is not intended to be used as a complete source of information on any particular company. Kalkine Media does not in any way endorse or recommend individuals, products or services that may be discussed on this site. Our publications are NOT a solicitation or recommendation to buy, sell or hold. We are neither licensed nor qualified to provide investment advice.