The uncertainties in almost every aspect of human life are uninvited guests for which not everyone is prepared. Similarly, many investors put their hard-earned money into risk carrying investment vehicles without having the knowledge of the available insurance against those risks.
Yes, you read it right, insurance to your investment.
Hedging is the act of making an investment with a view to minimising the risk of unfavourable market conditions and mitigating the effect on the investment portfolio. It is a common notion that every investor should know about hedging and hedge investments since hedging is seen as insurance for your investments' adverse situations. As we move further, along with learning about hedge funds, its benefits and risks, we shall be exploring hedge funds market in Australia, some of the leading funds in Australia, and what should you be aware of as an investor?
Source: freepik.com
Before learning theoretically about hedge funds, let's focus on some numbers about Hedge Funds in the Australian financial industry.
According to Austrade, the global significance of Australia's financial markets and sophistication of its managed funds industry reflects the country's strengths in having the world's:
fourth largest alternative assets under management (USD 275 billion);
sixth largest managed fund assets under management (USD 1.6 trillion);
eighth largest foreign exchange market (USD 121 billion daily average turnover);
ninth largest stock market measured by free-float market capitalisation (USD 1 trillion);
ninth-largest high-net-worth market (USD 735 billion); and
tenth largest market for international and domestic debt securities combined (USD 2 trillion).
Australia's $2.8 trillion investment management industry is the biggest one in Asia, representing a CAGR of 10% since the year 1991. Australia's FUM or funds under management are 60% bigger compared to the market cap of the whole nation's equity market ($1,760 bn noted in December 2016) and signify ~168% of the nation's nominal GDP ($1,693 bn).
Figure 1 Global Significance of Australia's Financial Markets (Source: Why Australia? Benchmark Report 2019)
More interestingly, Australia's mature financial services sector had estimated assets of around $8.5 trillion (USD 6.3 trillion), which are more than 4.5x the country's nominal GDP as at June 2018.
On average, the sector has witnessed a growth of 9.4% a year, which is well above the average nominal GDP growth rate of 5.9% over the past two decades. The strength of the financial services industry reflects on its share as the largest contributor towards the Australia's gross value added.
Hedge Funds explained:
Hedge funds are the fund investment tools that are based on complex alternative investment strategies as compared to traditional managed funds to obtain returns through the investment manager's skill and employing strategies and tools that can be riskier.
Hedge funds, also called absolute return funds, aim for positive or less volatile returns in both rising and falling markets, being on a low correlation with other traditional assets, such as shares and bonds, and can make them a compelling portfolio diversifying option.
According to RBA,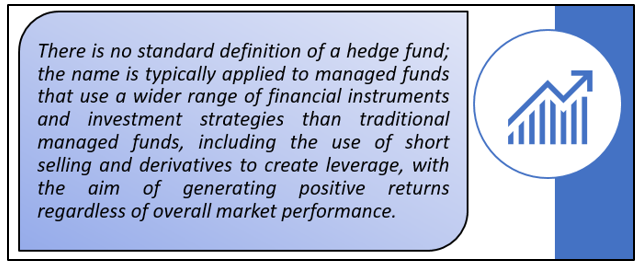 Generally, Hedge funds are said to be the investments that employ pooled funds to invest in alternative assets or strategies, like use of derivatives, alternative investments and leverage in both domestic and international markets; while having a specific benchmark such as a market index or interest rate they are trying to outperform, or they may focus on achieving a benchmark return with less volatility.
Characteristics of Hedge Funds
There can be numerous types of hedge funds with distinct features and risks coupled with them. Although each fund is different, there are some common features used as tools used by hedge funds to define them:
Leverage- Some hedge funds can help to create leverage through increased exposure to certain assets or strategies, usually through borrowing; however, using leverage has equal chances of increasing returns as well as losses.
Derivatives- Derivatives are used by hedge funds to manage investment risk or to speculate on the future value of markets and assets, while some hedge funds use derivatives to gain or reduce exposure to certain assets, markets or events as derivatives give investors the option or obligation to buy or sell an asset in the future based on a price agreed at the time of entering into the derivative contract.
The value of derivatives depends upon an underlying asset (such as a share, commodity or index) and can be employed to obtain additional efficient investment coverage to a set of underlying assets without having to buy the assets directly.
Short selling- A long/short strategy is a common strategy uiltised by hedge funds including acquiring of shares which are anticipated to rise in value while shorting the shares whose value is anticipated to decline.
In short selling, an investor strategises to borrow a security from another party (usually a broker) and later sells it on the market, in an anticipation to buy an identical security at a lower price and return it to the lender at some time in the future, thus reaping profit from the difference between the buying price and the selling price.
Alternative assets and investments- At times, hedge funds also have the added option to invest in less conventional assets like derivatives, unlisted shares etc along with other hedge funds.
Active management- Hedge funds are usually actively managed, where investment managers have discretion over the choice of assets to invest in and how much to invest into any given asset or market, thereby making the expertise and experience of the investment manager crucial to the funds' success.
Why Hedge Funds?
Other than having low correlation with traditional assets like shares and bonds, hedge funds have other benefits which are discussed below:
Some hedge funds may target fewer volatile returns at the expense of gains in a rising market, and some hedge funds may target higher returns with a risk of incurring substantially greater losses; you should consider your targeted strategy when choosing a hedge fund.
Hedge funds carry the advantage of exposure to a diverse range of asset classes and markets, which helps diversify your portfolio and narrow your exposure to market risks.
Risks Involved with Hedge Funds
Hedge funds can vary widely in their investment strategy and risks, some common risks to look out for are:
Hedge funds with an exposure of more than 100% of assets invested could suffer significant losses if markets move against the fund's position; therefore, the use of derivatives and short selling involve leverage risk;
Hedge funds are vulnerable to liquidity risk, if the fund has invested in assets that are not traded on an open market and it is harder to sell quickly if the value of asset decreases or you want to withdraw some or all of your money;
Hedge funds carry a greater risk of incurring losses if a fund has a concentration of assets in a single market and the market underperforms;
Not investing in a simply structured investment fund makes it harder to figure out how your money is invested and what risks you are prone to;
In cases where derivatives are purchased over the counter by agreement with counterparties, there is a risk that the counterparty might fail to honour the agreement.
Before getting acquainted with the Australian Hedge Funds, our knowledge about hedge funds would be fragmentary without learning one of the biggest events in the international Hedge Fund community.
The Fall of Long-term Capital Management Hedge Fund
Long-Term Capital Management was founded in the year 1994 by Salomon Brothers trader, John Meriwether, with principal shareholders being Nobel Prize-winning economists Myron Scholes and Robert Merton who were experts in derivatives investments and gain above-average returns and outperform the market.
LTCM required investors to pay a minimum of $10 million, no withdrawals for three years and annual charge fees of 2% of assets, and 25% of new profits;
Fund boasted spectacular annual returns of 19.9% in 1994, 42.8 % in 1995, 40.8 % in 1996 (all after fees);
The equity in LTCM grew to more than $7 billion by late 1997; however, in December 1997, the fund returned $2.7 billion to its investors, leaving equity of about $4.8 billion at the start of 1998;
LTCM's debt burden increased by borrowing more than $125 billion from banks and securities firms;
At the beginning of 1998, the notional value of LTCM's derivatives contracts of $1 trillion ($697 billion in swaps and $471 billion in exchange-traded futures contracts);
The fund could make substantial profits if yield spreads narrowed, but even a small widening of spreads could immediately wipe out its equity;
By spring 1998, concerns arose that problems like the Asian financial collapse could spread to other emerging market countries;
Near to late 1998, the risky business of LTCM brought it close to bankruptcy with a sizeable failure, with the stakes of LTCM partners coming down to $30 million from $1.6 billion;
It was when Russia declared the devaluation of its currency, LTCM defaulted on its bonds, which was unexpected by LTCM.
The US stock market dropped 20%, while European markets fell 35% and investors sought shelter in treasury bonds further pushing long-term interest rates to fall by more than a full point;
The fall of LTCM impended a fear of nearing bankruptcy for so many banks and pension funds who had invested in LTCM. As a result, the Federal Reserve took steps to bail it out.
The above-discussed event is a lesson that the governments and the investment houses must have learnt with time. However, it was a prominent news that the early warning indication of a similar event occurred in the 2008 global financial crisis.
We shall now look at some of the Australian Hedge Funds and assess their performance in the recent past.
Exploring hedge funds in Australia
Blue Sky Alternative Investments Limited (ASX: BLA) is a diversified alternative asset management company that manages investments across private equity, private real estate, infrastructure, hedge funds as well as water asset classes and mainly serves retail and institutional investors.
During the financial year ended 30 June 2018, BLA reported the following regarding its hedge funds:
Hedge fund returns were lower than the prior year, being by design negatively correlated to global equity markets which generally outperformed in FY18;
Despite continued efforts to grow this division of its business since 2010, Blue Sky made the decision to exit the Hedge Funds business;
While the Hedge Funds business had success in raising and managing institutional capital from the US and Europe in FY18, domestically, it has failed to establish the required momentum to justify the resources needed to maintain a locally targeted business;
In June 2018 the decision was made to close the Alliance Fund, the domestic vehicle for the Dynamic Macro, Absolute and Real Return strategies and return capital to investors;
Figure 2 FEAUM and FUM – 1H FY19 Movement (Source: Company's Report)
More recently, BLA's Fee Earning Assets Under Management ('FEAUM') was noted at $3.0 billion at 31 December 2018 down from $3.4 billion at 30 June 2018, mainly as a result of the closure of the hedge fund business (in December 2018), exit of the retirement living portfolio (in October 2018) and sale of residential development sites.
K2 Global Equities Fund (Hedge Fund) (ASX: KII)
Another hedge fund management company operating in Australia is K2 Global Equities Fund (Hedge Fund) (ASX: KII) which provides investors with the opportunity to invest in a diversified global equities fund and investors can buy and sell units via their own online broker account, stockbroker or financial planner.
The fund is index-unaware, aiming to produce positive absolute returns over the long term with a capital preservation mindset and a mandate that allows it to actively manage its net market exposure by utilising both cash and shorts to help protect investors' capital.
Figure 3 Source: Company's Report
For the month of October this year, the K2 Global Equities Fund returned 0.9%, with the advantage from easing by Central bank in October with Australia's RBA cutting by 25bps to 0.75% and the US Federal Open Market Committee also reducing their funding rate by a further 25bps to 1.75% at the upper bound.
A positive contributor to Fund performance included the US-listed healthcare titan, United Health Group, which reported stronger earnings for the 3rd quarter than expected and upgraded its full-year profit guidance. The stock was noted rallying over 16%, with being oversold this year due to the highly politicised and unlikely adoption of a potential Medicare for All healthcare system.
In addition to this, the Fund is currently 93% hedged to the Australian Dollar to provide protection against the rising value of the same with respect to USD.
K2 Australian Small Cap Fund (ASX: KSM)
K2 Australian Small Cap Fund (ASX: KSM) is another hedge fund which allows the investors to invest in the diversified Australian Small / Mid-cap equities fund directly through the ASX and can buy and sell units by way of their own online broker account, stockbroker or financial planner.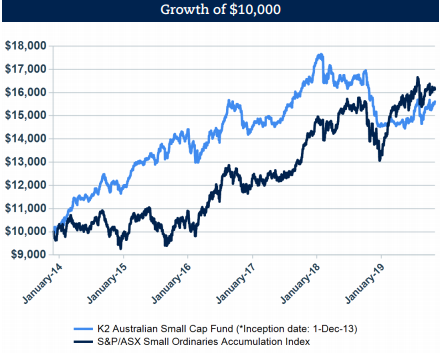 Figure 4 Source: Company's Report
During the month of October of this year, the K2 Australian Small Cap Fund returned -0.1%, largely detracted by the influence of Fund's holding in Flexigroup Limited (ASX: FXL), whose stock price reduced 23% during the month the RBA indicated that it would be examining the policies of the new entrants into the Buy Now, Pay Later sector, reversing much of the gains from the prior month.
However, the Fund's holdings in Moelis Australia Limited (ASX: MOE) and Medical Developments International Limited (ASX: MVP) performed well for the month increasing 8% and 16% respectively by maintaining the excitement among the investors with several opportunities.
The net exposure of the fund for the month of October averaged 68.2%, with long exposure averaging 69.6% and short exposure averaging 1.3%. Moreover, with the inception of the Australian IPO pipeline's evolution, the K2 Asset Management anticipates for some attractively priced investment opportunities in the upcoming months.
Having discussed both the sides of the coin and rolling the lens over some of the Australian Hedge Funds, we need to take extra care while deciding to choose the type of hedge fund to invest in.
Investing in hedge funds may be a complex task due to variation in the amount of risk involved with various types of funds. Few points that you could consider pondering upon before investing in hedge funds are as follows:
Investment goals and the strategies that could lead to the successful accomplishment of the goals;
Qualifications and expertise of the appointed fund manager;
Foreign or domestic assets investment and the currency risks associated with them;
Historical (Medium to long-term) performance of the fund in bullish and bearish market situations;
Licensed and compliant with financial regulations of a country, particularly third-party service providers
Details of fees charged and the incentive for investment managers to take extra risks.
In case manager's right to charge a performance-fee is subject to the fund outperforming some benchmark, make sure the benchmark is appropriate, and the returns (after fees) possibly justify any additional risks taken;
Proper understanding of the arrangement of the fund investment;
Terms and conditions of redemption of the fund like, time frame, minimum redemption amount and exit fees (if any).
Bottomline
Due to the complicated nature and restricted regulations historically, alternative investment assets have been generally maintained by investors or high-net-worth people.
In contemporary times, technology is playing a vital role in allowing fund managers to offer single funds to smaller investors that possibly invest across several types of alternative investments by overcoming various restrictions and limitations.
The alternative investment industry of Australia is of a significant size and has favourable prospective for growth in the time of financial market volatility and economic insecurity in the world.
Management of volatility and protection of capital in a diversified portfolio is one of the imperative characteristics of alternative investments and attracts the investor due to its returns and/or reduced risk.
---
Disclaimer
This website is a service of Kalkine Media Pty. Ltd. A.C.N. 629 651 672. The website has been prepared for informational purposes only and is not intended to be used as a complete source of information on any particular company. Kalkine Media does not in any way endorse or recommend individuals, products or services that may be discussed on this site. Our publications are NOT a solicitation or recommendation to buy, sell or hold. We are neither licensed nor qualified to provide investment advice.
With the pandemic continuing to affect the globe, healthcare companies are evaluating their lead compounds for COVID-19 treatment. Future revenue for these stocks depends on the probability of launching an approved treatment in the market.
CLICK HERE FOR YOUR FREE REPORT!
All pictures are copyright to their respective owner(s).Kalkinemedia.com does not claim ownership of any of the pictures displayed on this website unless stated otherwise. Some of the images used on this website are taken from the web and are believed to be in public domain. We have used reasonable efforts to accredit the source (public domain/CC0 status) to where it was found and indicated it below the image.