Australia's pharmaceutical industry is innovative and immensely supports economic prosperity of the nation. The constituent companies not only provide treatments to save lives but also contribute to Australian economy by undertaking business, research and manufacturing locally. On 26 July 2019, The S&P/ASX 200 Health Care Index was down 0.51% to 35,169.9, while the benchmark index S&P/ASX 200 was down by 0.33% and closed at 6,793.4.
Rhinomed Limited
Melbourne-based Rhinomed Limited (ASX: RNO) operates as a medical technology company engaged in developing nasal, respiratory, and nasal drug delivery technologies primarily for the Australian and the US markets. Essentially, the company is aiming to monetise applications of its technology portfolio in diverse markets such as Sleep, Sport, Wellbeing and Drug Delivery.
The company's market capitalisation stands at around AUD 50.39 million with approximately 141.93 million shares outstanding. On 26 July 2019, the RNO stock price settled the day's trading at AUD 0.345, down 2.817% by AUD 0.010 with approximately 356,150 shares traded.
Pronto receives CE mark- On 15 July 2019, the airway technology leader announced that its revolutionary new Pronto™ rechargeable, dual action, vapour release technology had been registered with the European Authority as a Class I medical device. The receipt of a CE Mark would allow the Pronto range to now be sold throughout the European Union.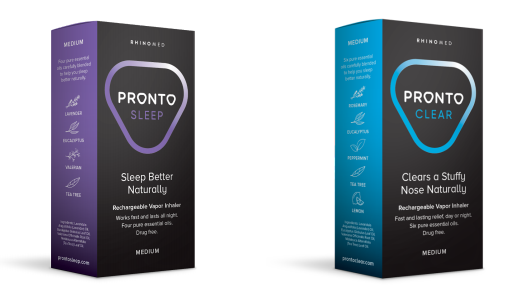 This development follows the recent announcement of US FDA approval and Australian TGA approval of Pronto as a Class 1 device. This is a crucial milestone for the company to be able to move towards and ensure that the Pronto range can be sold seamlessly worldwide and will further assist the company in its business development activities.
Pronto™ technology suite - Based on the company's existing BreatheAssist™ nasal dilator technology (Mute™ and Turbine™), the new Pronto™ OTC range is based on the Airstream™ release system which enables a seamless release of an essential oil blend into the nasal airstream over a fixed time span.
The combination of the new vapour release technology with the Mute's stenting action, would provide Rhinomed users with a unique dual action device that improves nasal airflow as well as delivers a soothing blend of pure essential oils traditionally known to help clear a stuffy nose or to help the user sleep better naturally.
Interestingly, Pronto also comes with a novel recharging and storage case that would allow for recharging before every use. Both Pronto Sleep and Pronto Clear are now available online and Pronto Sleep is now available on shelf in close to 1000 Walgreens stores in the USA.
According to the company, the multibillion-dollar US sleep and nasal congestion markets continues to represent a significant market opportunity for its products. In the near future, Rhinomed is planning exhibit at the 2019 NACDS Total Store Expo in August in Boston, USA.
Mute™: Fastest Growing product in USA- Recently on 11 July 2019, the company announced that its Mute nasal stent was reportedly the fastest growing product in the nasal strip market in the Drugstores across the US. While the US drug store market has some large number of stores (~67,000), Mute has very recently only been distributed across 9000 of these stores, marking an achievement for the company.
As a testimony, the DrugStores News Management categorised Mute as the fastest growing product in the nasal strip category in its Annual Drugstore State of the Industry report as the product recorded a sales growth of 56.6% (US Dollar terms) and 57.2% in units for the year to April 21st, 2019.
IDT Australia Limited
Australian pharmaceutical manufacturing company, IDT Australia Limited (ASX: IDT), headquartered in Boronia, Australia, is engaged in the research and development (R&D), and manufacture of active pharmaceutical ingredients (APIs) and finished drug products worldwide.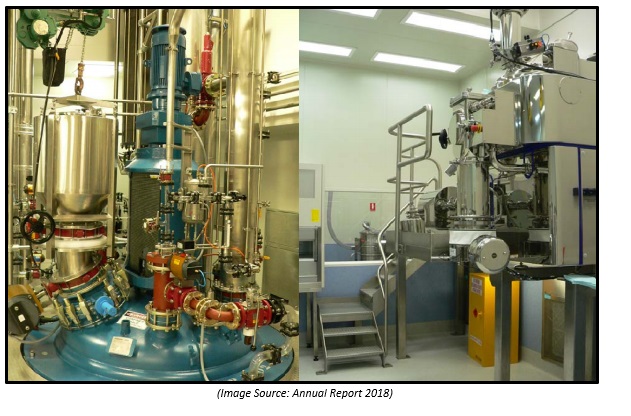 IDT'S market capitalisation stands at around AUD 36.64 million with approximately 236.36 million shares outstanding. On 26 July 2019, the IDT stock price settled the day's trading at AUD 0.155 with ~ 15,856 shares traded.
In addition, the IDT stock has generated positive return yields of 6.90% YTD and 3.33% for the last six and three months each.
Recently, Bank of America Corporation and its related bodies became a substantial shareholder in the company upon purchase of around 12.22 million ordinary shares, translating into a voting power of 5.16% in IDT Australia.
ODC grants Medicinal Cannabis License – On 20 May 2019, IDT Australia informed the stakeholders that the Department of Health ? Office of Drug Control (ODC) had granted the Company a Medicinal Cannabis Manufacturing Licence under the Narcotic Drugs Act 1967.
The license authorised IDT to undertake the following activities in specified areas of the Company's licenced premises:
Manufacturing extracts and tinctures of cannabis and cannabis resin (Drug) as per one or more manufacture permits;
activities concerning such manufacture, including but not limited to the supply of the Drug; the packaging, transport, storage, possession and control of the Drug; and disposal or destruction of the Drug.
activities concerning such manufacture, including but not limited to the supply of the Drug; the packaging, transport, storage, possession and control of the Drug; and disposing or destroying the drug.
The Medicinal Cannabis Manufacturing Licence complements IDT's existing pharmaceutical manufacturing capabilities and facilities, which already have in place a Good Manufacturing Practices (GMP) licence issued by the Therapeutic Goods Administration (TGA).
Half-Year 2019 Results – The results of the first half 2019 demonstrated improvements as compared to the prior corresponding period, also highlighting IDT's renewed focus on profitability and securing high-quality (high-margin) manufacturing content. The revenue hiked by $ 1.6 million (up 30%) and the company also carefully controlled the operating costs.
In addition, IDT Australia also reported a reduction in the operating loss, despite $ 0.3 million being spent on remediation activities associated with the U.S. Food and Drug Administration (FDA) Warning Letter.
During the concerned period, IDT Australia also reported that there was a fall in cash balances held of $ 4.9 million, which includes $ 1.6 million returned to shareholders through small parcel and on market share buy backs implemented in the period.
Besides, in August 2018, IDT executed a manufacturing partnership with Cann Group Ltd and following that, continued to make strong inroads into the medicinal cannabis space.
As of 31 December 2018, IDT's net assets were valued at around $ 28.65 million including cash and cash equivalents of $ 9.06 million.
Stemcell United Limited
StemCell United Limited (ASX: SCU), based in New South Wales, Australia, is a bio-technology company focussed on the reproduction, culture, growth, and extraction of stem cells for medicinal, health and beauty applications using its environmentally friendly proprietary technology. Stemcell's market capitalisation stands at around AUD 9.62 million with ~ 641.61 million shares outstanding. On 26 July 2019, the SCU stock closed the trade at AUD 0.018 with ~ 2,771,278 shares traded.
Recently, in March 2019, Yanhua Huang became a substantial shareholder in the company upon purchase of 78,947,368 ordinary shares, translating into a voting power of 12.7%.
MoU with University of Malaya – On 15 July 2019, the company announced to have signed a memorandum of understanding (MoU) with the University of Malaya, Malaysia to collaborate for research purposes.
Under the MoU, both SCU and University of Malaya would be engaging to promote the sharing of knowledge and expertise through- Student, academic and administrative staff exchange; joint research activities; exchange of publications, reports and other academic materials and information and sharing of other activities; as well as sharing of other activities and programmes in areas of mutual interest, where such sharing shall result in benefit to both Parties.
The collaboration with one of the oldest and highest ranked institution of higher education in Malaysia, is expected to advance SCU's traditional medicine research in plants such as hemp, dendrobium officinale and Daemonorops Draco Blume, and share the knowledge so as to benefit the wider public."
Leadership Changes – On 2 July 2019, Stemcell United informed the stakeholders of the appointment of Mr Theng Dar Teng as advisor of SCU. Mr Teng would be extending his advisory services to the company concerning subjects related to business development across Asia Pacific and the Middle East markets.
This followed the resignation of Mr Glenn Davies as company's Director as announced on 1 July 2019.
On 27 May 2019, Stemcell United announced the appointment of Mr Yanhua Huang and Mr Qi Lu as non-executive directors of the Company.
Acquisition of Yunnan Huafang Industrial Hemp – On 20 May 2019, Stemcell United updated that it had completed the acquisition of 51% of Yunnan Huafang Industrial Hemp Co., Ltd (HFIH), which was established in December 2017 as an offshoot of Yunnan Hua Fang Health Management Co. Ltd and is leveraging on the strength of the latter for expanding its business in China.
HFIH's industrial hemp license in China would provide high growth opportunities for SCU and the import-export Licence would open entry of SCUs' TCM cosmetic cannabis products into China, through HFIH's distribution network.
In addition to a RMB 3.8 million injection into HFIH, Stemcell United will also be allotting 21 million shares to existing shareholders of HFIH as part of the acquisition.
---
Disclaimer
This website is a service of Kalkine Media Pty. Ltd. A.C.N. 629 651 672. The website has been prepared for informational purposes only and is not intended to be used as a complete source of information on any particular company. Kalkine Media does not in any way endorse or recommend individuals, products or services that may be discussed on this site. Our publications are NOT a solicitation or recommendation to buy, sell or hold. We are neither licensed nor qualified to provide investment advice.