The health care industry is approaching to witness considerable changes in the next few years, as numerous prominent health care firms are set to redefine themselves with digital transformation to their major functional regions through a customer-centric methodology.
It is anticipated that the health care sector will have many opportunities in forthcoming years and spending's in this sector has been projected to rise at a compound annual growth rate (CAGR) of 5% between 2019-2023 period. The drivers that are responsible for the growth of the health care sector in upcoming years are increasing prevalence of chronic diseases, aging demographics, advancements in the technology.
The health care sector comprises of providers of medical insurance, medical equipment and medical services, as well as industries dealing in the development of drug and research and development (R&D) activities. With ever-progressing technology and analytics capabilities, health care could be on the threshold of a data-driven revolution.
Health care technology- Health care companies are developing future strategies towards implementing full digitisation of their organisation.
There has been a significant role of technology in many industries and the same goes for the health care industry also. It is believed that technology has the power to transform the health care sector, and an increased focus on investments is expected in the upcoming years.
Some key trends with digital technology which can drive a decent growth to the health care sector in upcoming years are-
Artificial intelligence and machine learning
Electronic health record (EHR)
Health tracking applications
Telehealth
Internet of medical things
Read more by clicking at: 2020 Global Health Care Outlook
The growing aging population and increase in persistent diseases can directly impact the progress of the health care stocks, and it is estimated that the number of persons aged more than 65 would increase from 3.8 to nearly 5.2 million by 2027.
Consequently, health care companies are taking steps to provide innovations or to enhance operations, all of which could drive long-term progress for the health care industry.
Let us now discuss two ASX listed health care stocks- MVP, RMD:
Medical Developments International Limited (ASX: MVP)
An ASX listed health care player Medical Developments International Limited (ASX: MVP) is engaged in providing emergency medical solutions to improve patient outcomes. The company is a leader in offering respiratory products and emergency pain relief. MVP is involved in the manufacturing of Penthrox®, which is a fast-acting trauma & emergency pain relief product and is used in Australian Hospitals, Emergency Departments and in other medical applications.
Penthrox is approved for sale in over 40 countries and has been utilised in Australia effectively and safely for more than 40 years, with more than approximately 7.0 million units sold.
Penthrox® in the US
In the US, FDA has given clarity to Penthrox® and Clear pathway forward to open investigational new drug application (IND) for-
Pre-clinical study which mimics human dosing regimen in animals;
Human factors study;
Completion of PASS in Europe;
Complete answers to questions on Penthrox device "whistle"
In the United states, IND approval is targeted for the second half of the financial year 2020.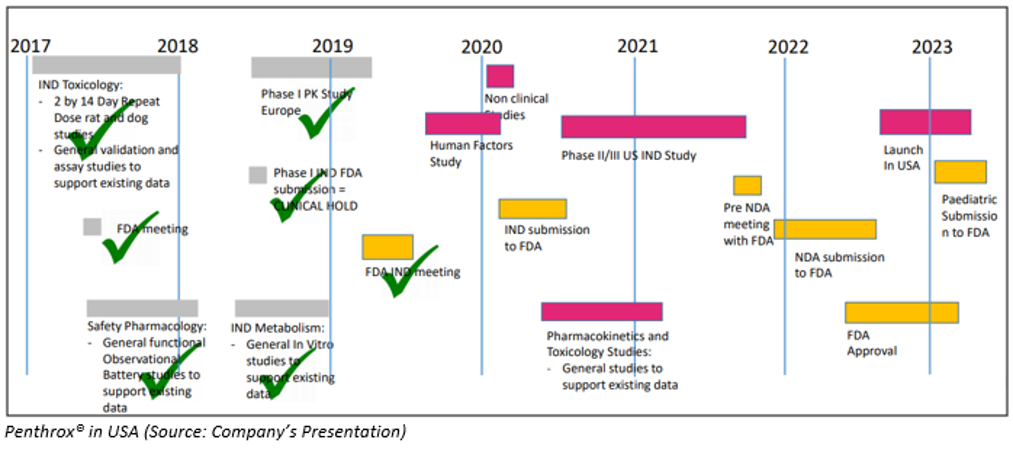 Penthrox® in Russia
According to one announcement dated 06 December 2019, the company unveiled that the Russian Ministry of Health has accepted Marketing Authorisation Application for review of Penthrox approval for Trauma Pain, which was submitted on 30 September last year.
In Russia, the process of review and final approval is anticipated within 15 months, and in the remaining countries it has been projected within two years.
Penthrox® in China
Penthrox IND approved in China- MVP unveiled that the Chinese National Medical Product Administration has approved the opening of MVP's Investigative New Drug application. This application is a crucial step building block and an essential step and for the approval of Penthrox sale for Trauma Pain and Procedural Pain in China.
Approval for sale of Penthrox in China is expected in 2021-2022.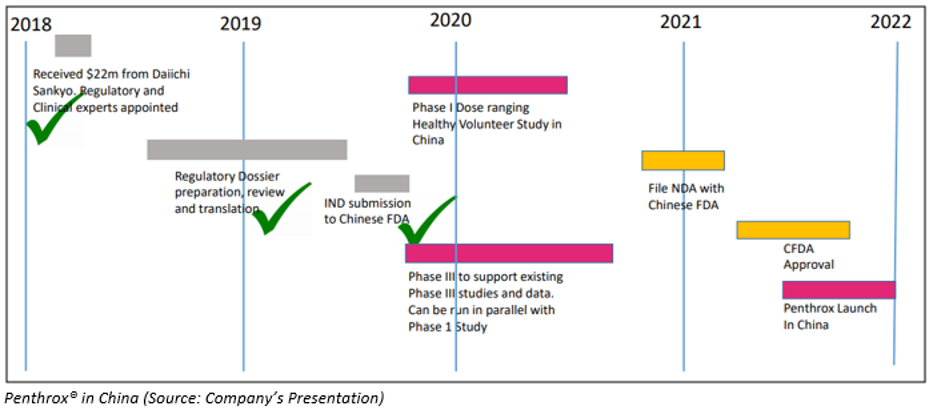 Outlook-
The company anticipates strong sales growth across Penthrox and Respiratory Devices in upcoming years.
In the United States, China and Russia regulatory approvals for development program would be initiated.
For Lidocaine, first continuous Flow technology commercialisation is anticipated in the forthcoming year.
Stock Performance-
On 22 January 2020, the MVP stock closed the day's trade at $ 9.320 down by 0.107 % compared to its last close. The company's market capitalisation stood at nearly $ 612.12 million, with almost 65.61 million shares outstanding. MVP stocks 52 weeks high and low price was noted at $ 9.500 and $ 3.480, respectively. The company has generated a positive return of 133.25 per cent in last one-year period and 56.81 per cent in the last six months.
ResMed Inc (ASX:RMD)
An ASX listed medical device company, ResMed Inc (ASX:RMD) is into developing high-quality medical devices for providing a superior and healthier life to patients with sleep apnoea, COPD, and other chronic diseases. The company has its software platform outside hospitals that helps health care practitioners and attendants to cater to patients. ResMed provides its services in over 140 countries.
Reporting date for Second Quarter Fiscal 2020 Earnings
According to an ASX announcement dated 9 January 2020, ResMed unveiled the financial and operational results for the second quarter of FY2020 on 30 January 2020, after the closing of the New York Stock Exchange (NYSE).
First Quarter 2020 Highlights
On 25 October 2019, ResMed announced results for its first quarter of FY2020, the highlights from the same are as follows-
For the first quarter FY2020, the cash flow from operations was nearly $162.4 million, and during the quarter, the company paid approximately $56.1 million in dividends.
RMD's revenue for the quarter increased to approximately $681.1 million; up by 17% on a constant currency basis;
The gross margin of ResMed increased 120 bps to 59.5%;
The company's net operating profit grew by 19% and non-GAAP operating profit increased by 22%;
ResMed has GAAP diluted earnings of $0.83 per share and non-GAAP diluted earnings of approximately $0.93 per share.
ResMed 2025 Strategy-
In 2025, approximately 250 million lives will be improved in out-of-hospital healthcare;
The purpose of the company will be empowering people to live healthier and higher quality lives in the comfort of their home;
The focus for the growth will be for global health epidemics in COPD, sleep apnea, other major chronic conditions, and providing SaaS solutions for improving care in out-of-hospital settings.
ResMed will focus on transforming care through innovative solutions and tech-driven integrated care to drive superior efficiency, experiences and outcomes.
Stock performance-
On 22 January 2020, the RMD stock closed the day's trade at $23.770, up by 2.193 % compared to its last close. The company's market capitalisation stood at nearly $ 33.63billion, with almost 1.45 billion shares outstanding. RMD stocks 52 weeks high and low price was noted at $23.830 and $12.650, respectively. The company has generated a positive return of 42.44 per cent in last one year and 32.91 per cent in the previous six months.
---
Disclaimer
This website is a service of Kalkine Media Pty. Ltd. A.C.N. 629 651 672. The website has been prepared for informational purposes only and is not intended to be used as a complete source of information on any particular company. Kalkine Media does not in any way endorse or recommend individuals, products or services that may be discussed on this site. Our publications are NOT a solicitation or recommendation to buy, sell or hold. We are neither licensed nor qualified to provide investment advice.