If you ask an investor, especially someone who has just started, what is he/she looking for from investments, the general response would be to generate significant profit in a short period. While risky stocks, such as small-cap stocks, are the preferred options to earn high returns, there is a substantial amount of risk involved that a lot of investors might not be comfortable with.
For such investors, blue-chip stocks could be the answer. Blue-chip companies offer investors an opportunity to generate substantial and consistent returns.
Blue-chip stocks usually provide moderate but steady returns over a period. The S&P/ASX 20 index, which measures the performance of the top 20 Australian stocks, has delivered positive results over a 1-year, 3-year, 5-year and 10-year period with returns of 18.00%, 5.23%, 3.11% and 2.68%, respectively, as on 17 January 2020.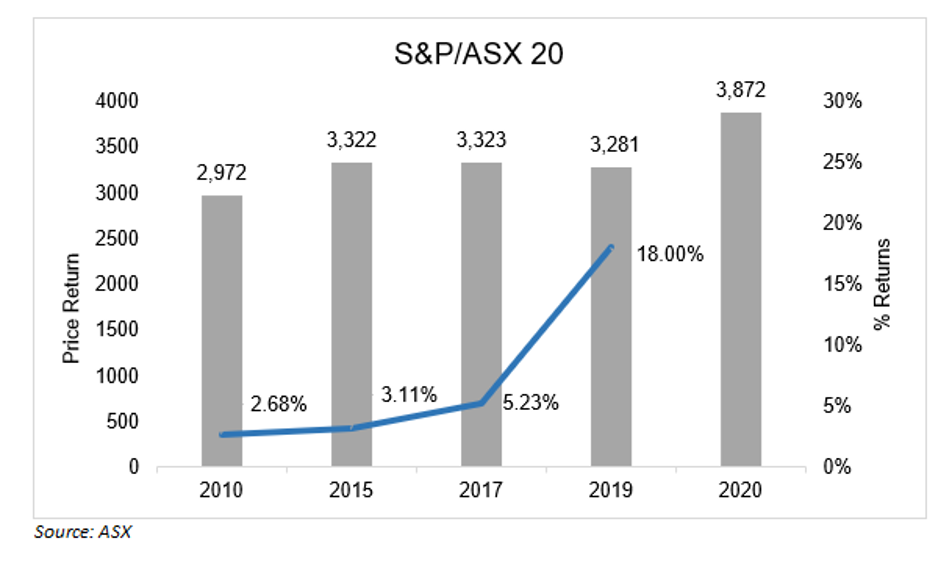 Some of the blue-chip stocks that have generated substantial returns over five years include Cochlear Limited (ASH:COH), Wesfarmers Limited (ASX:WES), BHP Group Limited (ASX:BHP) and Macquarie Group Limited (ASX:MQG) with returns of 206.54%, 48.72%, 70.78%, and 159.49%, respectively, as on 17 January 2020.
In this article, we will first look at some of the key benefits of investing in blue-chip stocks and then discuss the essential points an investor must keep in mind before selecting blue-chip stocks to invest.
Advantages of Investing in Blue-Chip Stocks
Blue-chip stocks refer to stocks of companies that have a high market capitalisation, are highly reputed, are well known, with a long and successful history. Some of the major blue-chip stocks on the ASX are Westpac Banking Corporation, BHP Billiton, Telstra, and Westfield.
Blue-chip stocks have several advantages compared to other stocks. The key advantages are as follows:
Stable returns: One of the most important features of blue-chip stocks that make them seem indispensable during volatility in the share market. A well-established business model, led by highly experienced management with years of expertise in the industry, makes these stocks robust and resistant to unpredictability in the market.
Limited risk: Blue-chip stocks are safe options for investment as they have a strong financial position, with limited debt and effective operating cycle, helping them withstand economic slowdowns or a fluctuating market.
Diversified products and services, global presence: With a broad range of products and services coupled with a strong presence in multiple countries, blue-chip stocks help negate some of the risks an investor takes while investing in growth stocks.
Earning from dividend payouts: A significant number of blue-chip stocks pay dividends on a regular basis. These payouts ensure a guaranteed income, on a consistent basis, for an investor which adds to the appreciation in the stock price that generally happens for these stocks. As seen in the below chart, some of the major blue-chip stocks have paid incremental dividends to their respective shareholders over the last couple of years.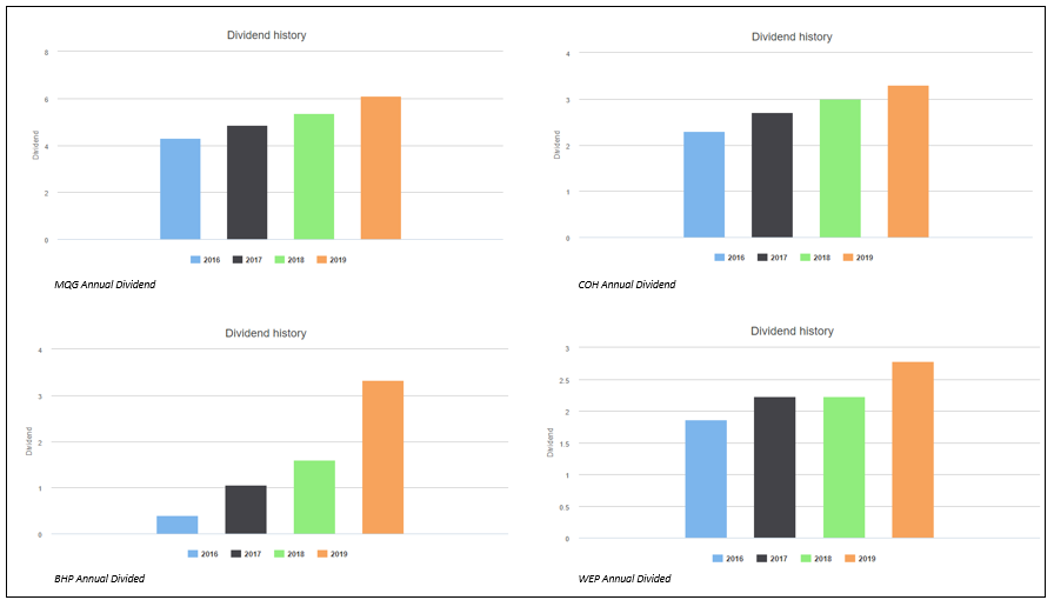 Source: ASX
While we have highlighted some of the significant advantages of blue-chip stocks, it is imperative for an investor to look at factors specific to a company before investing.
Factors to Consider While Injecting Funds in Blue-Chip Stocks
Investing in a blue-chip stock simply because it is a well-established with a large market capitalisation might not be a prudent approach from an investor's perspective.
The following factors are likely to aid an investor's decision with respect to the selection of stocks:
Maintaining a competitive lead in the long-term: If a company is in a position where it is hard for competitors to launch better products or services at present or in the future, it indicates that the company is likely to hold a competitive advantage over its peers and thus, could be an attractive option for investors. The capability to maintain a competitive lead over companies in the same space for a long duration is also termed as an economic moat.
Ability to price the products and services independent of market factors: If a company has products and services that are well received by the customers/consumers, it might have the comfort of pricing its offerings at a higher level compared to its competitors. Such companies are likely to generate higher returns for investors.
Company financials: A company's performance over a period plays a vital role in assessing how good a stock is. Key indicators such as revenues, EBITDA, and EPS as well as ratios such as liquidity, D/E and ROI, among others, provide insights into the financial health of a company.
Company outlook and management strategies: An investor must consider the outlook provided by companies either in their respective annual reports or company presentations. Also, the commentary provided by the management, coupled with their experience and management style, can play a significant role in how the company performs in the future. For example, companies that are focussing on implementing technologies such as AI and ML to their business processes and adopting cost-cutting measures are likely to be in a stronger position in the coming years, delivering impressive results.
A look at the future: One of the key aspects of a popular stock is its ability to deliver growing returns in the future. It is better to look for stocks that have the potential to offer increased earnings as compared to stocks that look attractive based only on current performance.
While key strategies and outlook (discussed in the previous point) play a significant role, it is important to look out for stocks that seem capable of diversifying their respective offerings and have the potential to expand in the future based on the changing market dynamics.
In addition to following the steps to make a profitable investment, an investor has to conduct thorough research around blue-chip stocks.
The primary reason is that while such stocks are generally stable and almost like a safe haven, they are not immune to risks, both internal and external. Microeconomic as well macroeconomic factors can have adverse effects on a company's performance. However, while blue-chip stocks must face the same challenges as other types of stocks, they are sturdier and more experienced than their counterparts are, making them a good option for investment.
Interesting Read: Smart Investment Options to Invest in ASX Stocks in 2020
---
Disclaimer
This website is a service of Kalkine Media Pty. Ltd. A.C.N. 629 651 672. The website has been prepared for informational purposes only and is not intended to be used as a complete source of information on any particular company. Kalkine Media does not in any way endorse or recommend individuals, products or services that may be discussed on this site. Our publications are NOT a solicitation or recommendation to buy, sell or hold. We are neither licensed nor qualified to provide investment advice.