So, whether as an investor, you like it or not, bear market follows a bull market like night follows day. Presently we have entered bear market territory and there is an air of pessimism all around us. No one can anticipate such market conditions well in advance, but the bear market is a natural part of stock market cycles. We don't have any method to state that for how long it is going to stay there and how much damage it will do to the investor's wealth.
Due to coronavirus fear and lockdown, there is uncertainty in the market, and the current situation puts a gloomy picture to most of the investors. If you will compare your investment portfolio today and before the coronavirus impacted the market, you will not feel good about it. It will make you fearful about losing your money in the market and a sense of regret for not selling before the crash.
What is a Bear Market?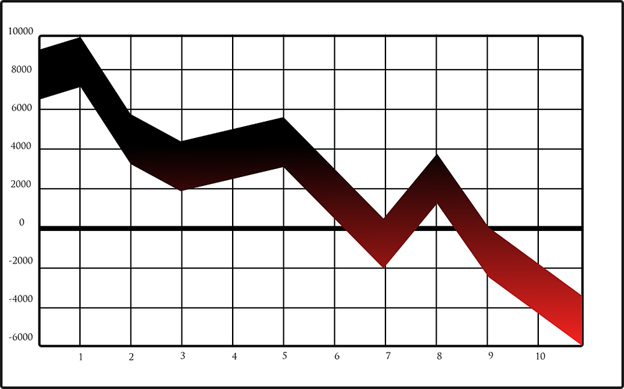 Image source: pixabay.com
If after a recent high, the stock market declines more than 20 per cent, and that lasts for a couple of months, then it means, the market has turned into a bear market. The securities prices start falling sharply, and there are uncertainty and sweeping negative views in the market. The investors anticipate losses and start selling their shares at low prices.
No matter how hard all this sounds, but for an experienced investor who understands how market functions, this could be the best period to gain big in the long term. However, identifying when to buy stocks in such a volatile market could be a tricky task.
In the stock market, you cannot precisely calculate when the stocks will hit bottom. On the other hand, if you buy a stock blindly just because it has declined without analysing the business and the market, it is most likely that you will lose further on your purchased stocks and you would be like a deer caught in front of the headlight. However, if you keep waiting and the market starts to rise, you certainly miss out on the opportunity to buy stocks during dip to get the profit when the market begins to rise again.
Also, understand that borrowing money to invest in such a market is a risky business, even don't think of investing your emergency funds in the volatile market. Having said that, if you have the extra funds to invest in a bear market, then it is prudent to buy promising stocks after a thorough assessment of the company's fundaments and the overall business environment.
Let's discuss five strategies that can help you in creating profit out of this gloomy bear market.
Look for long term opportunities: It is a time for long term investments, and as an investor, you need to be realistic. If you expect to buy cheap stocks during the market dip and build massive wealth within a year, that's not going to work. Instead, it is always better to have a long-term approach in the stock market. You should invest in stocks with the intention to hold it for several years, remember you buy businesses not just a piece of paper.
Instead of being fearful about the current market, know that the market eventually will rise again, and the S&P/ASX 200 Index (ASX: XJO) has several world-class companies. So, investing in blue-chip companies is still a great idea.
Some popular stocks whose shares have taken a beating: BHP Group Limited (ASX: BHP) the largest mining organisation in the world. The Company's shares have declined by 22 per cent, since the start of the year. The mining company has an earnings multiple of 11.320 and an annual dividend yield of 7 per cent as on 22 April 2020 prices, which is below its average ten years P/E of 12.9.
Yancoal Australia Ltd (ASX: YAL) shares plunged by 27 per cent since the beginning of this year and are now trading at an earnings multiple of 3.8 and an annual dividend yield of 15 per cent. Afterpay Ltd (ASX: APT), the share has dipped by 10 per cent since the start of 2020. Retailer JB Hi-Fi Limited (ASX: JBH) shares price have fallen by 15 per cent this year and now trading at a P/E of 14.17 (on 22 April 2020 prices)
Go for dividend stocks: Dividend sharing companies are often stable businesses with a proven record of free cash flow. They generally have strong balance sheets. Such stocks offer opportunity and security during the uncertain bear market.
Few well-positioned dividend payers are National Australia Bank (ASX: NAB) with dividend yield of 10 per cent, Rio Tinto (ASX: RIO) dividend yield of 6.5 per cent, Australia & New Zealand Banking Group (ASX: ANZ) dividend yield of 10 per cent, and others.
Time to add bonds to your portfolio: You can divert some funds to highly rated bonds. The interests generated by the bond investment can provide you with an additional income and bond investment is less volatile.
There are corporate bonds and municipal bonds which you can add to your portfolio. Although bond investors mostly prefer corporate bonds, investing in municipal bonds has tax-related benefits. If you add municipal bonds issued by your home state, you can avoid local and state taxes.
Systematic investment: Another way to protect yourself in the declining market is to go for systematic investment. Deploy a predetermined amount for investing on a predetermined date every month.
That way you buy more units of the same stocks even when the market declines and you get more units during the bear phase. It is a disciplined way of investment without trying to time the market.
Buy long-term and short-term Puts: Another useful tip is to buy inexpensive short-term and long-term Puts while the market starts entering the bear market territory. A Put gives you rights for 100 shares with a specified price for selling, and it comes with a fixed time length before it expires.
If you buy Puts of indices and the market faces a downturn, your puts' values will increase with the falling indexes. Even a smaller number of put contracts can balance your extended stock position losses. If expiration date approaches, you can sell your Puts. That said, it requires experience to understand the risks associated with this strategy.
Once the market has turned into a bear market, search for the opportunities to get more benefit in the long run.