Ardea IPO spin out; Planning to launch Godolphin IPO
Ardea Resources Ltd (ASX: ARL) notified the market on 25 June 2019 that it plans to spin out its Lachlan Fold Belt gold (LFB) and base metal tenements in New South Wales, into a new company named Godolphin Resources Limited (GRL). GRL is already a 100% owned subsidiary company of Ardea.
ARL is launching an IPO of this asset by unlocking the significant value held in the LFB assets and plans to raise funds in the range of $4.5 million to $8 million. This will be through the issue of at least 22,500,000 and up to 40 million new shares at an issue price of $0.20 per share. ARL shareholders will get the priority to purchase more shares in an IPO via an in-specie distribution of 30 million Godolphin vendor shares. Godolphin will get the opportunity to develop four mines at Lewis Ponds, Mount Aubrey, Yeoval and the Lachlan Mine in two years after getting listed so that Godolphin will able to develop its new and updated JORC-compliant mineral resource. Currently, the priority of Godolphin is to focus on the two gold targets at the Lewis Ponds and Mount Aubrey. After its listing, Godolphin will become the second largest mineral tenement holder in New South Wales region and the largest in the Lachlan Fold Belt mineral province.
Meanwhile, after the spin out, ARL will able to focus on its portfolio of West Australian nickel, cobalt and gold assets including the flagship Goongarrie Nickel Cobalt Project (GNCP). ARL for this is now looking for a strategic partner. Moreover, Ardea for this proposed transaction is required to fulfil certain conditions like getting the approval of its shareholders, which has to be done in Extraordinary General Meeting (EGM) scheduled to take place in the third quarter of 2019 and the company expects to list Godolphin in the fourth quarter of 2019. ARL currently has received favourable response for the proposed Godolphin IPO and the company plans to appoint a renowned & leading broker for this issue. Meanwhile, ARL's stock has fallen 22.58% in the last three months as on June 27th, 2019.
Location and Godolphin Tenement Holding Plan (Source: Company's Report)
The stock of the company closed flat at a price of A$0.360 (as on 27 June 2019).
Vital Metals venture into rare earths; Acquisition of Cheetah Resources Pty Ltd:
Vital Metals Limited (ASX: VML) on 25 June 2019, announced that it has signed an agreement to acquire Cheetah Resources Pty Ltd, which is an unlisted Australian registered company. Cheetah concentrates on the recognition, procurement and bringing rare earths projects to the production work.
Cheetah's business was developed by Geoff Atkins, who was former employee of Lynas Corporation. He has over the period of five years done review, assessed REO projects and developed the criteria for the project and strategy for developing the rare earth projects. Later, Cheetah assembled several projects with substantial REO resources and prospective. Internationally, there is huge request for rare earth as it got associated with international and regional agreements, policies etc.
Rare earths form the base for electric transmission, generation of clean power and the reduction of greenhouse gas emissions. Therefore, there is need to develop new rare earth mines which will be required from 2020. Currently, the developers of rare earth projects are not able to meet the future demands for rare earth materials. Further, the restarting of rare earth projects takes a minimum of three to five years to reach development. Cheetah's business is to simplify the process of its development, reduce the capex and shortened lead times to production.
With the acquisition of Cheetah, Vital has grabbed the chance to enter rare earths as the demand is surpassing supply driven by demand of the EV sector and the immense requirement for producing clean power. Meanwhile, Cheetah is acquiring two significant REO projects.
Cheetah has signed an agreement with Avalon Advance Materials Inc, which is a TSX listed entity, for the acquisition of near surface resources of the Thor Lake Rare Earth Project, near Yellowknife, NWT, Canada. Cheetah is acquiring this for total value of C$5,000,000, which is approximately A$5.4million. As per the Avalon Agreement, Cheetah has acquired the mineral rights to all mineralization existing amid surface and one hundred and fifty-meter-deep, above the sea level.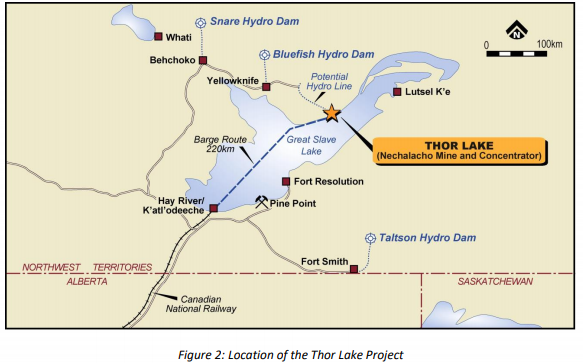 Source: Company's Report
The Indicated Resource is of 47.21Mt grading at 1.52% REO and Inferred Resource of 102Mt grading at 1.38% and a combined Mineral Resource estimate is of 149.30Mt grading at 1.42% REO. Moreover, Cheetah has also signed an agreement with Montero Mining & Exploration Ltd, which is a TSXV listed entity, for the acquisition of all the Intellectual Property rights for the development of the Wigu Hill Project in Tanzania. As per the agreement, Cheetah will buy the rare earths IP rights held by Montero for the value of C$100,000. After this, within six months it will fund a C$500,000 work program, which will lead to the issue of a mining license.
Cheetah also have an option for acquiring Montero's remaining interests in Wigu Hill (BVI) Limited. This will be done for a total value of C$1,100,000. Additionally, after the Cheetah's acquisition, Vital will appoint Mr Geoff Atkins as Managing Director and Mr Evan Cranston as a Non-Executive Director.
Meanwhile, VML's stock has risen with 100% return in the last three months and has given 75% return in the last 6 months period. The stock of the company closed flat at A$0.012 (as on 27 June 2019).
Berkeley Energia Limited (ASX: BKY)
Initial Drill Programme:
On 25 June 2019, Berkeley Energia Limited (ASX: BKY) announced the start of its initial drilling programme at its licence holding in Western Spain. The initial drilling of six holes is part of a 3,350m (13 hole) programme, designed to test the critical battery and EV metals across the holding. As per the drill programme, the company intends to target commodities like lithium, cobalt, tin, tungsten and rare earths, which were already mined commercially in the area. BKY holds exploration licences covering 12,000 square km in Spain, which is one of the largest in the European nation. Over the period of last two years, the company has identified targets with the help of Ionic Leach methodology, which enables ultra-low detection of metals and minerals. The first area that BKY is targeting is in the west from Retortillo that holds significant cobalt anomalies.
New Licences: Moreover, BKY has received a new licence for 31 square km, adjacent to the area that the company is currently drilling. The company also secured three new exploration licences, which are located 40 km from Retortillo.
Retortillo Location (Source: Company's Website)
Quarterly Report: At the end of the March 2019 quarter, the spot uranium price was US$25 per pound, which got affected as new uranium purchases by US utilities got restricted. This is on the back of the investigation under section 232 by the US Department of Commerce, resulting in an adverse effect on uranium imports. BKY, as per the contract for the first six years, holds 2.75 million pounds of uranium at an average price above US$42 per pound.
With a market cap of A$98.22 million and 258.48 million outstanding shares, the stock closed the day at A$0.360, down 5.263%. Its six-month and three-month return stands at +153.33% and -9.52%, respectively.
Woomera Mining Limited (ASX: WML)
Application for 2019/2020 Year:
On 27 June 2019, Woomera Mining Limited (ASX: WML) announced successful application for participation in the Junior Minerals Exploration Incentive (JMEI) scheme of the Federal Government for the 2019/2020 tax year. Shareholders are required to take part in any of the company's capital raising activities undertaken during 1 July 2019 and 30 June 2020, if they seek to be eligible for it. The company's new ordinary shares are eligible for JMEI credits.
11 Drill Sites Identified for Drilling: The company announced on 17 June 2019 that a planned drilling program involving 11 drill sites for Pilbara, Western Australia has been cleared, with the program scheduled to start in August or September 2019. The development follows the completion of an ethnographic heritage survey, conducted by the representatives of the Njamal Native Title Claimants, Heritage WA and representatives of Woomera on 4 June 2019.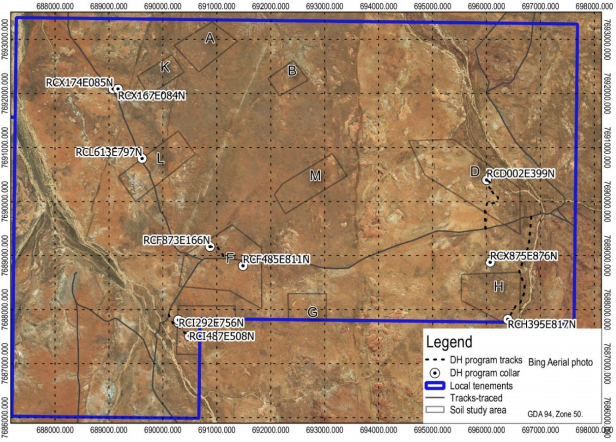 Plan of the collar locations of the 11 proposed RC drill holes (Source: Company's Report)
The Magpie Range Project in the Pilgangoora region, through geological mapping, shows that the area has prospect for lithium-caesium-tantalum pegmatites, more complex petalite-lepidolite-elbaite-amblygonite pegmatites and for rare earth allanite-monazite pegmatites.
Agreement to Acquire Stake in Mt Venn Project: In May 2019, WML executed a Heads of Agreement with Cazaly Resources Limited. The deal is for the acquisition of an equity interest of 80% in the Mt Venn gold and nickel project of Cazaly. This project situated in the north eastern goldfields of Western Australia has two exploration licences E 38/3111 and E 38/3150, which are already granted. These licences are actually owned by Yamarna West Pty. Ltd., which is a wholly owned subsidiary of Cazaly Resources Limited. Further, as per the Heads of Agreement, WML will acquire 100% of the shares in Yamarna. The transaction is expected to be completed on or before 20 August 2019. The whole transaction will include a cash payment of A$900,000, a deferred cash payment of A$100,000 after the Expired Prospecting Licences get amalgamated into E38/3111, and the issue of 7 million fully paid ordinary shares in WML at completion. The Mt Venn tenements are located close to Gold Road Resources Limited's (ASX: GOR) Gruyere Gold Deposit and to Great Boulder Resources Limited's (ASX: GOR) Cu-Ni-Co Mt Venn Deposit. The company has good potential for gold discoveries. Once Heritage Clearances gets completed, the company could drill Chapman's Reward, Langs Find, Mount Cumming and the Three Bears Prospect.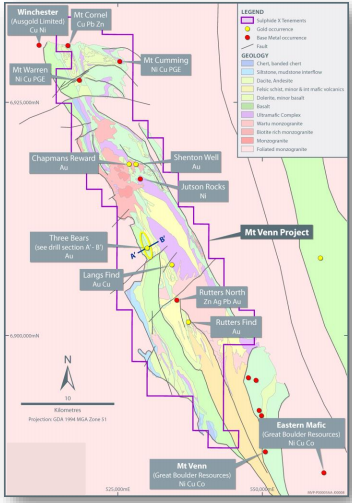 Identified exploration targets within the Mt Venn Greenstone Belt (Source: Company's Report)
With a market cap of A$2.7 million and 112.7 million outstanding shares, the stock closed the day at A$0.025, up 4.167%. Its six-month and three-month return stands at -67.57% and -31.43%, respectively.
Laramide Resources Ltd (ASX: LAM)
Canada-based company Laramide Resources Ltd (ASX: LAM) is an explorer and developer of high-quality uranium assets. The company has its assets in the United States and Australia. Currently, the company is majorly focus on the Westmoreland Uranium Project in Queensland, Australia. Some of its projects in the United States are Churchrock and ISR Projects and La Sal & La Jara Mesa Projects.
Major Uranium Deposit (Source: Company's Website)
Plan for 2019: According to a company announcement in May 2019, Laramide Resources Ltd., for 2019, has plans to commence the Preliminary Economic Assessment on the Church Rock Project. In 2019, for the Westmoreland project, the company would continue the exploration work based on the mineral systems approach, acquire environmental baseline data, and as per the first step towards permitting of the project, prepare the inputs for the Initial Advice Statement. Further, for 2019, the company is preparing the NI 43-101 technical report, planned to start the ground level exploration work on the Murphy Project and carrying out the required legal work for permitting the La Jara Mesa Project.
With a market cap of A$40.72 million and 135.74 million outstanding shares, the stock last traded at A$0.300 in 2018.
---
Disclaimer
This website is a service of Kalkine Media Pty. Ltd. A.C.N. 629 651 672. The website has been prepared for informational purposes only and is not intended to be used as a complete source of information on any particular company. Kalkine Media does not in any way endorse or recommend individuals, products or services that may be discussed on this site. Our publications are NOT a solicitation or recommendation to buy, sell or hold. We are neither licensed nor qualified to provide investment advice.