Financial Planning - A Walk Towards A Better Tomorrow!
Money management is an important component of the long-term financial goals. Investors should maintain financial discipline to attain their financial objectives.
For market players with decent income but without proper knowledge of the investment avenues, if they do not invest their money wisely and decisively, then they might face challenges post their retirement.
ALSO READ: Tips To Plan Your Financial Independence
Investors may also take advice from experts in the market, in return of paying a certain fee to these experts and accordingly plan their investments to meet their financial goals considering risk appetite and return expectations.
In this article, we would consider two types of investors- one having the knowledge and time to invest in the market; these investors could be freshers with a low salary. Another set who either lack experience or time to do the financial planning; these are experienced investors with decent salary and HNI investors with huge income sources.
Salaried Investors with Knowledge of Market
Fresher or A Low Salaried Investor
For those with some knowledge of the market but less funds to invest, it is very important to have financial discipline.
Consider a case where an individual is a fresher and wish to invest in the market. He earns $6,000 in a month. And he/she is very young, with insufficient salary to fulfil all his expenditures.
In such a case, it is very important to have financial planning which can be achieved using a popular 50:30:20 budget rule. This rule is simple. Invest 50% of your income in fulfilling the basic needs, spend 30% of your income in fulfilling your wants and remaining 20% to save and investment into the market.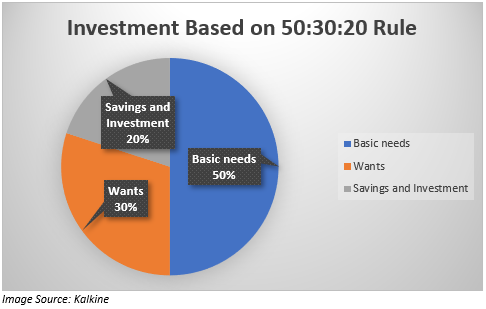 For an investor having $6,000 as the monthly, following 50:30:20 budget rule he would invest $3,000 in his/her basic needs like food, clothing, shelter, phone, transport, electricity, water, internet or any other basic needs. He would use $1,800 in fulfilling his wants like an expensive dress or phone and the remaining $1,200 would be invested in the form of investment and savings for retirement, medical requirement, education, marriage etc. These $1,200 can be used in buying stocks, mutual funds, fixed deposits etc.
The investors who start investing at an early age can derive the benefits of the compounding effect of the income. The money invested each year gets multiplied every year.
ALSO READ: Smart Ways to Invest on a Small Budget
Investors with Decent Monthly Salary
For those investors who are experienced and earn a decent salary, let's say $12,000/month, it is a good practice to invest 40% of their salary in meeting their basic needs, 20% in fulfilling their wants and remaining 40% in savings and investment. In such a case, to put a check on investing more into fulfilling the desires, one should keep aside 40% of their income for financial investments.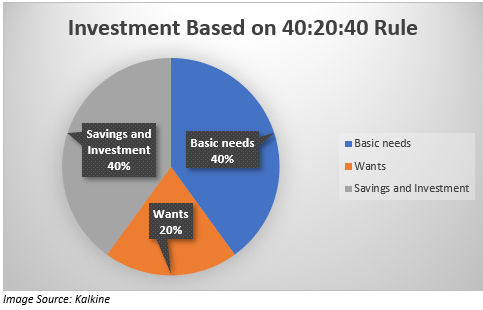 The importance of keeping aside money in the form of savings and investment would help you to maintain a healthy lifestyle post your retirement, medical emergency, kid's marriage, and so on.
Investors with Huge Income but Lack of Time and Knowledge of Market
High Net Worth Individuals
Some investors like HNI investors have huge income, but they either do not have enough knowledge of the market or time to keep a track on their investment. Such investors require financial assistance to manage the funds or wealth to meet the financial goals and they take advise from the financial advisers who manages their financial life.
Such investors provide the financial advisor with his financial life (his assets, liabilities) along with his risk-return expectations, based on which the financial adviser provides them with a suitable investment plan. These services are being offered to the high net worth individual (HNI) clients in packages by reputed and trustworthy banks and financial institutions with expert team members known as the fund managers.
Thus, fund managers are those who manage funds of an individual, and they manage funds at a different level. At the mutual fund level, there is a different set of skills which is different from the skill required in wealth management.
In the case of wealth management, the fund managers do financial planning of HNI clients. An HNI client has more assets than liabilities, and he is busy in earning active income and looking for passive income.
This HNI client will sit with his/her wealth manager and discuss his financial health and the wealth manager would ask certain questions like details about his assets, the time of purchase, price the asset was purchased, the present value of the asset. He would also discuss his liabilities; how much he generates from his active income and where does he use the net cash inflow from the active income. Based on the inputs provided by the investor, the wealth manager prepares a plan for the investor.
Next, after preparing the financial plan, come the asset allocation, which enables the wealth managers to diversify the investment portfolio into various vehicles.
Asset Allocation Categories:
Equities:
Out of the total funds, part of the funds goes to the portfolio management services, and the remaining could be allocated to equities (when investor demands more return). These stocks could be value stocks, growth stocks, large-cap stocks, mid-cap stocks, small-cap stocks.
ALSO READ: Price to Pay, Value to Receive: 10 Rules of Investing in Equity
Fixed Income:
Fixed Income is preferred by investors with low-risk appetite. Fixed income includes government bond, municipal bond, corporate bond, short-term, intermediate-term and long-term bonds. Investment in fixed income depends on the time the investor wants to invest in the bond. Fixed income instruments are preferred by those investors who prefer regular income and less risk as possible.
Alternative Assets:
This asset class includes investment in private equity and hedge funds.
Private equity is when you try to buy a stake in a growing company. These growing companies sell their stake to HNIs, and in turn, these clients become the stake owners of the company.
The wealth manager has the details of these HNI investors, and he keeps a track in the market and looks for those companies which are looking for private equity and see if it meets the requirement of its clients.
The wealth manager needs to perform activities like valuation of the company, check the future inflows, calculate the present value and based on the calculation offer its client with the best available options in the market in the form of private equity.
Real Estate:
Funds can directly be invested in the real estate. Wealth manager would ask its HNI clients to directly invest in real estate. In this, the wealth manager would provide its client with the best possible deal, which could be a piece of land or residential property or commercial property. Here, the wealth manager provides the best possible deal at a minimum price without any litigation issue.
Factors Considered by Wealth managers before Asset allocation
Client's Liquidity
The time frame for which the investor would like to invest his funds. If he wants to make more profit in less time, then the investment would be in risky assets. In case the investor prefers to invest for a longer-term and wants steady return, then he would go for blue-chip stocks.
Investment objective of the client, i.e. investment in securities based on the risk appetite.
Risk Tolerance of the investor. More the risk-taking capacity, the funds would be diverted to investment in share market. On the other hand, if the risk-taking ability is less, then funds would be diverted to bonds.
How the wealth manager allocates funds?
Define the goals and the time horizon.
Access the risk tolerance of his client.
Identify the asset mix of his existing portfolio as well as the current valuations to get a correct picture of his investments and accordingly decide the areas where more investment is required and areas where less investment is ok.
Then they create target portfolio and then decide specific investment selection, i.e. which stock to select, what percentage of the investment to invest in a mutual fund, real estate, fixed income security and the proportion of investment to keep for portfolio management.
Finally, the wealth manager reviews and rebalances the portfolio. It is also important that the investor should also do a review and rebalancing of the portfolio. Buying and selling of the securities should take place based on the requirement.
---
Disclaimer
This website is a service of Kalkine Media Pty. Ltd. A.C.N. 629 651 672. The website has been prepared for informational purposes only and is not intended to be used as a complete source of information on any particular company. Kalkine Media does not in any way endorse or recommend individuals, products or services that may be discussed on this site. Our publications are NOT a solicitation or recommendation to buy, sell or hold. We are neither licensed nor qualified to provide investment advice.