Scale and pace at which the COVID-19 pandemic is unfolding are humbling. The coronavirus infection is spreading rapidly in all the nations across the globe, and according to WHO, on 22 April 2020, there were around 2.5 million confirmed cases and nearly 1,70,000 deaths reported across the world. In Australia, there were approximately 6,647 confirmed cases with 74 deaths from the coronavirus.
COVID-19 Related: Medical Developments in Race Against COVID-19
Prime Minister Scott Morrison has stated that Australia would continue to progress a successful suppression/eradication approach for this deadly virus. According to him, the National Cabinet observed data that confirms the procedures put in place for reducing the spread of the virus have largely been successful in reducing the number of coronavirus cases in Australia.
Restrictions on Elective Surgery Lessened
In the past week, Australia observed reduction in the number of daily new cases of coronavirus infection, consequently, the Government has decided to lessen some restrictions on elective surgery in a move that will enable them winding back some of the pledged assistance to private hospitals.
On 21 April 2020, the Australian Government disclosed that it will be enhancing the accessibility of elective surgery in a safe and thoroughly considered approach that guarantees the health and wellbeing of both patients and healthcare workers. Moreover, on this front, the Government will collaborate with states and territories, peak surgical bodies, Australian medical association AMA, and the private hospital sector.
This is feasible owing to the partnership within governments to develop capability and improve the health system for containing the threat of spread of the coronavirus infection.
Government also disclosed that the reintroduction of elective surgery would be accomplished using a staged and regulated procedure that is required to poise the continuing need for the capability to treat COVID-19 patients, at the same time allowing the hospitals in Australia to treat patients requiring elective surgery.
Also Read: Australia's Way of Handling and Containing the Coronavirus
The Government of Australia mentioned that on a few types of elective surgery, it would alleviate restrictions from Tuesday, 28 April.
On the recommendation of the Australian Health Protection Principal Committee (AHPPC), in addition to Category 1 elective surgeries, initially, hospitals would resume one in four shut down operating lists, focusing on Category 2 and some critical Category 3.
The Government stated that in reintroducing elective surgery, it recognises the safety and wellbeing of patients, as well as healthcare workers, as the most important factor. Comprehensive risk evaluation of patients scheduled for elective surgery is essential, focused on nationwide standards.
Patient selection to undergo elective surgery will eventually be clinical, which is guided by the below-mentioned principles, suggested by the AHPPC, and backed by National Cabinet.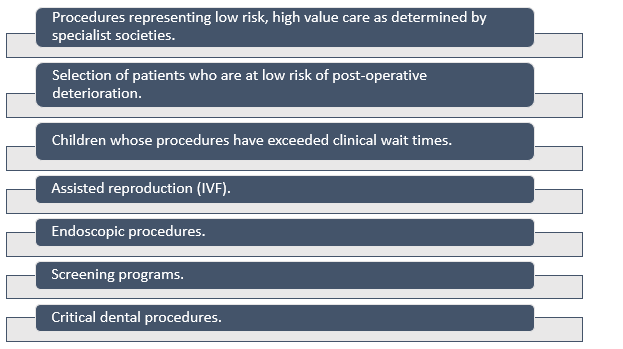 Let us now acquaint you with one ASX-listed IVF stock- Virtus Health Limited.
Sydney-headquartered ASX-listed health care company, Virtus Health Limited (ASX:VRT) is a global leader in Assisted Reproductive Services (ARS). The Company provides various fertility care, specialist pathology and day hospital services.
In Australia, Virtus Health is presently the largest in vitro fertilization (IVF) provider and operates with the help of around 127 of the world's leading fertility specialists. With more than 1,300 professional staff, the Company provides its fertility services in Australia and Ireland, with an expanding international presence in the United Kingdom, Singapore and Denmark.
Virtus Health Introduces COVID-19 Testing for Patients; Resumes IVF Treatment
Virtus Health unveiled support towards the decision of Australian Federal Government to lift the suspension on elective surgery including the assisted reproductive services (ARS). The Company also confirmed to have introduced COVID-19 testing for patients.

Moreover, the Company also provided an update according to the region and its different segments-
In Australia, Virtus Health clinics will resume fertility services and assisted reproductive services (ARS) treatment from 27 April onwards with increased infection control and safety protocols.
Virtus Health will resume its ARS procedures and non-IVF elective surgery including endoscopy, laparoscopic gynecology practices, and other procedures across its day hospitals in Australia.
Throughout the elective surgery suspension, Virtus Health diagnostic and pathology services maintained testing and screening services at reduced capacity. The Company disclosed that diagnostics will start to increase staffing and services as assisted reproductive services (ARS) operations return to normal levels and the need for diagnostics climbs.
In Singapore, due to continued low community transmission, Singapore clinic of Virtus Health, the Virtus Fertility Centre, has stayed open. The Trianglen Fertility Clinic in Denmark reopened on 20 April 2020 and will operate seven days a week, subsequent approval by the Government for resumption of the provision of health care services.
CEO of Virtus Health Kate Munnings stated that patients in Australia have been keenly waiting for this decision. After lifting the suspension, women and couples who require assistance in order to conceive could now resume the treatment
Moreover, the Company mentioned that it is delighted that the Government acknowledged the requirements of assisted reproductive services (ARS) patients and their yearning to start a family.
Financial Results for First Half of FY20 Highlights Outperformance
From the half-yearly results of the Company it could be concluded that Virtus maintains the Australian market leadership position. In overall market growth across Australia, it has outperformed.
International operations of the Company supported EBITDA in spite of softer volumes, with increase in EBITDA in Singapore, United Kingdom and Ireland reported. Moreover, the Company disclosed that the Non-IVF day hospital procedure volume rose by 5.7%.
Stock Performance- On 23 April 2020 (AEST 01:10 PM), the stock of VRT was trading downward by 2.622% to $2.600, with a market cap of $214.64 million. With 52-weeks high and low price at $5.280 and $1.505, the stock has nearly 80.39 million outstanding shares on ASX. The stock has generated positive returns of 23.61% in the last one month.